Aston Martin DBS
Aston Martin DBS
photo © Aston Martin
Aston Martin DBS, Daniel Craig and Casino Royale promotional phot
photo © United Artists, Danjaq LLC
Aston Martin DBS interior
photo © Aston Martin
The wreck of the DBS that barrel-rolled a record breaking 7 times
foto © Aston Martin
Bond in his badly damaged Aston Martin DBS, being chased by two Alfa Romeo 159
photo © United Artists, Danjaq LLC
James Bond drives the Aston Martin DBS, the successor of the Vanquish, in the 007 films, Casino Royale and Quantum of Solace.
The DBS featured in Casino Royale is silver grey. Bond receives the car in Montenegro (filmed in Czech Republic) and wrecks it in a spectacular way after a short chase. In the crash, the DBS barrel-rolled seven times, in the process breaking the record for a cannon-assisted barrel roll (the stunt car had an air-powered cannon behind the driver). Special features of the car include a secret compartment which contains Bond's Walther P99 gun, and an emergency medical kit with components of an emergency medical link to MI6, and a small defibrillator.
The car used in the opening scene of Quantum of Solace is a dark grey version, in stead of the silver grey from Casino Royale. In this film, again the car is almost completely wrecked after being chased and shot at by villains in Alfa Romeo 159 cars. Not only in the film, but also during the filming, a driver wrecked a DBS by driving it into Lake Garda by accident while just delivering the car to the set.
According to Aston Martin: "The DBS is not of the understated elegance of a DB9, nor the youthful agility of the V8 Vantage. It is explosive power in a black tie and has its own unique character which will equal that of James Bond."
Seven DBS cars were used to film the sequences in Quantum of Solace. Two of the cars, one with continuity damage, are currently on display at Bond in Motion, National Motor Museum, Beaulieu until December 2012. One of the Aston Martin DBS cars used for the filming of Quantum Of Solace will be auctioned at the special invitation-only auction at Christie's South Kensington on 5th October, which is part of the 50 Years of James Bond - The Auction at Christie's which takes place between Friday 28 September and Monday 8 October 2012. Estimated price for this car at the charity auction: £100,000–150,000 / US$160,000–230,000 / €120,000–170,000.
Limited Edition photo prints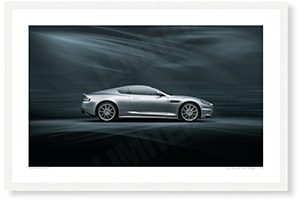 Limited100 offers a very nice Aston Martin DBS photo print - see this and other Bond related prints at Limited100.co.uk and get 5% off if you use the code BONDLIFE5.
---
Subscribe to the Bond Lifestyle EYES ONLY newsletter