Ultimate Guide to No Time To Die (Bond 25) Products and Locations
The ever changing guide to clothing, gadgets, accessories, vehicles and locations spotted in early released photos and videos from NO TIME TO DIE / BOND 25.

Spoiler Alert: this article might reveal parts of the NO TIME TO DIE / BOND 25 plot and other elements from this upcoming Bond movie.
Please note that although Bond Lifestyle tries to be as accurate as possible about identifying products, nothing can be guaranteed about the exact details of the products, or about the appearance of these products in the movie. This page contains affiliate links, which means that if you buy something via one of the product links or banners, I might receive a small commission, but the price is the same for you. Read the disclaimer and full affiliate disclosure.
If you have identified a product or have other suggestions, please contact Bond Lifestyle.
LATEST UPDATES
21 January: Mil-Tec gloves | Vuarnet 06 Legend is now back in stock at Uncrate
14 January: Bilie Eilish will perform No Time To Die theme song
11 January: New York Times article about Massimo Alba in No Time To Die
8 January: New Heineken 007 commercial
4 January: Rouje Gabin red and white flower dress (Madeleine Swann) | Emanuele Bicocchi jewelry and L.G.R. sunglasses (Primo)
31 December: Will Lashana Lynch wear the Omega Seamaster with NATO Strap?
26 December: Ana de Arma as Paloma wears Michael Lo Sordo Alexandra Silk-Satin Gown
12 December: Barton Perreira 007 sunglasses available for pre-order
11 December: CMA CGM announced as Official Partner of No Time To Die
9 December: Alexander Olch necktie
6 December: Rogue Territory jacket | official photo of the Land Rover Series III
5 December: James Bond's blue N.Peal sweater | Triumph Tiger 900 | Chopard
4 December: Full Trailer released! - Omega Seamaster watch revealed!
3 December: Character Posters released!
2 December: Teaser Trailer released!
15 November: New Defender from Land Rover will feature in No Time to Die
8 October: Aston Martin reveals a DBS Superleggera will appear in Bond 25
5 October: No Time To Die teaser Poster revealed
3 October: Vuarnet Edge 1613
24 September: it's confirmed that shots will be filmed on the Faroe Islands
20 September: Globe-Trotter luggage in Matera scenes; Matera romantic outfit; Connolly jacket
17 September: Madeleine Swann's white leather Tod's handbag
12 September: confirmed: Albert Thurston braces
11 September: James Bond outfit in Matera almost completely identified; also added: Omega Seamaster Aqua Terra, Triumph
9 September: Principal cast has arrived in Matera, see the official press photos
22 August: Filming in Italy start in Matera, a hotel room is being built just for the film, and the Aston Martin DB5 is tested in the area, see it on the Sassilive.it website (Italian)
20 August: Title announced! The title of BOND 25 is NO TIME TO DIE
19 July: Range Rover Sport SVR and Toyota Land Cruiser 100-series film chase scene in Scotland
17 July: BOND 25 filming in Scotland
15 July: Barton Perreira Joe sunglasses (Bond), Paul Smith coat (Moneypenny), 
10 July: James Bond sunglasses seen on the sets in London in July are Barton Perreira Joe, in shiny black with vintage grey lenses. Apparently the glasses are available for pre-order only with an expected delivery in January 2020. More info wil soon be added here.
1 July: Daniel Craig films in central London wearing Tom Ford O'Connor suit seen during the Prince Charles visit.
25 June: BOND 25 on set video released
21 June: Aston Martin Valhalla in Bond 25?
20 June: Prince Charles visits the Bond 25 Set
5 June: Aston Martin V8 Vantage in Bond 25
23 May: Vuarnet 06 back in stock in the EU (shop here) and USA (shop here)
6 May: James Bond uses a Riffe Euro 55 speargun in Jamaica
2 May: James Bond spotted on a Spirit Yacht in Jamaica
30 April: Added Tom Ford; closer look at the Jamaica set photos
29 April: filming in Porto Antonio, Jamaica: Daniel Craig drives open Land Rover Series III, wears Omega Seamaster watch, Vuarnet 06 sunglasses, dark long sleeve Tommy Bahama shirt, light Tom Ford jeans, brown Sperry boat shoes.
CONTENTS

N.Peal
After SkyFall (the still very popular blue sweater) and SPECTRE (mock turtle neck and cable roll neck neck), James Bond will once again wear N.Peal in the movie No Time To Die.
This was no surprise since the cashmere brand recently released an extensive James Bond 007 Cashmere Collection with James Bond inspired pieces.
The No Time To Die N.Peal sweater is a very cool, military style blue ribbed sweater seen in Bond's character poster and the trailer.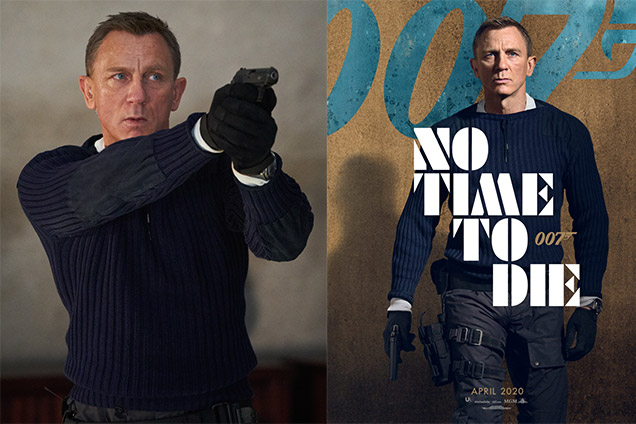 The commando sweater features shoulder pads and elbow pads, and a drawstring at the neck.
The sweater should be available early 2020.
Sign up for the Bond Lifestyle newsletter or the N.Peal's own email alert to be the first to know when it will be available.
With the sweater, Bond wears a Rag & Bone Classic Henley shirt, a custom pair of combat pants and Mil Tec gloves (see below).
Mil-Tec gloves
James Bond wears black Mil-Tec Combat Touch gloves with his blue sweater combat outfit. The gloves have special fabric at the finger tips so they can be used to control a smartphone.
The gloves are available at many stores for less than $20, for example at Amazon.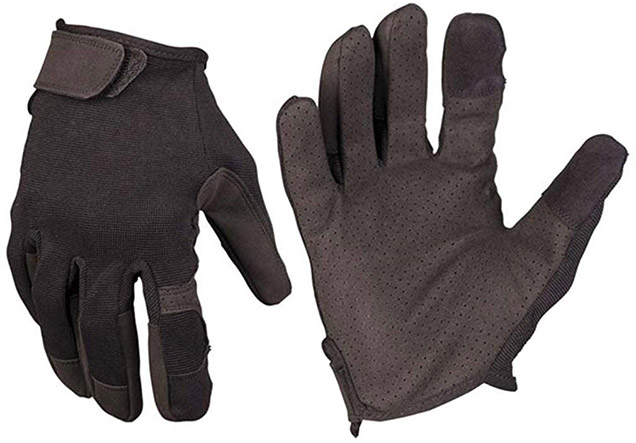 Rogue Territory jacket
James Bond wears a Rogue Territory Waxed Ridgeline Supply Jacket (color Tan) in No Time To Die. The jacket can be spotted in the trailer when Bond gets his Aston Martin V8 Vantage from a garage.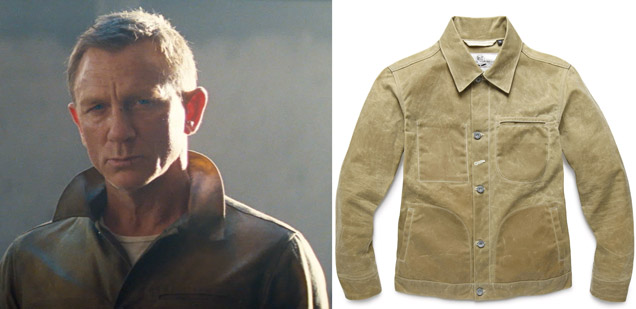 The jacket is available in a few variations, but the one worn by Bond is the model without lining and with the 4 pockets (the pocket outline on the right chest can JUST be spotted in the trailer).
The Rogue Territory jacket is available for $295 / £280 at many online stores including Uncrate.
Thanks to W and AJB007 for the alert
Omega
So far we have spotted an unknown Omega Seamaster model worn by Bond in Jamaica and London and what looks like a Omega Seamaster Aqua Terra in Matera, Italy in his Matera Chase outfit.
Omega Seamaster, Jamaica & London
Some photos from the set in Port Antonio, Jamaica, released on April 29 (see the Daily Mail), and photos from the NO TIME TO DIE outdoor sets in London (July) we can see one of the watches that will appear in the film.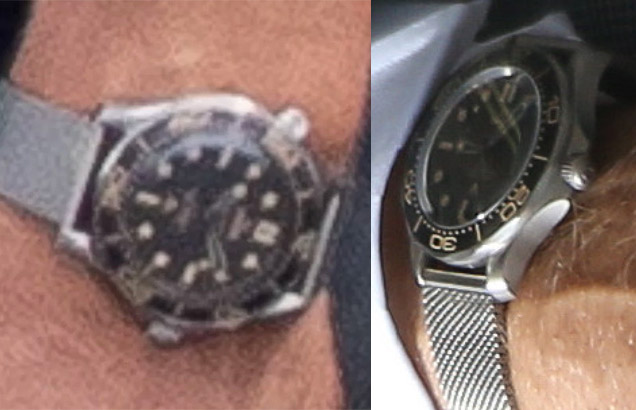 Photos from the set in Jamaica (left) and London (right) show some of the details of the new Omega Seamaster James Bond watch.
The watch is worn by Bond in several scenes film in London (Whitehall, MI6 Headquarters, Thames scenes) and in Jamaica when he drives a Land Rover Series III in Jamaica, meeting his old friend Felix Leiter. He also wears the watch with his Commando outfit (blue sweater, commando cargo pants, white henley shirt).
Update 4 December 2019: Omega revealed the Omega Seamaster 300M Diver Watch worn by Daniel Craig in No Time To Die. The exact model is the Omega Seamaster Diver 300M Co-Axial Master Chronometer 42mm 210.90.42.20.01.001.
Read more details about the watch here
This Omega Seamaster diver's watch has a titanium case, black bezel and black dial.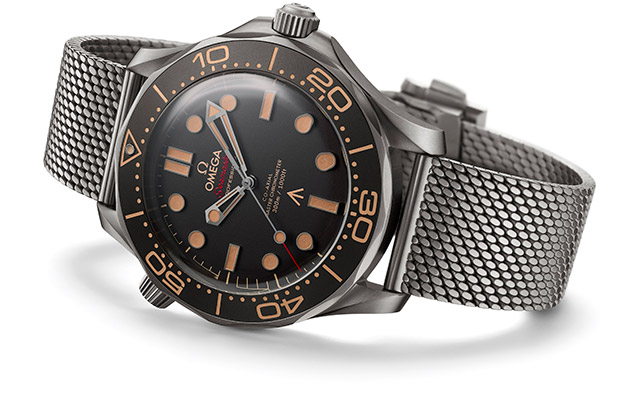 The strap is a metal mesh strap, also known as a Milanese strap or the Shark Mesh strap.
The wristwatch has some elements of the new Seamaster, but the Date window at the 3 or 6 o'clock is missing. The release of the new watch is similar to how SPECTRE featured a unique Seamaster 300 just made for the film, but where the SPECTRE watch was Limited Edition to 7,007 pieces, this No Time To Die Seamaster is not limited.
It features a triangle icon or logo just above the 6 o'clock indicator, which seems to be the 'broad arrow' symbol used by British Armed Forces and visible on some vintage watches, issued and owned by the British Ministry of Defense (especially the W.W.W. watches from the Second World War, see for example this video) - thanks to Kyle Hicks, RJ, Felix Bohnacker and for the info about the triangle symbol.
Lashana Lynch (Nomi) - same watch but with NATO Strap?
It looks like Lashana Lynch as Nomi (another double O agent), will also wear the Omega Seamaster, but with the NATO strap.
One of the photos released by Empire Magazine shows Lashana Lynch with a NATO Strap watch, so we can assume it's the same Seamaster and the NATO strap released by Omega.
Omega Seamaster Aqua Terra, Matera, Italy
James Bond will wear an Omega Seamaster Aqua Terra in the scenes filmed in Matera, Italy.
The watch has a steel band, steel case and dark (probably blue) dial.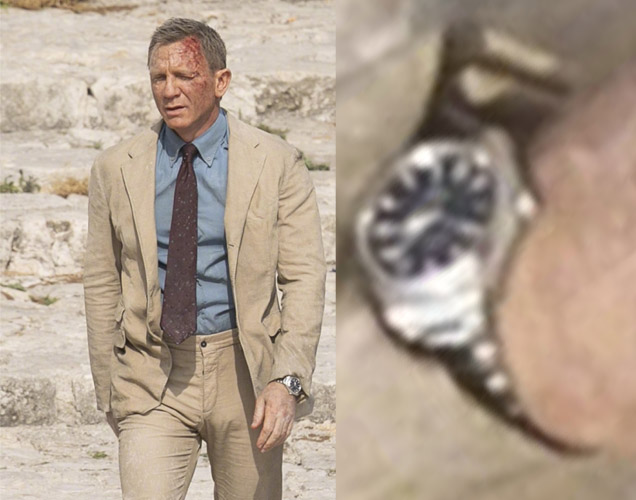 Bond has worn similar Aqua Terra watches in SkyFall (see it here) and SPECTRE (the Master Co-Axial).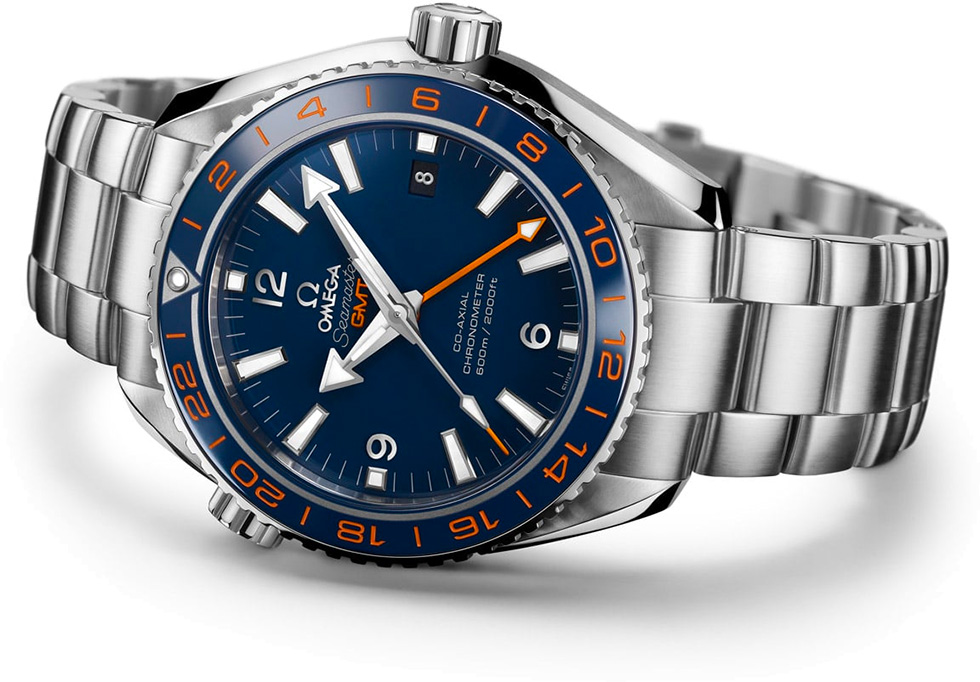 Press conference watch
During the BOND 25 press conference at GoldenEye, Jamaica, Daniel Craig wore a Omega Seamaster Planet Ocean 600M Good Planet 232.30.44.22.03.001 (find this watch on eBay). This is a special edition, designed as a tribute to the partnership between Omega and the GoodPlanet Foundation.
Barton Perreira sunglasses
James Bond will wear Barton Perreira Joe and Barton Perreira Norton sunglasses, while the character Billy Magnussen wears Barton Perreira Courtier.
In December 2019, the official 007 Store revealed three 007 branded edition of these models, which are available for pre-order.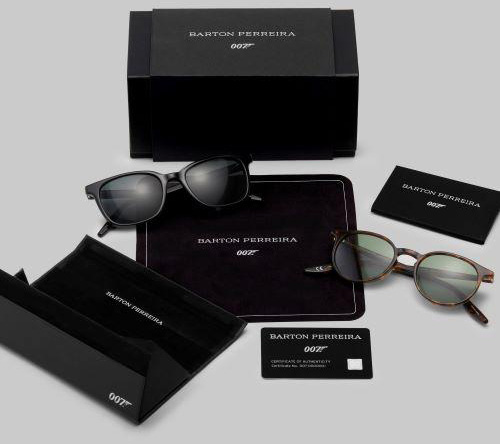 In the scenes filmed in London in July, Daniel Craig as James Bond is wearing Barton Perreira Joe sunglasses. This was announced on the official Barton Perreira Instagram page.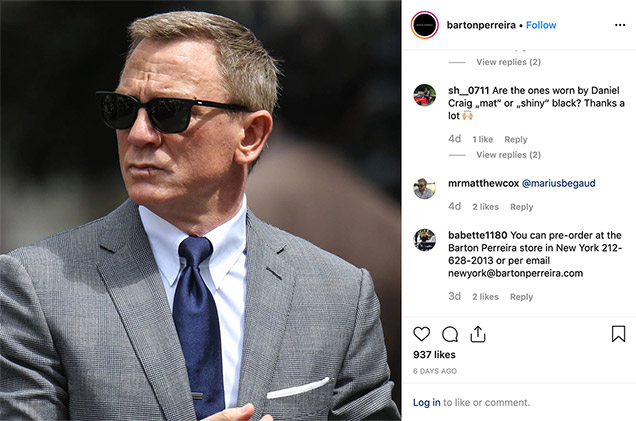 The Barton Perreira Joe sunglasses in the film have a shiny black frame and vintage grey lenses (read more about the Joe 007 here).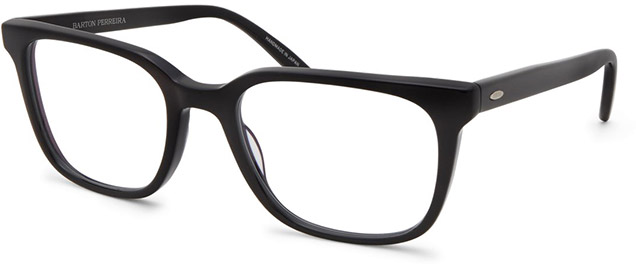 Bond will probably also wear the Barton Perreira Norton sunglasses (read more here). A special 007 edition was announced and available for pre-order on Uncrate (USA) or the 007 Store (UK/EU).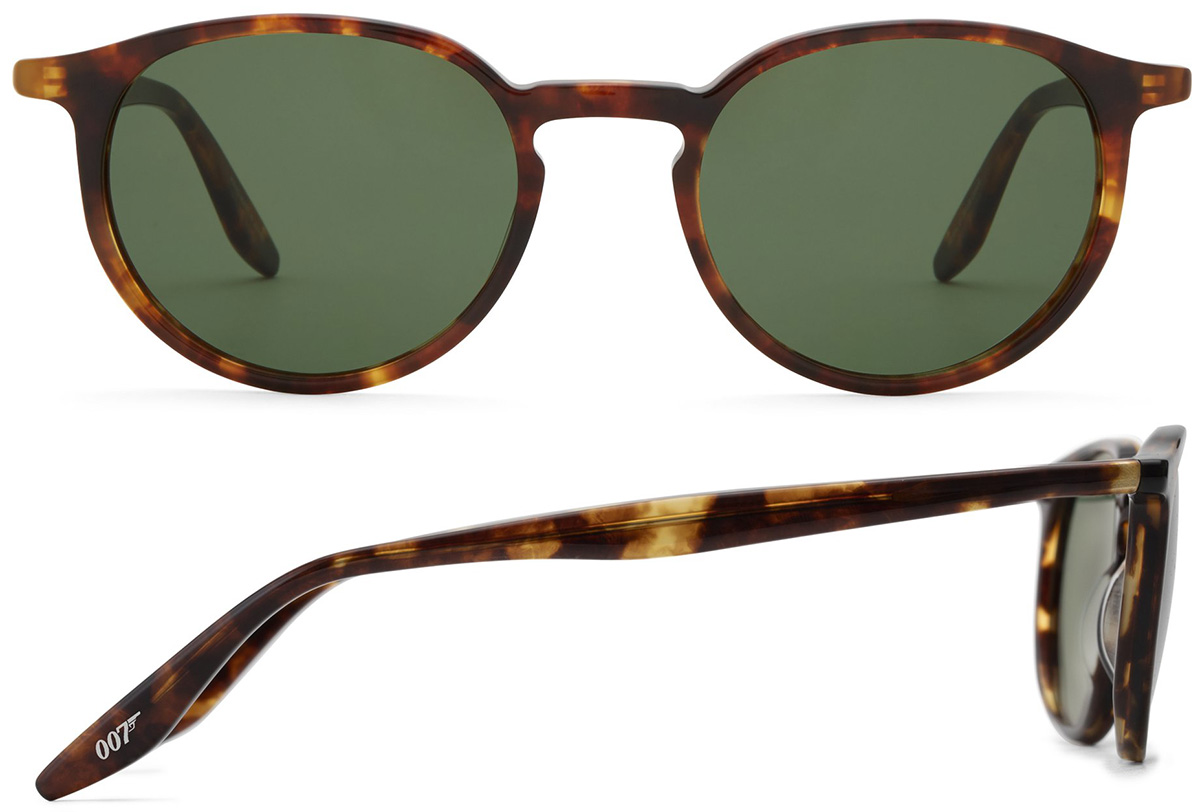 Barton Perreira Courtier sunglasses will be worn by Billy Magnussen in the Jamaica scenes.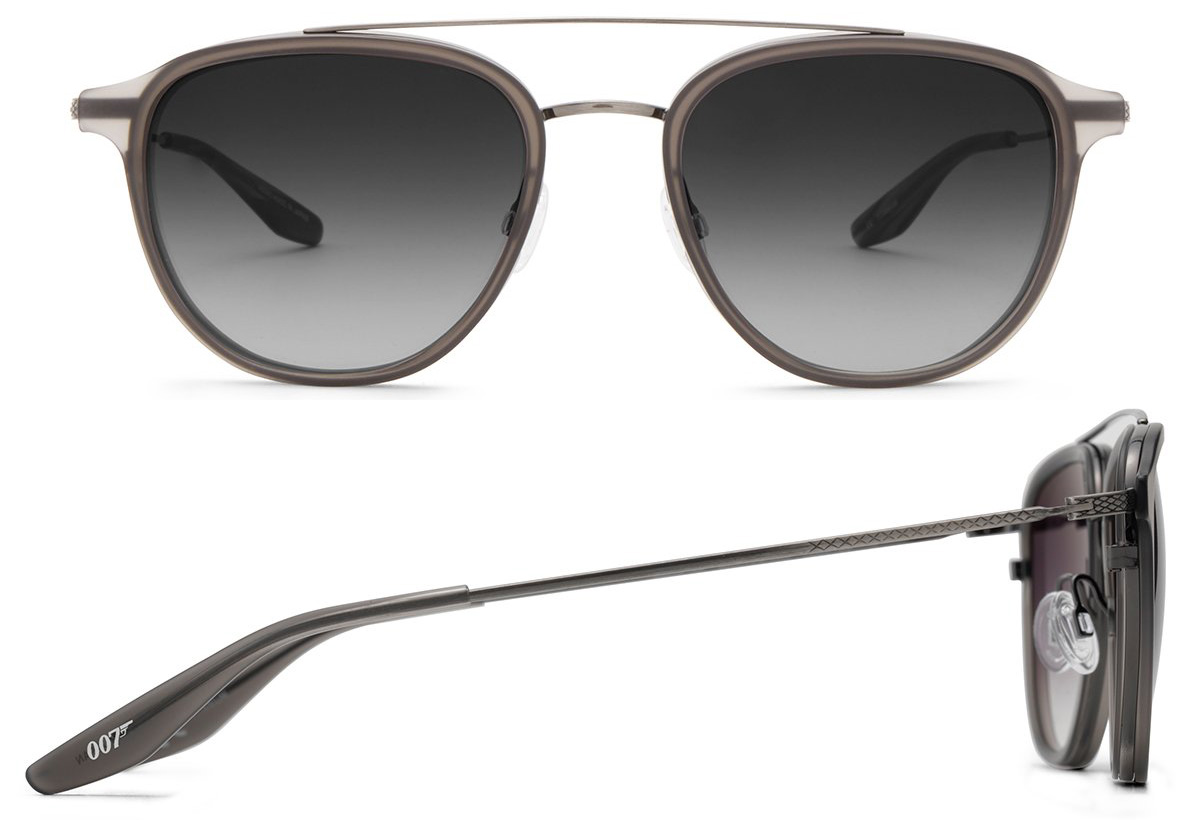 The Joe, Norton and Courtier glasses are available in a special 007 edition.
Read more here about the Barton Perreira sunglasses in No Time To Die
Vuarnet
James Bond will probably wear two pairs of Vuarnet sunglasses in No Time To Die: the Legend 06 and the Edge 1613.
Vuarnet Legend 06
During some of the first film days on Jamaica, Daniel Craig was photographed wearing his brown Vuarnet 06 sunglasses (he has been spotted wearing those in his private life as well) while driving a blue Land Rover. The Vuarnet glasses were seen in the first full trailer, so we can be farily certain that they are also worn in the film.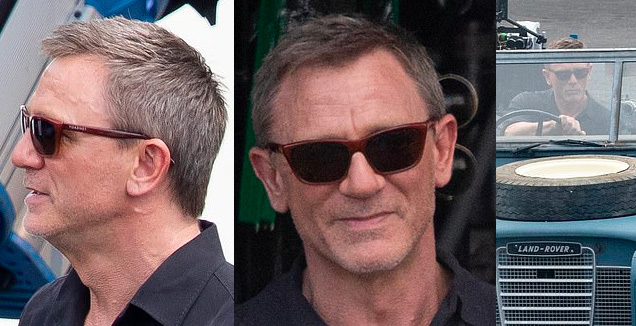 The Vuarnet Legend 06, also known as Vintage 06, is already a film classic, being worn by Alain Delon in the 1969 French film La Piscine from director Jacques Deray.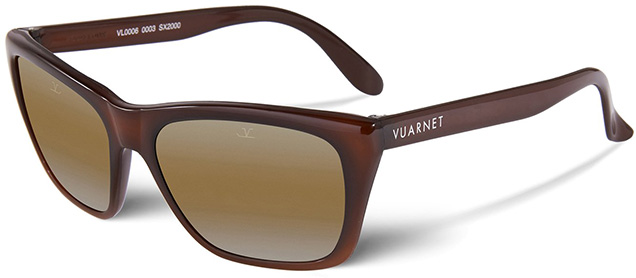 The glasses are currently on Vuarnet USA ($240, sometimes out of stock) or Vuarnet EU (€180) or at Uncrate.com ($240 - now back in stock).
Thanks to whatsdanielwearing on Instagram for the ID.
Vuarnet Edge 1613
In the scenes of the Aston Martin V8 driving through winding roads and bridges (filmed in Norway), James Bond (Daniel Craig's stunt double) appears to be wearing Vuarnet Edge 1613 sunglasses.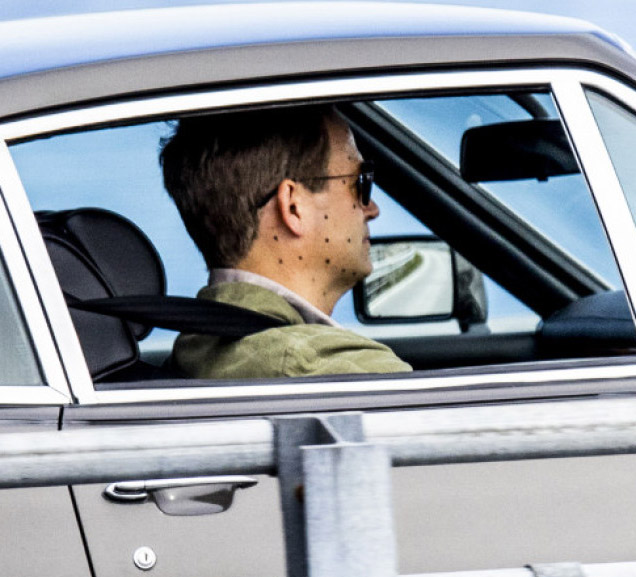 Note: it's not confirmed that these glasses will appear in the film No Time To Die. It IS certain that Daniel Craig himself has worn the Vuarnet 1613 Edge sunglasses this year at several events (British Grand Prix 2019, TIFF 2019) and during his travels (see here).

For more information about the glasses, click here.
Sperry Gold Cup Authentic Original Rivingston Boat Shoe
Bond seems to wear Sperry Gold Cup Authentic Original Rivingston Boat Shoes in the color Tan in Jamaica. The shoes are part of the outfit that can be seen in the first images (see the Daily Mail) of Daniel Craig filming on Jamaica, driving the blue Land Rover - most likely a scene of Bond meeting Felix Leiter (Jeffrey Wright).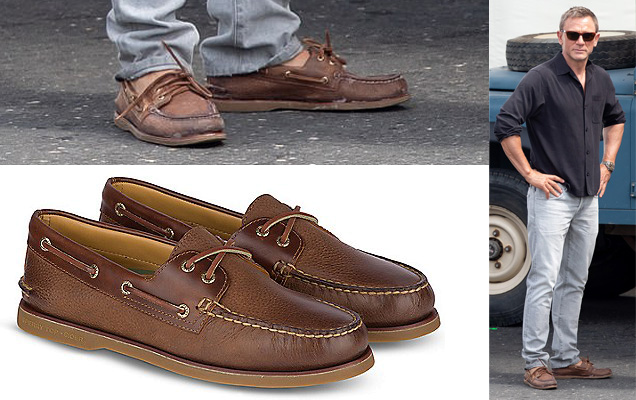 These classic boat shoes are available on Amazon.com for about $150 (most sizes sold out) or on Runnwalk.com (US delivery only, some sizes still in stock). The shoes in the color tan are not available anymore on the Sperry website. The outfit is completed by Vuarnet 06 sunglasses, Tom Ford jeans and an unknown version of the Omega Seamaster watch.
Note that it is not guaranteed that the shoes will be visible in the final film.
Thanks to Bond_Ambitions on the AJB forum for the ID.
Crockett & Jones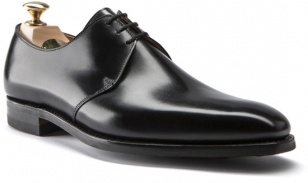 In the London scenes filmed in July, Daniel Craig is once again wearing Crockett & Jones shoes (just as he did in SkyFall and SPECTRE). He wears the black calf Highbury model with his navy and grey Tom Ford O'Connor suits.
Matera Chase Outfit
The outfit worn by James Bond in the Matera car chase scenes that are filmed in August/September has been completely identified, thanks to stellar work done at AJB and whatsdanielwearing. Note that not all are 100% confirmed, and also a reminder to read the disclaimer at the end of this article about these products ending up in the final film or being correctly identified.
The suit is Massimo Alba, shoes by Moc-Toe shoes by Drake's, braces by Albert Thurston. The necktie is The Avery Necktie by Alexander Olch from New York. The blue shirt and navy socks are not identified yet, the watch is probably a steel Omega Seamaster Aqua Terra, the sunglasses won't be in the final scene of the film.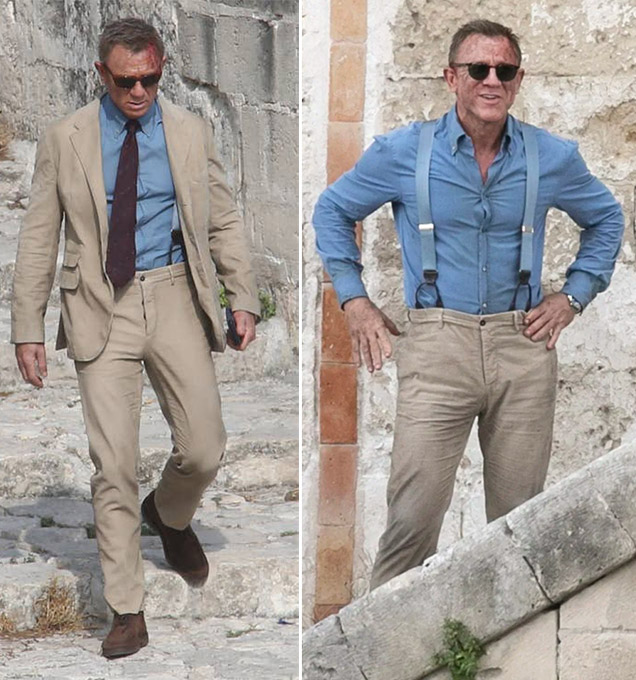 Daniel Craig as James Bond on set in Matera, Italy
The sunglasses seeen in the photos above are worn by Craig in between shoots and probably not in the actual scene. They are Vuarnet 06 (left photo), that is Craig's personal pair which will probably be seen in the film in the Jamaica scenes. And the pair in the right photo is Barton Perreira Norton - those will probably not be worn in this particular chase scene, but might be in the film at some point. Barton Perreira sunglasses will probably be used by several characters in the film.
Massimo Alba
The suit is a sand color or 'almond' color Massimo Alba Cotton-Corduroy Sloop Suit, combined with a blue shirt (unidentified), navy (dark blue) socks, Albert Thurston braces, brown tie and brown Drake's shoes.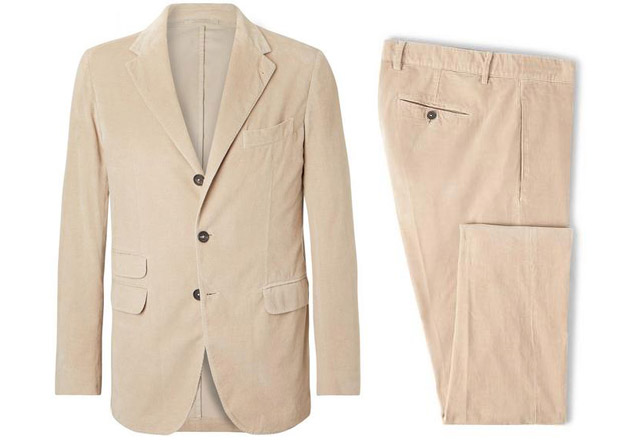 Sand color Massimo Alba cotton-corduroy sloop suit
Note that the color is probably not 'U714 desert' color from Massimo Alba as pictured here, but a bit different, it is more an 'almond' color, according to a representative at Massimo Alba (thanks to Jörg for the alert). The correct color will be probably available in 2020, or contact Massimo Alba directly. More info will follow here as soon as it's available
Albert Thurston
James Bond is wearing a pair of dove grey Albert Thurston braces / suspenders, trimmed with brown croc print veg tanned leather, brown back elastic and solid brass levers.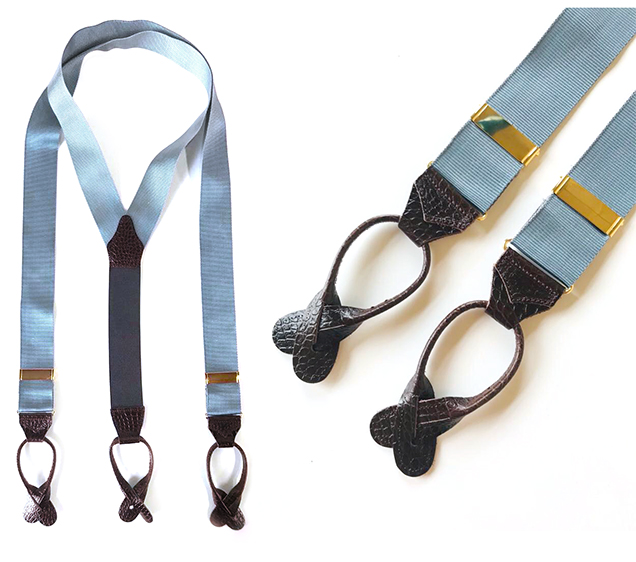 The Dove Grey braces with brown croc leather ends and gold can be ordered at Albert Thurston or at Mason & Sons:


 Shop now at Mason & Sons UK/EU

 Shop now at Mason & Sons USA
 Shop now at Mason & Sons World
Albert Thurston also provided braces for other Daniel Craig films Casino Royale, SkyFall and SPECTRE.
Drake's
The shoes worn by James Bond in the Matera scenes are Drake's Crosby moc-toe chukka boots in Dark Brown suede.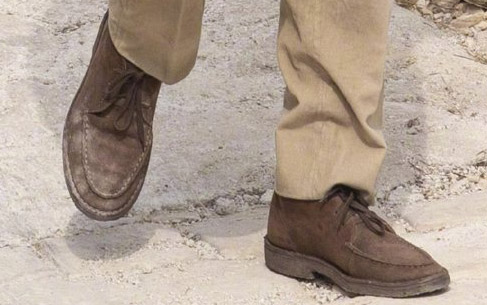 Bond's shoes in Matera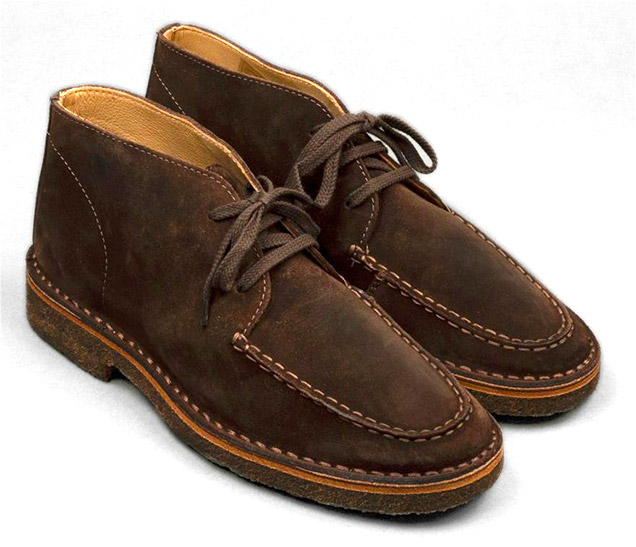 Drake's Crosby moc-toe chukka boots, dark brown
The Drake's Crosby is available on the Drake's website for £275 (UK/EU) or $395.00 (USA). Note that there's also a lighter "Tobacco" suede version, if you prefer a lighter brown.


 Shop now at Drake's UK (£275)

 Shop now at Drake's USA ($395)
 
Alexander Olch The Avery Necktie

Bond completes te Matera chase outfit with a burgundy Alexander Olch The Avery Necktie.
Matera Romantic outfit
In a romantic scene in Matera, James Bond and Madeleine Swann enjoy time together during a light festival in the town. Earlier that same day they arrive in the Aston Martin DB5 and check in at a hotel. Four pieces of large luggage are being carried out of the trunk of the DB5, some of which are Globe-Trotter suitcases.
James Bond (Daniel Craig) is wearing a blue jacket, white henley short sleeve shirt, grey trousers, probably an Omega Seamaster Aqua Terra watch, and the Drake's shoes mentioned above.
The jacket is probably from Connolly England, the 'Giubbino' model (ID via @trsmithy / @iconicalternatives). Read more below.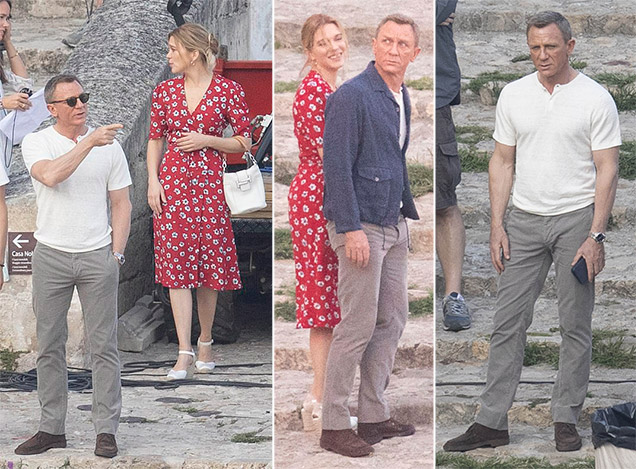 Madeline Swann (Léa Seydoux) is wearing a red flower dress, white shoes and she carries a Tod's bag.
Connolly Giubbino jacket
It looks like James Bond wears a lightweight blue Connolly Giubbino jacket in the Matera scene with Madeleine Swann. It's a cotton/linen lightweight jacket with drawstrings at the bottom. Original price: £330. The jacket is currently not available anywhere and there are no plans yet for a remake, but if enough Bond fans ask for the jacket to be made, Connolly would consider a remake. Contact Connolly in London if you are interested in the jacket (with many thanks to sunny01 at ajb for talking to Connolly in London).
The only good photo available of this jacket is found on a review at PermanentStyle blog and Instagram, see photo below on the right.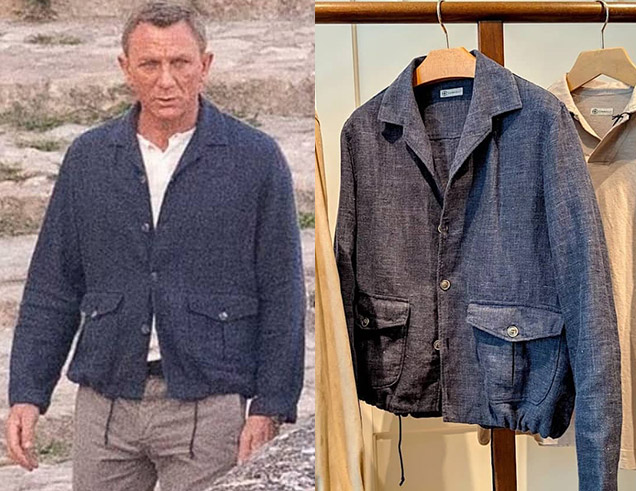 Visit the Connolly England website here.
Globe-Trotter luggage
It looks like Bond has at least two Globe-Trotter suitcases in the trunk of his Aston Martin DB5. The pieces are taken out of the trunk by porters of Bond's hotel in Matera. One or two suitcases have wheels, there's one bag, possibly from Madeleine Swann, and one or two cases that closely resemble Globe-Trotter suitcases. Not many photos exist yet of the luggage, so we can't identify them yet, but at least one piece seems to be green and black as seen in another image.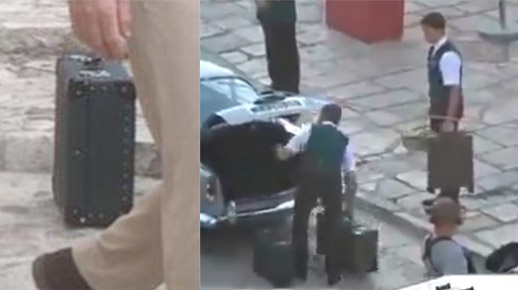 To early to tell the details of the luggage taken from the DB5 at the Matera hotel, but likely to include some (custom) Globe-Trotter luggage
Globe-Trotter has provided suitcases for the Bond films SkyFall (Stabilist case) and SPECTRE (brown suitcase) and has created a special 007 line of suitcases.
Tom Ford
It looks like Tom Ford will once again be dressing James Bond in NO TIME TO DIE. Daniel Craig was wearing light grey cotton Tom Ford jeans on the set in Jamaica.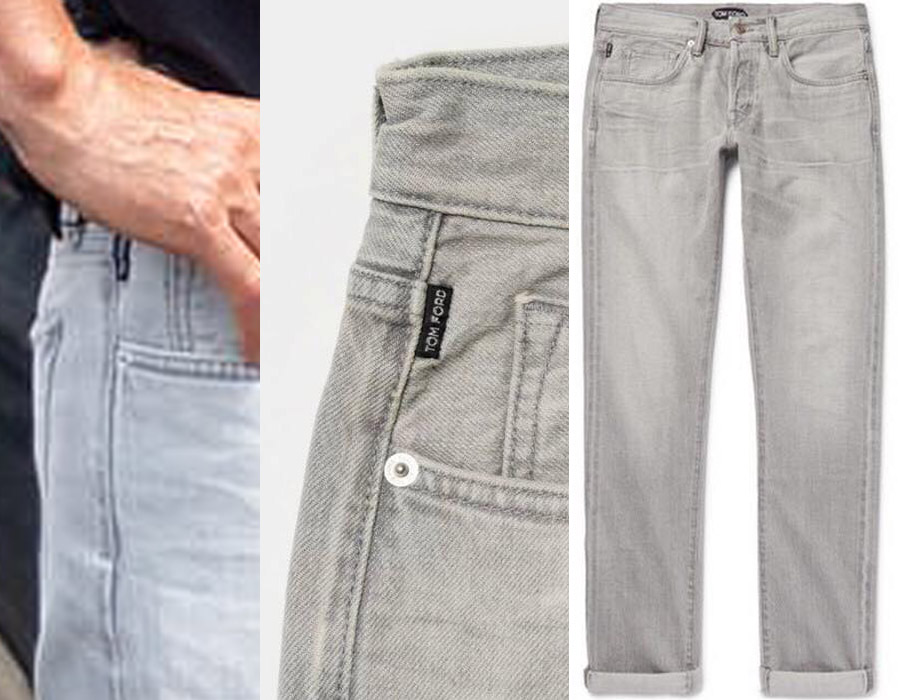 Tom Ford O'Connor suit
In scenes filmed in London in July, Daniel Craig was wearing Tom Ford O'Connor suits in Navy Prince of Wales check and Grey Prince of Wales check.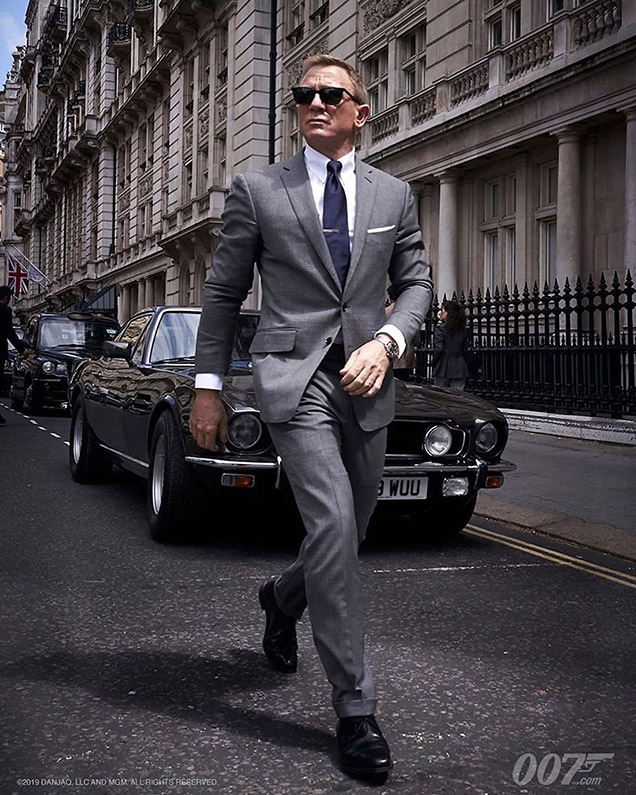 Official promo photo showing James Bond in his Tom ford suit and with his Aston Martin V8 near Whitehall in London on July 1st
On July 1st, Craig filmed near Whitehall wearing the same outfit as he wore during the Pinewood set visit of Prince Charles: a grey Prince of Wales check Tom Ford o'Connor suit, white shirt with turnback cuffs, blue silk necktie with tie clip, black Crockett & Jones Highbury shoes, the Omega Seamaster watch and black Barton Perreira Joe sunglasses.
On July 12th, during filming near Hammersmith Bridge, Bond was wearing a navy blue Tom Ford o'Connor suit, black Crockett & Jones Highbury shoes, the Omega Seamaster watch and black Barton Perreira Joe sunglasses.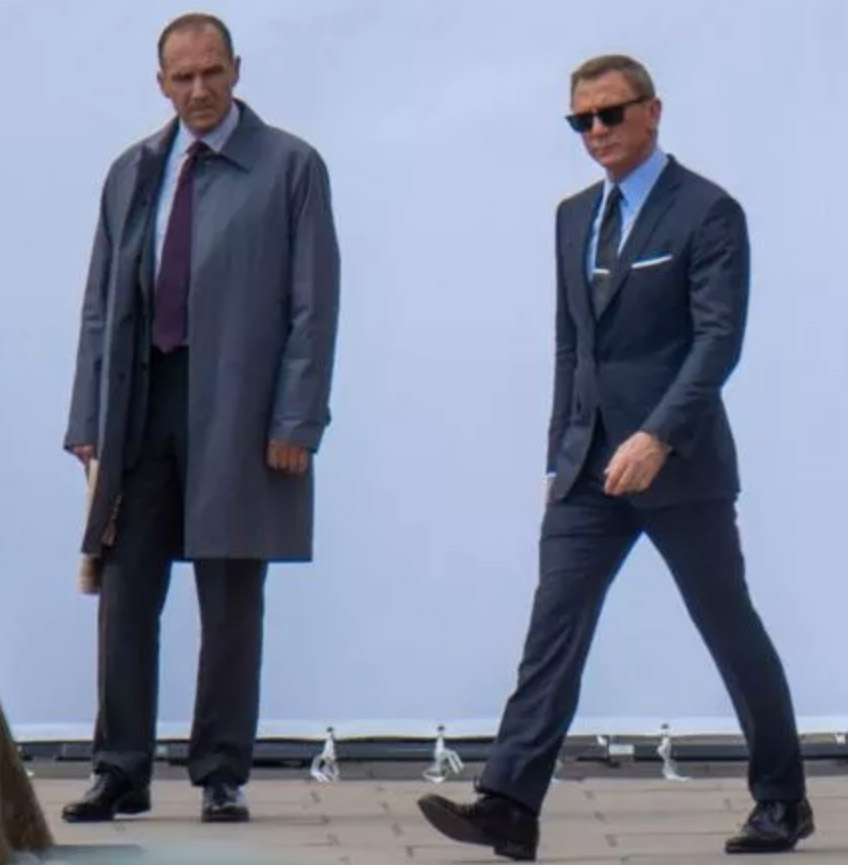 Daniel Craig as James Bond (wearing a navy Tom Ford suit) and Ralph Fiennes as M (wearing a Burberry coat)
Tommy Bahama Catalina twill shirt
The long sleeve dark shirt with chest pocket worn by James Bond in Jamaica is according to TheBondExperience a Tommy Bahama Catalina twill long sleeve shirt in black as pictured below. This is  black silk shirt woth long sleeves, slightly adjusted the costume department (made shorter at the bottom) for better fit.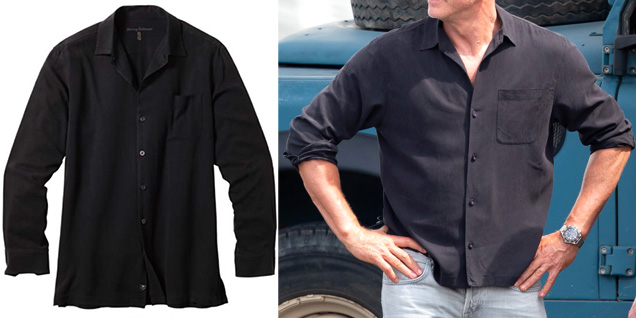 The silk shirt is currently not available anymore, but is said to be available again in 2020. A similar (not the same!) Catalina Twill shirt can be found at Tommy Bahama, but that one is 59% silk instead of 100% silk and has some other slight differences.
Riffe Speargun
It looks like James Bond will use a Riffe speargun in NO TIME TO DIE. The speargun seems to be the Riffe Euro 55 model (although there are several lengths available).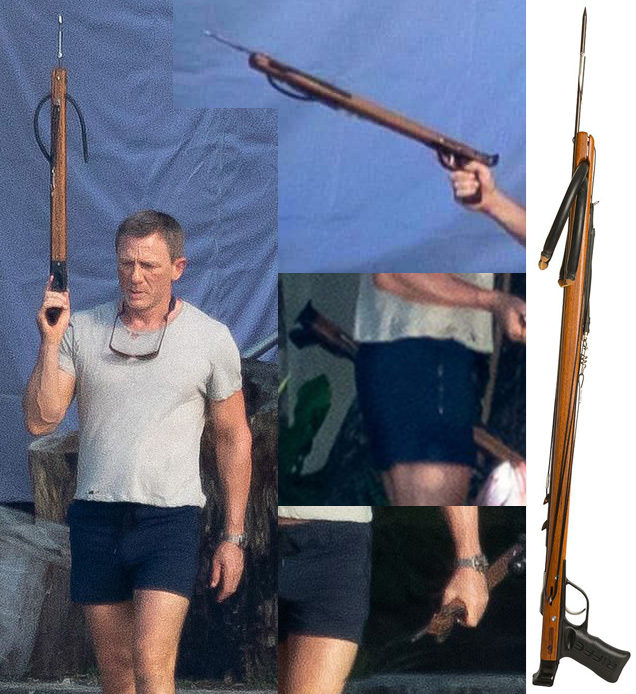 The speargun used by Bond has a black butt (end of the gun), but note that th same speargun is also offered with a red butt (see for example Riffe spearguns on eBay).
If the speargun is indeed used in the final film, this would be a great nod to the movie Thunderball.
Visit the official Riffe website speargun.com
The other pieces of the outfit are the new Omega Seamaster model, a grey shirt and blue shorts (unidentified).
Havaianas
In some photos, taken on May 4 or 5 in Jamaica, Daniel Craig wears Havaianas Top Mix Flip Flop in the color Mustard, available on Havaianas. Thanks for the ID by 000-7 on AJB. These flip-flops might not be in the film and are probably just worn in between shoots on set.
Find these Havaianas on Amazon.

Aston Martin
On 22 July an official image was released which confirms that we will see three Aston Martins in Bond 25: the Aston Martin DB5 and Aston Martin V8 both of which have appeared on screen in previous James Bond films, and the brand new Aston Martin Valhalla electric supercar.
On 5 October (Global James Bond Day), Aston Martin revealed that a DBS Superleggera will also appear in the film.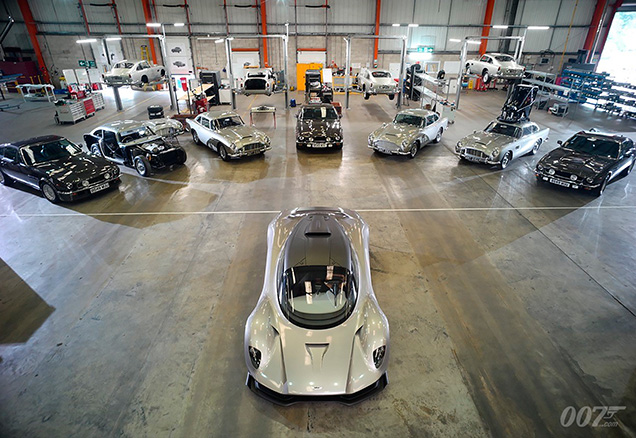 All Aston Martin cars and stunt cars that will feature in BOND 25: the DB5, V8 and brand new Valhalla (click to enlarge)
photo © Greg Wiliams for 007.com / Aston Martin
Aston Martin V8 Vantage
In early June, an Aston Martin V8 Vantage, with the exact same color and licence plate as seen in The Living Daylights, was spotted on a BOND 25 set on the Storseisundet bridge in Norway. The car was driving over the beautiful Storseisundet bridge while being filmed by a camera helicopter and a camera car.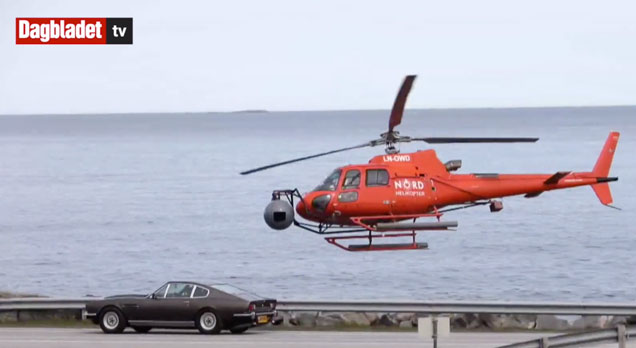 See the car in action in this video on this Norwegian news website.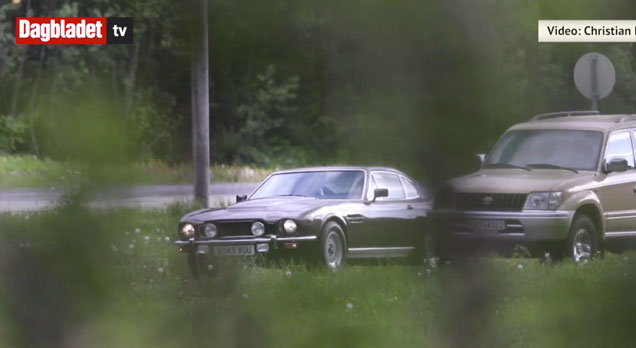 James Bond's Aston Martin V8 and a Toyota Land Cruiser in Norway
How this vintage car will fit in the BOND 25 story is anyone's guess at the moment, but it's exciting to see the V8 Vantage in action once more!
The car was also on set in Pinewood during the set visit of HRH The Prince of Wales on June 20th and in various London locations in July, in scenes that seem to feature James Bond driving Moneypenny to a house in London.
The V8 was spotted on set in the first week of July near Whitehall, London, with Daniel Craig as Bond driving Naomi Harris as Moneypenny to another location in town.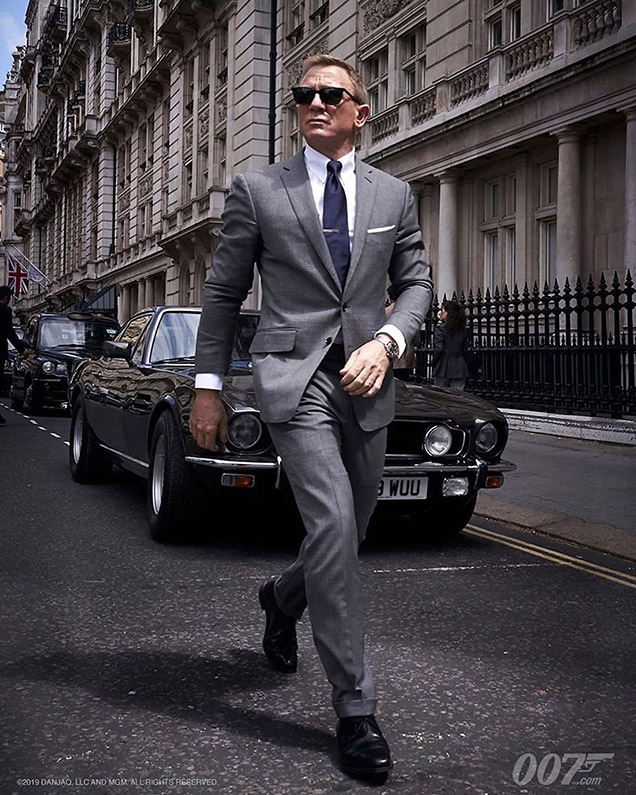 Aston Martin DB5
The Aston Martin DB5 will once again make its appearance in No Time To Die. In the trailer we can see the car in full action during a car chase through the town of Matera in Italy. As we can see in the trailer, the car will have a new gadgets: machine guns behind the large headlights. In Matera Italy, the DB5 will show a rotating licence plate with the new registration number A 4269 00.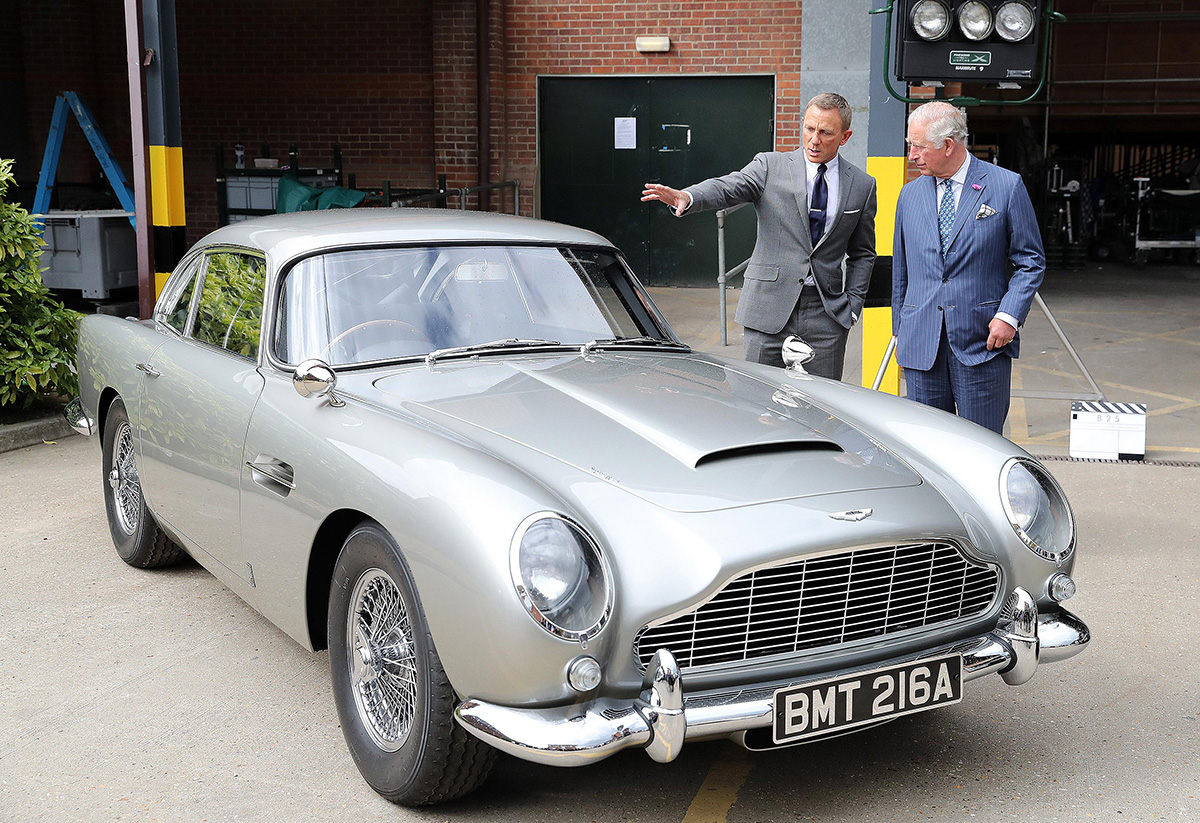 The DB5 on set at Pinewood
The DB5 was one of the two Aston Martins on display during the Prince Charles visit at Pinewood Studios, and Daniel Craig was overheard saying to the Prince that "Underneath here [points at bonnet] there's a BMW engine on a modern chassis, with modern suspension" after which he points out some details in the interior. "We had 5 of these made, this is carbon fiber [knocks on bonnet]." This could mean that the car does get quite some action in the film. This was confirmed when the photo was released showing all the BOND 25 Aston Martins, including 8 real and stunt DB5s. With so many stunt DB5 cars, it is very likely that the car will get an intense action scene, taking place in Matera, Italy where filming takes place in August and September.
Many videos and photos of the Aston Martin DB5 car chase scenes in Matera have appeared on social media. The footage shows the DB5 with licence plate A 4269 00 taking James Bond (Daniel Craig) and Madeleine Swann (Léa Seydoux) to their hotel and later in a high speed chase through the town. During the chase the car will use some of it's famous gadgets and it looks like the body qill be quite heavily damaged (Q won't be happy).
Aston Martin Valhalla
Aston Martin's new supercar previously known as AM-RB 003 was given the name Valhalla (again starting with the letter V, as many Astons), on June 18th 2019 and immediately thereafter, articles appeared claiming that the car will be seen in BOND 25. The car was spotted on the set in Scotland leaving much speculation for who will drive the car.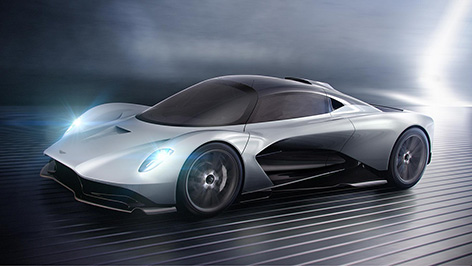 Aston Martin DBS Superleggera
On 5 October (Global James Bond Day) Aston Martin announced that a DBS Superleggera will also appear in No Time To Die. Read more here.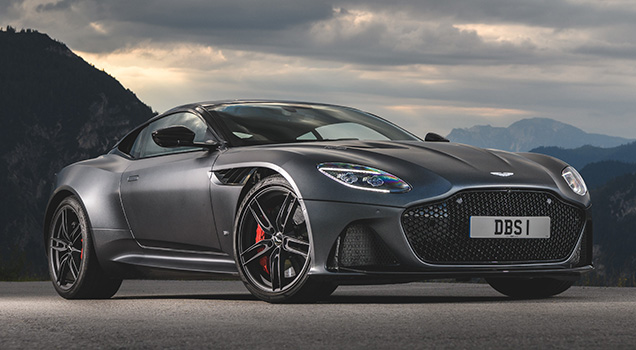 In the No Time To Die trailer we can see Nomi (played by Lashana Lynch), a fellow 00 secret agent, driving the DBS Superleggera while Bond walks.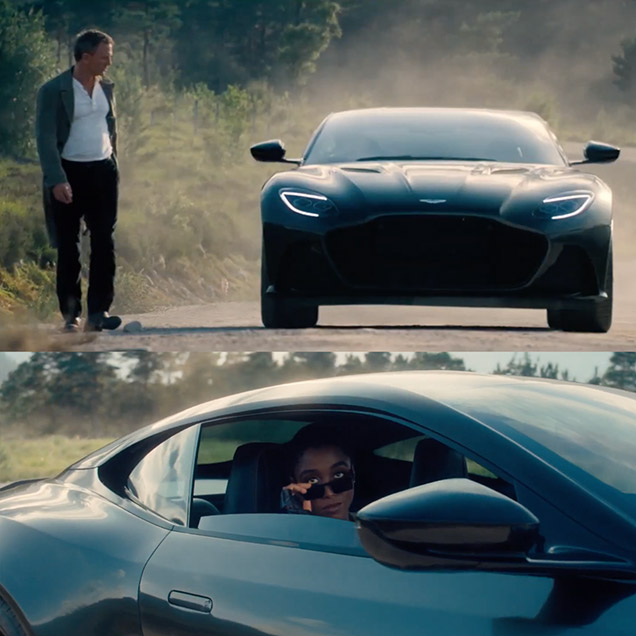 Nomi (Lashana Lynch) drives the DBS Superleggera in No Time To Die
Land Rover
Daniel Craig was spotted on 28 April 2019 driving a blue Land Rover Series III in Port Antonio in Jamaica. The car is right hand drive, has a spare wheel on the bonnet and custom grey plastic wheel arches. Bond wears Vuarnet 06 sunglasses while driving the car.

Spy photos of Daniel Craig in the Land Rover Series III on set in Jamaica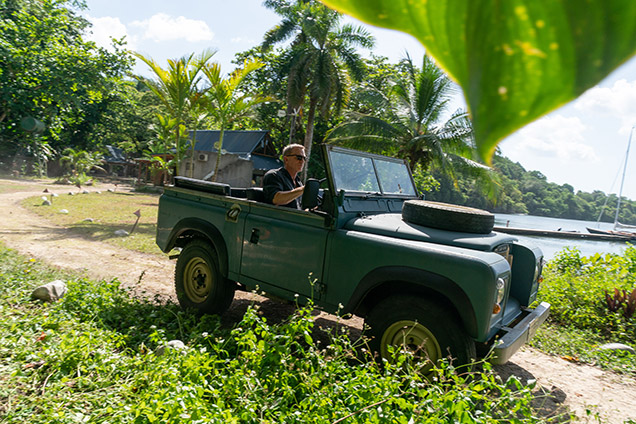 James Bond drives a Land Rover Series III in Jamaica No Time To Die (official promotional photo for the Bond In Motion exhibition)
Land Rovers and Range Rovers have been used in many recent Bond films. The last time we saw a Land Rover Series III was in The Living Daylights (1989), in Gibraltar, when Timothy Dalton jumps on the canvas roof, fights his way inside and exits just before it explodes while falling off a cliff into the sea.
Land Rover New Defender
Land Rover has announced on 13 November that the New Defender will appear in No Time To Die. The car was used by stunt drivers under extreem conditions, showcasing what the car is capable of. The stunt cars have Russian licence plates so are likely to be steered by the villains and / or his henchmen.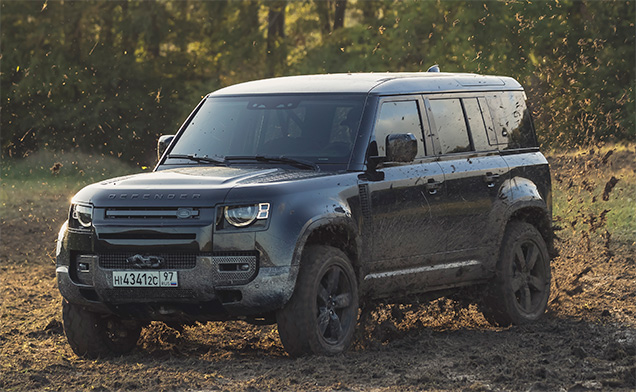 The New Defender as seen in No Time To Die
Range Rover Sport SVR
A Range Rover Sport SVR was spotted on the set in Scotland, being destroyed in a chase with a Toyota Land Cruiser 100-series (the same Toyota with Norwegian licence plates that was seen driving behind Bond's Aston Martin V8 in Norway).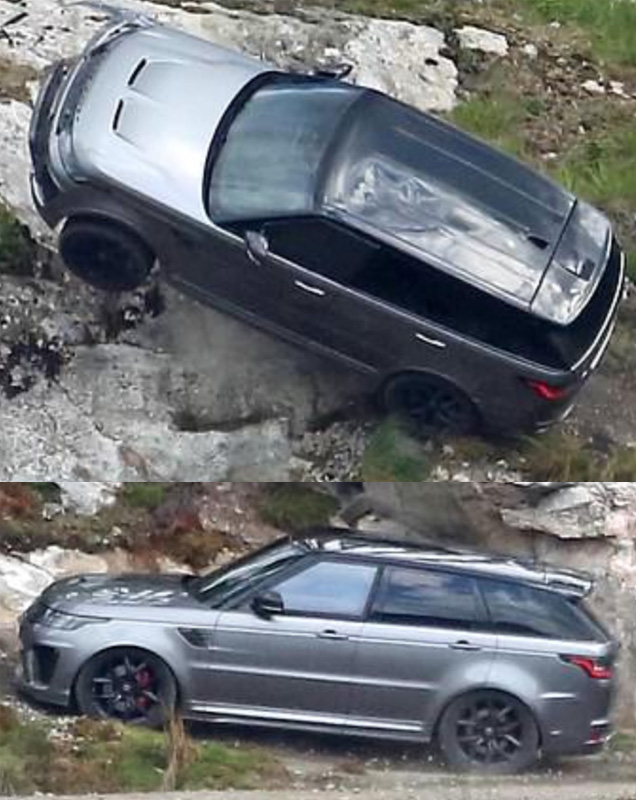 The Range Rover SVR as seen in No Time To Die
Toyota Land Cruiser 100-series
A Toyota Land Cruiser 100-series in the color beige was spotted in Norway with Norwegian licence plates, and later on the set in Scotland where it crashes into the Range Rover SVR Sport mentioned above.
In the trailer we can see that James Bond himself is behind the wheel of this Toyota.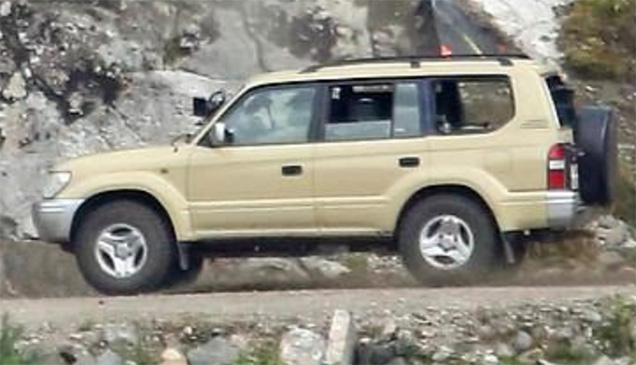 Spirit Yacht
In a BOND 25 scene filmed in Jamaica, Daniel Craig was spotted in a leisurely outfit sailing a new Spirit Yacht.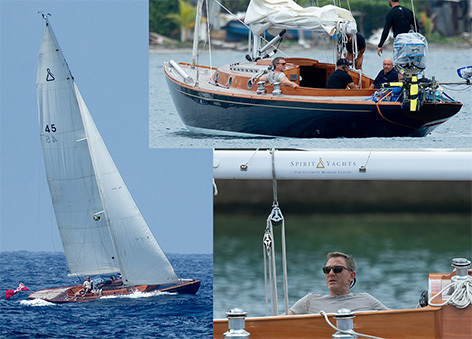 Daniel Craig filming in Jamaica on a Spirit Yacht, wearing a grey t-shirt, his (Vuarnet 06?) sunglasses and navy shorts
In BOND 25, James Bond once more sails a Spirit Yacht, while enjoying his time in Jamaica. The yacht might be a new Spirit 45 (as the number is mentioned on the sail, but this is not confirmed yet). The yacht is from the same makers as the Spirit 54 Yacht 'Soufrière' from Casino Royale (2006), but with a dark blue hull instead of the super-light blue of the 54, and if it is a 45 Yacht, then its much smaller (45ft compared to 54ft).
Triumph
Modified Triumph Bonneville Scrambler 1200 and early prototypes of the Triumph Tiger 900 will feature in the No Time To Die chase scenes filmed in Matera, Italy and two other (undisclosed) locations.
In Matera the Scrambler 1200 is probably first driven by a villain or henchman, and then Bond seems to take over the motorcycle at some point.
This is a photo of the Triumph Bonneville Scrambler 1200 motorcycle on the set in Matera: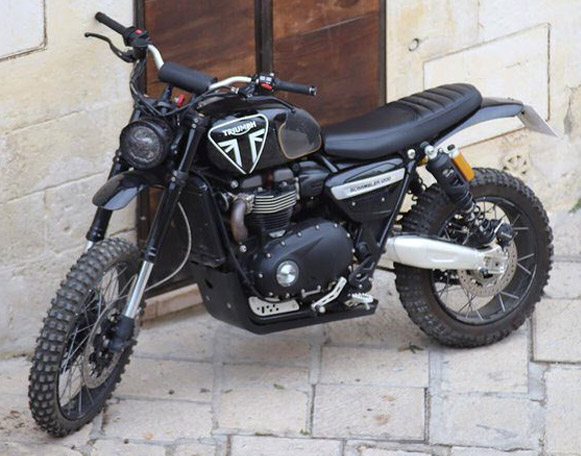 Triumph Bonneville Scrambler 1200 XE
The Triumph is all black, with a large Union Jack Triumph logo on the fuel tank.
There's not much known of the use of the 2019 Tiger 900 model (which replaces the old Tiger 800). In the trailer we can see a motorcyle during the chase of the helicopter, Range Rover and Toyota Land Cruiser, which is probably that Tiger 900, also driven by a villain/henchman.
This is not the first time Daniel Craig as Bond takes over a motorcycle from a henchman: he did the same in Quantum of Solace (a modified Montesa Cota 4RT) and SkyFall (a Honda CRF250).
Bollinger
It's likely that we will once more see Bollinger in Bond 25. The brand celebrates 40 years of partnership between James Bond and Bollinger this year and a special Cuvee will be released. Although Bollinger was spotted already in Live And Let Die (1973), the first official appearance of the champagne was in Moonraker in 1979.
In the trailer for No Time To Die, a case of Bollinger can just be spotted in James Bond's garage where he also stores his Aston Martin V8 Vantage.
Champagne Bollinger's commercial director Guy de Rivoire revealed in an interview with The Advertiser on April 4th that Bollinger will continue its partnership with James Bond. He told the magazine: "The second thing is we are releasing a new James Bond-related Cuvée later this year. There's a new Bond movie coming up and we want to celebrate 40 years of partnership between James Bond and Bollinger."
Bollinger Limited Editions
Bollinger released two limited editions: one very exclusive Moonraker bottle and a 25 Bond films edition.
Heineken
Heineken once more sponsors the Bond film. Heineken's association with the James Bond film franchise dates back to Tomorrow Never Dies (1997). SkyFall (2012) was the first time that Bond himself actually drank Heineken beer in a film.
On January 8th 2020, a Heineken commercial featuring Daniel Craig was released, promoting the alcohol free Heineken 0.0 beer.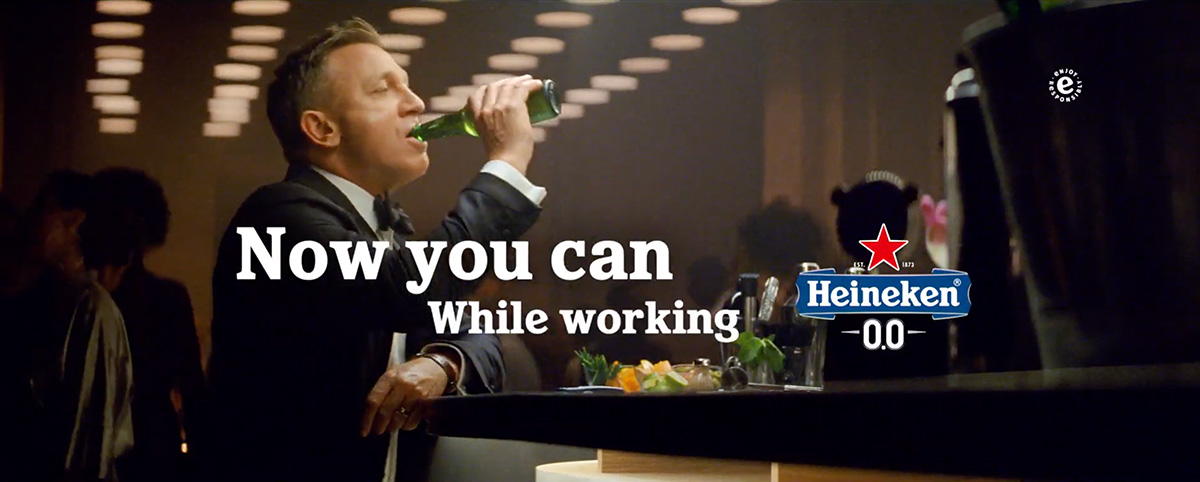 Tod's handbag
Madeleine Swann uses a white leather Tod's handbag in the Matera scenes. Actress Léa Seydoux (and her stunt double) was spotted with the purse with her two different Matera outfits: the red Rouje Gabin flower dress when she's on a romantic walk through town with James Bond, and the white dress she wears when she's with Bond during the DB5 car chase through the town.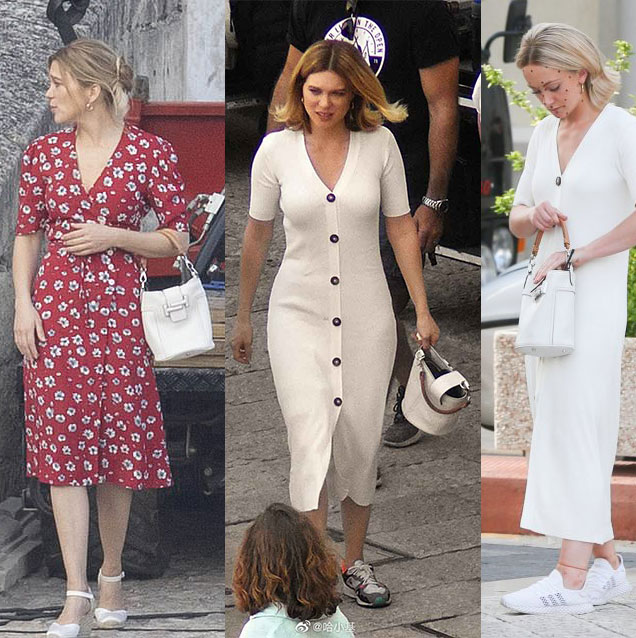 Léa Seydoux and her stunt double (right) in the two Matera outfits: red flower dress and white dress, both with the Tod's Double T Bucket Bag Mini
The exact model of the bag is Tod's Double T Bucket Bag Mini, reference XBWDOTK0100KJ13Q08.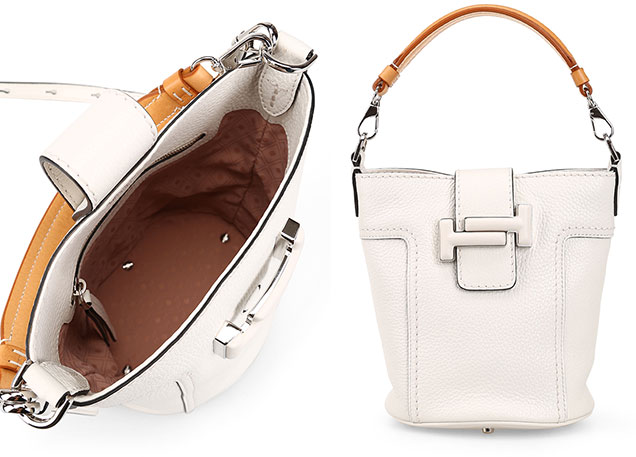 The bag is from the 2019 collection, with a retail price of $1545 and sold out at Tod's online, but available at for example Italist USA ($1098.88) or Italist EU (€1110.77 / £984.80).
Rouje
Madeleine Swann (played by Léa Seydoux) wears a red Rouje Gabin flower dress in some of the 'romantic' Matera scenes in No Time To Die.
Click here to read more details about the dress in the film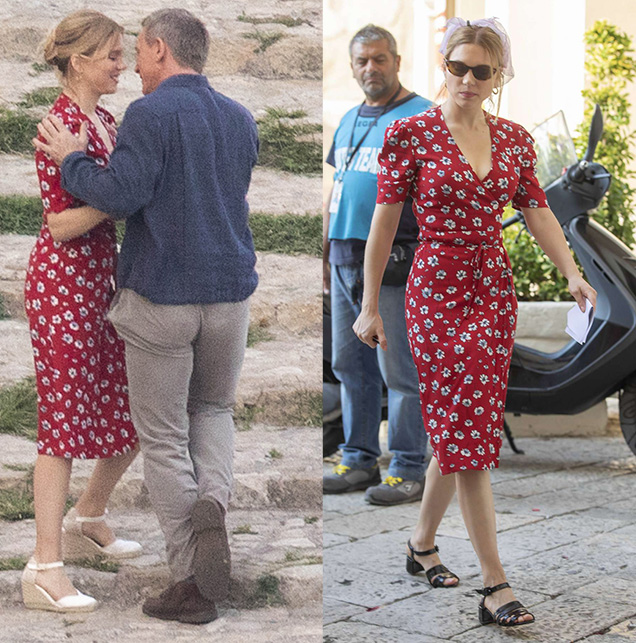 Chopard
Chopard announced via their Instagram page that the brand is an official partner of No Time To Die.
The jewellery seen on Ana de Armas (Paloma) on the character poster is by Chopard.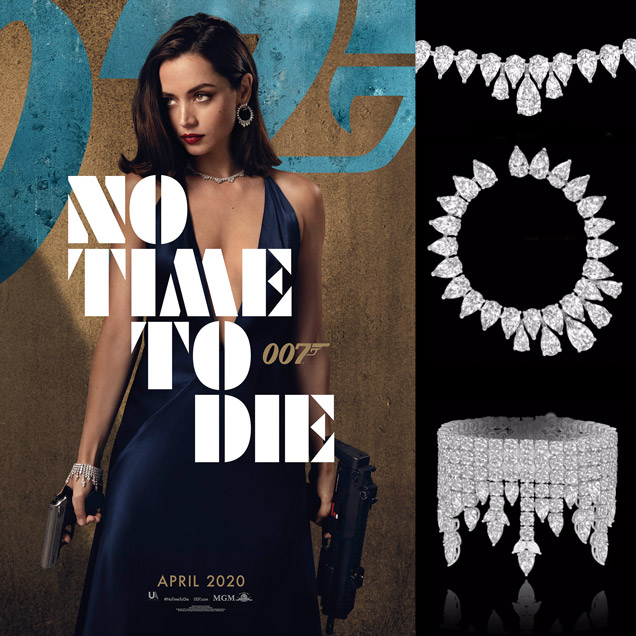 Michael Lo Sordo dress
The blue dress worn by Ana de Armas is the Michael Lo Sordo Alexandra blue satin / silk dress, exclusive available at Net-a-Porter (but almost sold out).
Read more about the dress in the film
Paul Smith (Moneypenny)
Moneypenny (Naomie Harris) wears a Paul Smith Black Check Pattern Mac coat (product code W1R-136C-A10313-79) in the London scenes (thanks to Jon for the alert). The outifit was spotted when Naomie Harris and Daniel Craig filmed scenes outside in London in July. The scenes feature Bond driving Moneypenny in his Aston Martin V8 to a house in London.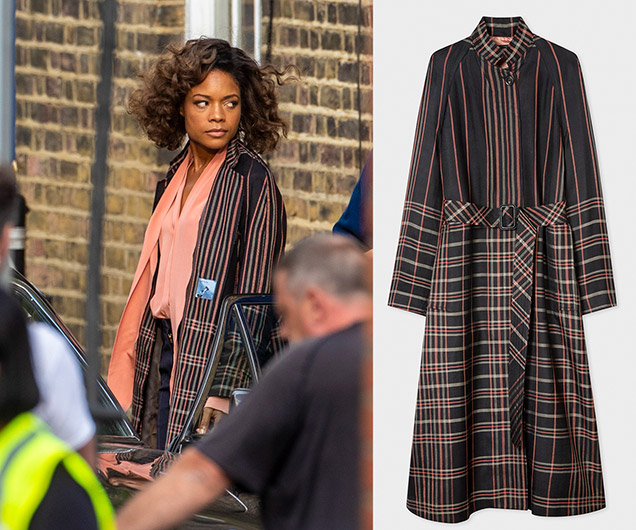 Marks & Spencer Ombre Padded Coat with Stormwear
Spoiler alert: in footage from the Bond 25 set in Norway that appeared on 29 March 2018 we can see a young girl running away from a creepy bad guy. The video and spy photos are from actual Bond 25 filming in snowy Norway. In the video the girl runs on the snow and ice while being chased by a gunman with a machine gun who wears a large white parka, white pants, black boots and gloves and has a white mask over his face.
The girl in the footage shot in Nittedal in Norway is wearing a rainbow colour hoody jacket, which seems to be coming from Marks & Spencer: the Marks & Spencer Ombre Padded Coat with Stormwear™ (3-16 Years).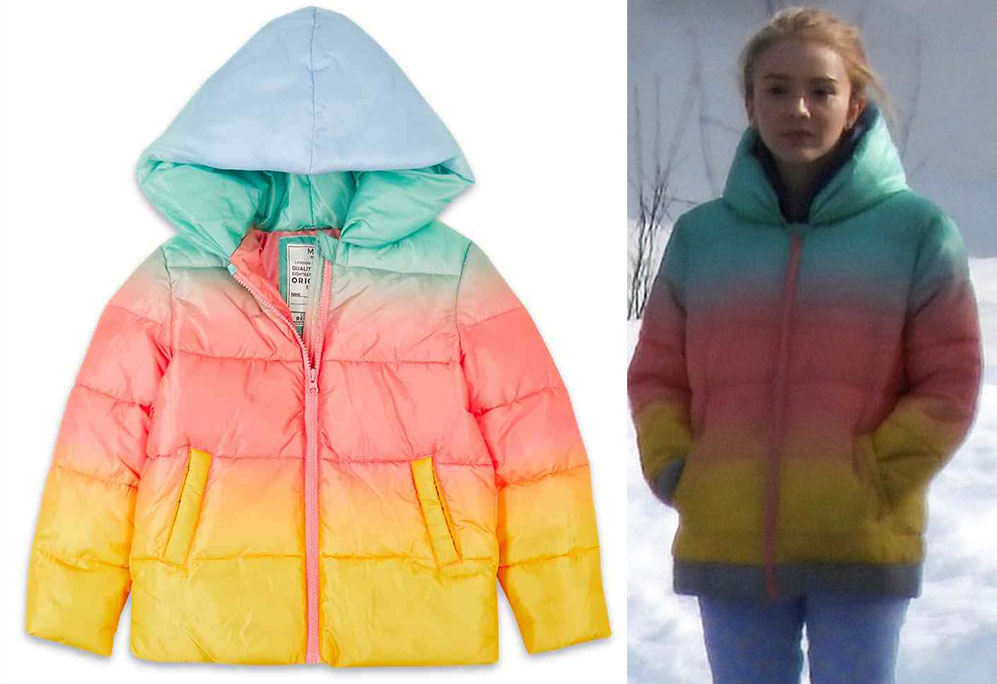 The jacket has the exact same colours and zipper and hood, but it does have extra grey parts at the cuffs and bottom of the jacket, which might have been added by the costume department.
If this jacket will be actually seen in the final film is of course not certain until we see an official trailer, photo or the final film. The girl might be a young Madeleine Swann (the Bond girl who appeared in SPECTRE and will probably return in Bond 25), but this is also not confirmed.
The white parka with fur hood or other clothes worn by the villain have not been identified yet.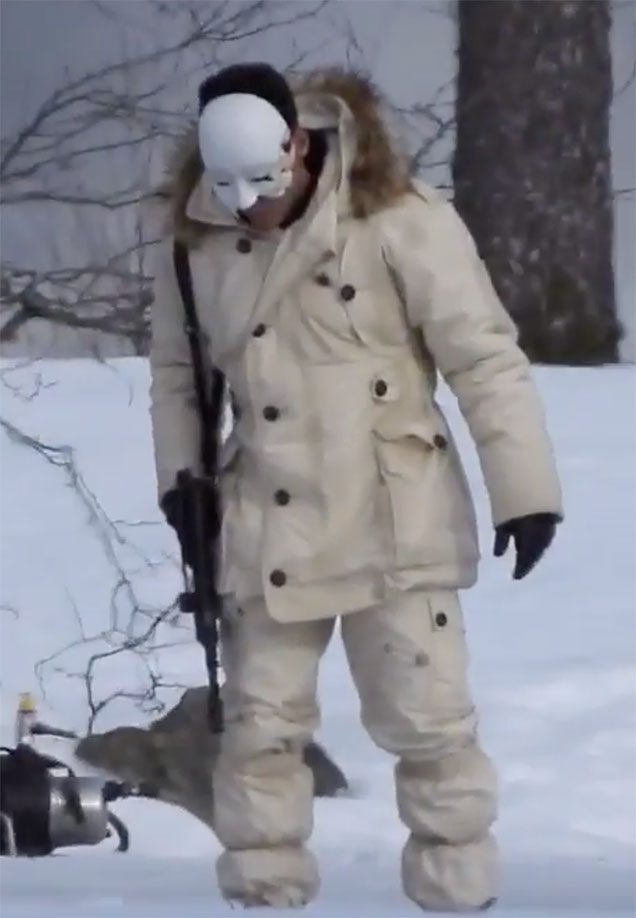 Thanks to whatsdanielwearing for the ID
Emanuele Bicocchi jewelry
Dali Benssalah as the character Primo wears Emanuele Bicocchi jewelry. Primo can be seen in the Matera, Italy scenes on a Triumph motorcyle, wearing a colorful outfit including Emanuele Bicocchi rings and bracelet.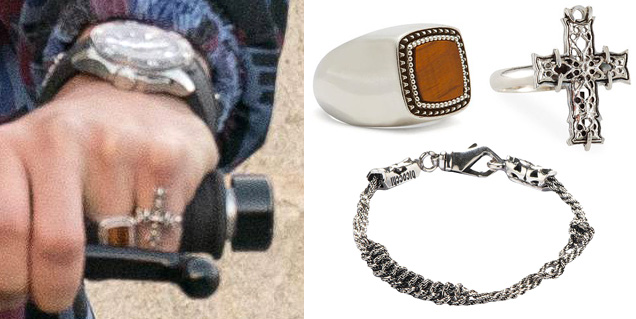 The rings are the Sterling Silver with Tiger's Eye Square Ring, and the Sterling Silver Cross Ring. 
Emanuele Bicocchi jewelry is handcrafted in Tuscany, Italy.
Thanks to The Bond Experience for the ID
L.G.R. sunglasses
Dali Benssalah as the character Primo also wears a pair of L.G.R. Reunion sunglasses, in the colors Black Matt 22 (Frame) and Flat Blue Mirror (Lens), product code 1428.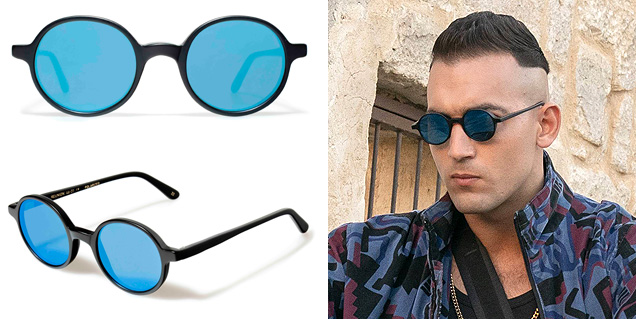 These sunglasses are available at L.G.R. for $390. Note that there are 2 sizes (Regular and Large) so make sure to get the right size for you.
Thanks to The Bond Experience / JTM for the ID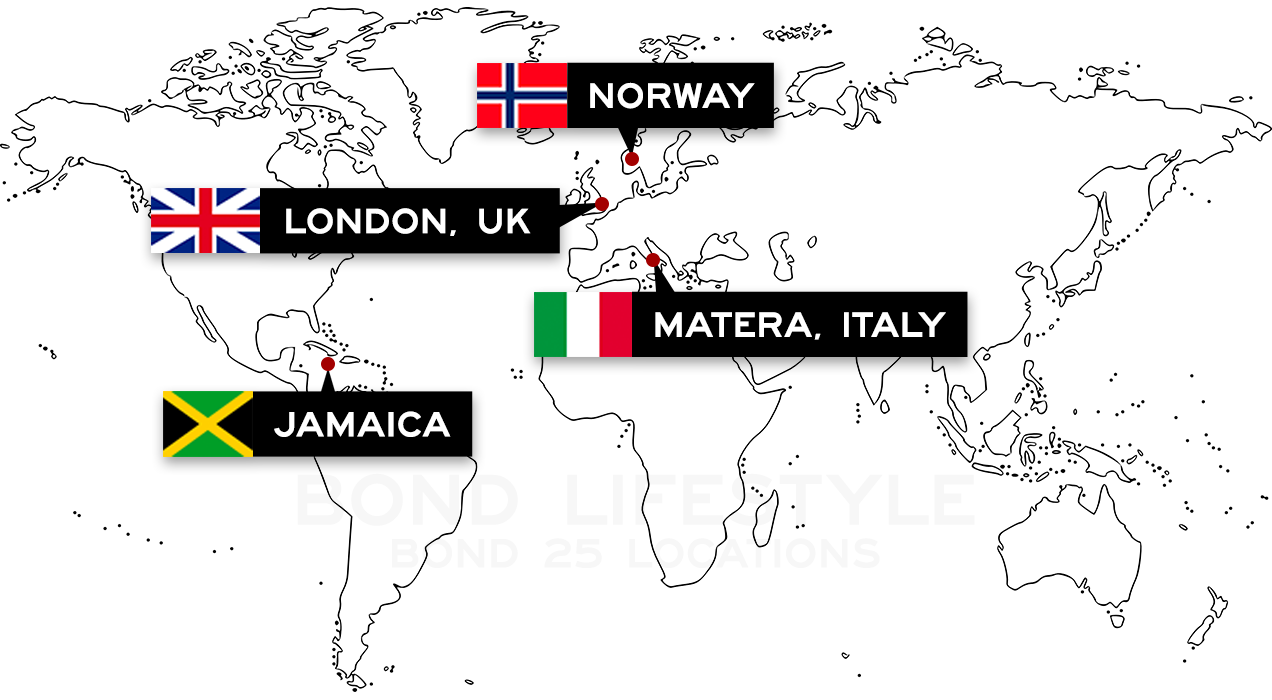 Norway
Parts of NO TIME TO DIE will be filmed in Norway. The Norwegian Film Institute (NFI) will pay over NOK 47 million NOK (approximately $5.5m / €4.8m / £4.2m) to get James Bond 25 to be filmed in Norway, through the state incentive scheme (read the statement). It is the largest award for an international production ever, writes NRK.
"We are pleased that the filming of the James Bond 25, could be done in Norway. The grant offered for the filming, NOK 47 million, is the largest in the incentive scheme's history", according to department director Stine Helgeland for international relations in the Norwegian Film Institute.
The first photos and footage of a set being built and actual scenes of BOND 25 being shot in Norway were released in March 2019, see below for the first product to be identified from that footage. That location is in Nittedal, just north of Norway's capital Oslo.
More filming took place on Storseisundet bridge in Norway. Bond's Aston Martin V8 was driving over the beautiful Storseisundet bridge while being filmed by a camera helicopter and a camera car.
Sources: NFI, JB Magasinet, FSWL
Matera, Italy
NO TIME TO DIE is filmed in and near the city of Matera in Southern Italy, as confirmed by director Cary Fukunaga during the fist press conference in April. The second unit will arrive in Matera on 12 August and filming will take place between 17 August - 23 September in Sassi di Matera and the beach of Marina di Pisticci, south of Matera. Among the set locations also scouted are accommodation facilities Palazzo Gattini in Piazza Duomo, Casa Diva in Via Giumella, the popular hotel Sextantio in the Sasso Barisano and the Beach Restaurant Riva dei Ginepri, in Marina di Pisticci.
Filming took place in the heart of the city of Matera with many Aston Martin DB5 cars and stunt cars, including a high speed chase scene that also includes two Jaguar cars and a Triumph motorcycle.
The scenes were witnessed by dozens of tourists every day, so there has been a lot of video footage and photos appearing online, giving us clues to what has been filmed and a chance to identify what James Bond is wearing (read more about the outfit here).
From what we can gather based on the images from the set, the scenes include James Bond (Daniel Craig) and Madeleine Swann (Léa Seydoux) having a romantic evening in the city of Matera during a festival. At another moment/day, the car chase with the DB5 takes place, with Bond at some point taking over the Triumph motorcycle from a villain henchman.
It's rumoured that the scenes in Matera will be the pre-credits scenes of the film, but of course this is not confirmed yet.
Sapri train station
On September 24th 2019, filming also took place at Sapri train station in Italy, which was changed into the fictional town name Civita Lucana. Bond and Madeleine arrive here after the chase in Matera, with the DB5 all battered up and full of bullet holes. They probably get on a train, and there might be some action or a scene inside the station itself.
Jamaica
It was confirmed by Bond producer Barbara Broccoli that Jamaica will be a Bond 25 filming location. The BOND 25 launch event on 25 April was held at the GoldenEye resort in Jamaica. A chartered plane carried cast and crew including Daniel Craig and Michael G Wilson to Jamaica on April 23/24.
Jamaica is a Caribbean island where Ian Fleming had his GoldeneEye home and wrote many of his James Bond novels. Iconic scenes featuring Sean Connery and Ursula Andress for the first James Bond film Dr No were filmed in Jamaica, and scenes on the fictional island of San Monique in Live and Let Die were also filmed in Jamaica. 
Barbara Broccoli revealed about the Bond 25 story and the Jamaica location: "Bond is not on active service when we start the film. He's enjoying himself while in Jamaica, start his journey here. We built a extraordinary house for him. 500 local people are working on the film already."
Port Antonio
On Sunday April 28th 2019, filming took place in Porto Antonio, at a side street of Harbour Street, with Daniel Craig as James Bond driving in a blue Land Rover Series III, wearing a Tommy Bahamas shirt, Tom Ford trousers, Sperry shoes, Vuarnet sunglasses and an Omega watch.
Other scenes include Bond taking it easy, in a casual swim outfit with blue (unidentified) swimshorts, grey t-shirt, and a Riffe speargun.
London
Director Cary Fukunaga confirmed that BOND 25 will shoot in and around London again. The only Bond film that didn't feature London as a location at all was You Only Live Twice in 1967. Some 007 movies have no outdoor scenes actually filmed in London, but only feature interior scenes (mostly at MI6 headquarters)' that are supposed to be in London, but were filmed at Pinewood.
The Bond film crew has been spotted at Whitehall in the first week of July and Hammersmith Bridge on July 12th.
At Whitehall, scenes were filmed with Daniel Craig as James Bond in a grey Tom Ford suit, his Aston Martin V8 (the one also seen in The Living Daylights) and Moneypenny (Naomie Harris).
On July 12th on the banks of the Thames, near Rutland Arms pub and Hammersmith Bridge, scenes were filmed with James Bond in a blue Tom Ford O'Connor suit and Barton Perreira Joe sunglasses. Craig was joined on set by Ralph Fiennes as M in a long coat and Rory Kinnear as Bill Tanner.
Scotland
The BOND 25 crew has set up shop in Scotland, near Aviemore. It is expected that filming will take place around Ardverikie House.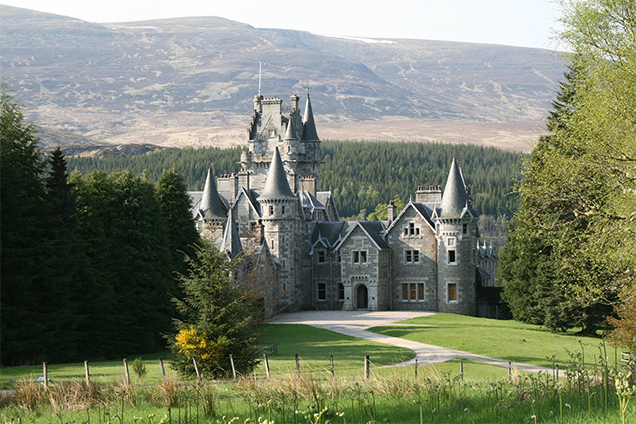 The Scottish Highlands might double for Norway (a confirmed BOND 25 location) in the film. The first footage shot in the area shows a Toyota Land Cruiser 100-series driving through the highlands, the same car that was also spotted in Norway filming. Around 28 July filming took place nearby, with the Toyota Land Cruiser crashing a Range Rover Sport SVR of the road.
Ardverikie House and its estate have been used as a location for filming. It is most recognisable as the Glenbogle estate in the BBC series Monarch of the Glen, that ran for seven seasons from 2000 to 2005. It was also used in the films Mrs Brown (1997), Salmon Fishing in the Yemen (2011), and Outlaw King (2018). The estate has been featured in the series Outlander, and in the first and second series of the Netflix show The Crown, standing in for the Balmoral Estate.
Faroe Islands
The Faroe Islands are confirmed by locals to be a filming location in No Time To Die according to Guide to Faroe Islands and Johannes Mohr.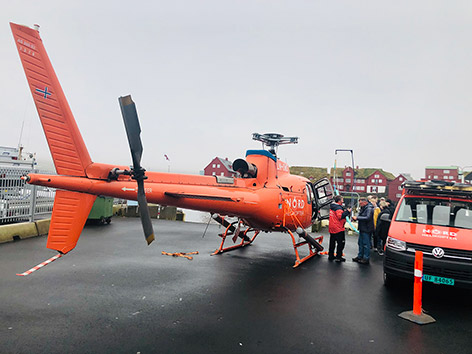 The same helicopter that filmed BOND 25 in Norway is now shipped to Kalsoy island
photo by Hogni Sigrunarson Reistrup
There will be aerial shootings done from a helicopter, because the same helicopter that was used in the Bond 25 Norway filming earlier this year was spotted on 24 September 2019 in Tórshavn (the capital of the Faroe Islands) just before it was transported to Kalsoy island by the ferry SAM.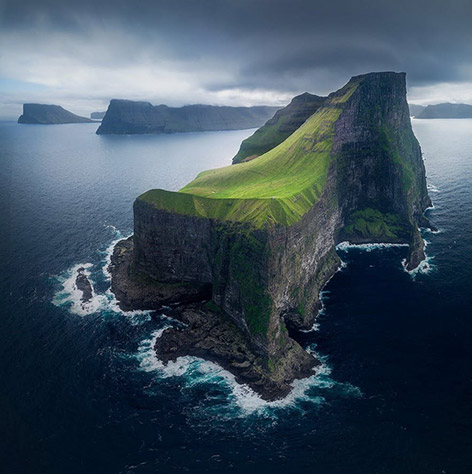 Kalsoy Island, Faroe Islands
The film crew is rumoured to shoot the unspoiled scenery around Trøllanes on Kalsoy Island in the northern part of the Faroe Islands. It is believed that winding roads and several tunnels through the mountains will serve as the filming location.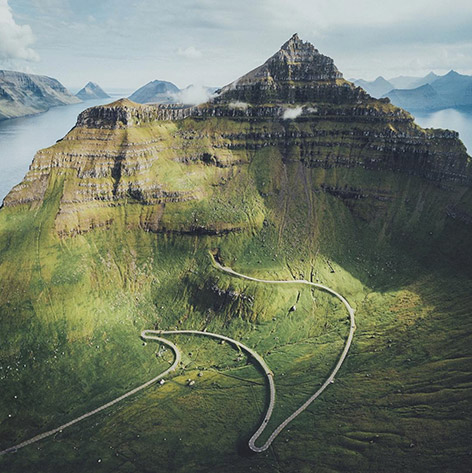 Winding roads and tunnels through the mountains at Kalsoy Island
Filming at the scenic archipelago in the heart of the North Atlantic will take place during the "Faroese winter 2019", according to the site. No Time To Die will be the first ever James Bond movie to include scenes from the Faroe Islands.
Bond fan Johannes Mohr was kind enough to sent us some more inside information about the location: "The film crew are filming on the Faroe Islands, in the village of Troellanes (Trøllanes), this next to the epic landscape around Kallur light house, and the 500 meter tall cliff Borgarin. The village is located on the Island of Kalsoy, an is connected to the larger place Klaksvik by a ferry. To reach the village, it is via 4 narrow tunnles that connect the 2 north most vilages. Troellanes is next to the statue of the seal women that drags large amount of visitors to the island. The scenery of Kallur lighhouse has also been voted the best landscape photograph by National Geograpic, some years ago."
Update 1 October 2019: Apparently filming also takes place on the island Bordoy, that holds the largest village in the North East part of the Faroe Islands, Klaksvik. On the road that stretches between Klaksvik and the settlement south of Klaksvik, recordings are being performed on October 1st.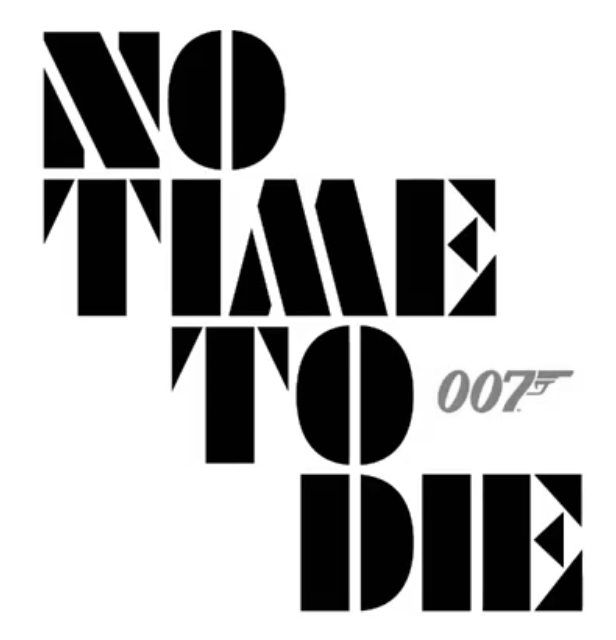 No Time To Die will be released on 14 February 2020 update: 3 April 2020 (UK / International) and 8 April 2020 (USA). Principal shooting started in April 2019, and some footage has already been shot in Norway by the second unit starting March 25th 2019.
The title for the 25th James Bond was announced on 20 August and it is NO TIME TO DIE.
This puts several rumours about the title to rest. Two working titles for BOND 25 appeared: Shatterhand and Eclipse. Movie industry publication Production Weekly included a listing in its 21 February newsletter for "BOND 25 w/t Shatterhand", with shooting due to start at Pinewood studios on 6 April. The name Shatterhand is an alias used by villain Ernst Stavro Blofeld in the 1964 Ian Fleming novel You Only Live Twice. More recently a job website for the creative industry mentioned Eclipse as a working title for B25 Productions.
Story
Official short synopsis "Bond has left active service and is enjoying a tranquil life in Jamaica.  His peace is short-lived when his old friend Felix Leiter from the CIA turns up asking for help. The mission to rescue a kidnapped scientist turns out to be far more treacherous than expected, leading Bond onto the trail of a mysterious villain armed with dangerous new technology."
Director: BOND 25 is being directed by Cary Fukunaga, whose credits include the first series of HBO's True Detective and Netflix drama Maniac. Fukunaga replaced Danny Boyle in 2018 as Boyle left the project over unspecified "creative differences". Fukunaga is the first American to direct an official entry in the Bond series (not counting Never Say Never Again).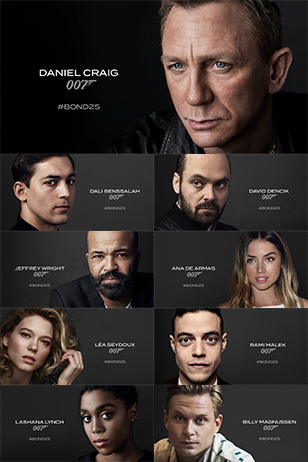 Producers: Barbara Broccoli, Michael G. Wilson
EON Productions, United Artists Releasing (MGM, Annapurna)
Confirmed cast:
Daniel Craig (James Bond)
Ralph Fiennes (M)
Ben Whishaw (Q)
Naomie Harris (Eve Moneypenny)
Rory Kinnear (Bill Tanner)
Jeffrey Wright (Felix Leiter)
Léa Seydoux (Madeleine Swann)
Rami Malek (bad guy)
Ana de Armas (Paloma)
Lashana Lynch (Nomi)
Dali Benssalah
David Dencik
Billy Magnussen
Script: Neal Purvis and Robert Wade, Phoebe Waller-Bridge, Scott Z. Burns
Crew: Director of Photography: Linus Sandgren; Editor Tom Cross and Elliot Graham; Production Designer Mark Tildesley; Costume Designer Suttirat Larlarb; Supervising Stunt Coordinator Olivier Schneider; 2nd Unit Stunt Coordinator Lee Morrison; Visual Effects Supervisor Charlie Noble. Returning members to the team are; 2nd Unit Director Alexander Witt; Special Effects and Action Vehicles Supervisor Chris Corbould and Casting Director Debbie McWilliams.
BOND 25 will probably be the first Bond film to be released in IMAX format.
---

See all products and locations from Bond 24 (SPECTRE)
 
---
Disclaimer: The information contained in this website is for general information purposes only. The information is provided by Bond Lifestyle and while we endeavour to keep the information up to date and correct, we make no representations or warranties of any kind, express or implied, about the completeness, accuracy, reliability, suitability or availability with respect to the website or the information, products, services, or related graphics contained on the website for any purpose. Any reliance you place on such information is therefore strictly at your own risk.
Nothing can be guaranteed about the exact details of the products, or about the appearance of products or locations in the final movie.
In no event will we be liable for any loss or damage including without limitation, indirect or consequential loss or damage, or any loss or damage whatsoever arising from loss of data or profits arising out of, or in connection with, the use of this website.
Through this website you are able to link to other websites which are not under the control of Bond Lifestyle. We have no control over the nature, content and availability of those sites. The inclusion of any links does not necessarily imply a recommendation or endorse the views expressed within them.