Barbour X To Ki To Beacon Heritage Sports Jacket
Barbour X To Ki To Sports Jacket from the Beacon Heritage collection (original product image from 2012)
photo © Barbour
Barbour X To Ki To Beacon Heritage Sports Jacket
photo © Barbour
Bond on Set: Filming SkyFall cover, showing Bond in his Barbour sports jacket
photo © Greg Williams
This new model, the Barbour Dept. B Commander / Beacon Sports jacket launched in 2013 is almost identical to the X To Ki To
photo © Aspecto
The jacket is now called "Beacon Sports Jacket" (not Commander anymore), with model nr MWX0007OL71
photo © END Clothing
James Bond (Daniel Craig) wears a Barbour "X To Ki To" Beacon Heritage Sports Jacket in the movie SkyFall. The jacket can be spotted on the cover photo of Bond on Set: Filming SkyFall and very briefly in the SkyFall trailer. Bond wears the jacket in Scotland, where it fits well in the environment, especially together with his Anderson Wheeler double rifle and Aston Martin DB5. Director Sam Mendes said that he wanted a 1960s feel in those scenes, and the Barbour jacket adds to this look.
With the Barbour jacket, James Bond wears Crockett & Jones Islay boots, N.Peal blue wave cashmere sweater and All Saints Corduane Iggy pants. The scarf by Tom Ford completes Bond's Scotland outfit.

Barbour Beacon Sports jacket - 10% OFF
Get 10% off the Barbour Beacon Sports re-issue jacket at Aphrodite Clothing! Use discount code JBCJ10 at Aphrodite.


Also available at:

 END Clothing USA $745

 END Clothing UK/EU £399 / €465
There's also the slightly different Barbour 125th Anniversary Icons version of the jacket, available at UNCRATE for $499 - and get an extra 15% OFF with code BONDLIFESTYLE - which has some minor changes including a different lining and extra pocket on the left arm.
ALSO READ: Comparing the X To Ki To and the Commander jacket
The Barbour tailored sports jacket made from 6oz Sylkoil wax with the classic Barbour tarten lining. The jacket has a single welted chest pocket with two lower bellowed pockets, and two lower back poacher pockets. Other features include a removable articulated hood which Bond seems to have removed. This jacket is only available in Olive color, product code MWX0364OL71.
The jacket is part of the Beacon Heritage collection, a collaboration between Barbour and Japanese designer Tokihito Yoshida. The collection is inspired by Barbour's sporting, motorcycling and military past and offers a range of jackets, knitwear and shirts.
There seem to be two versions, with a small difference in button placement: the jacket as seen in the film has the two buttons near the stomach area placed closer together, but some jackets have all buttons placed at even distances.
The production of this jacket is limited and it has sold out fast everywhere. The jacket has become one of the most sought after pieces of Bond clothing.
Barbour Dept-B Commander / Beacon Sports
In July 2013, Barbour launched a new jacket, which is almost identical to the Limited Edition X To Ki To, but it's called the Dept. B Commander jacket (a clear reference to Commander Bond). This new jacket has "Barbour Dept B" written on the left pocket and it doesn't come with the removable hood or flap. The jacket is still available as the Beacon Sports jacket, modelnr MWX0007OL71, read comparison with original jacket here. Later, the same jacket is called "Beacon Sports Jacket" (not Commander anymore), with model nr MWX0007OL71.
Where to buy the Commander /  Beacon Sports
If you have an official Barbour store nearby, I would recommend paying it a visit and fit the jacket. I bought my Barbour Dept B Commander jacket at End Clothing (USA and UK/EU). Great service and fast delivery. I have heard positive feedback from fans in the USA, Canada, Denmark, Belgium and the UK.
For USA, UK and EU fans Aphrodite 1994 (currently 20% OFF, no code needed) offers a good price (£399 / €485 / $526.68). The jacket is also available at End Clothing (£399 / €485 / $728, available in US/UK/EU/World.
End Clothing includes import duties, but please note that you might have to pay custom taxes when the jacket is ordered from international websites, but many people have received the jacket without having to pay anything extra. Canadian fans beware, I heard from a fan in Canada that he had to pay close to 190CAD import taxes.

Barbour Beacon Sports jacket - 10% OFF
Get 10% off the Barbour Beacon Sports jacket at Aphrodite 1994 Use discount code JBCJ10 during checkout.

Read a comparison between the Commander / Beacon Sports and the To Ki To jacket.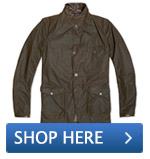 eBay
On eBay there are sometimes a few jackets on offer, usually for more than the original retail price.
The official, original Barbour price of this jacket was £399 (approx. $630 or €485).
Update December 2019: the Barbour Beacon Sports jacket is also worn by actor Michiel Huisman in The Age of Adeline (2015).
Update 2019: Barbour Icons Beacon Heritage
In 2019, Barbour created a limited editon based on the original James Bond Barbour, but the design is slightly different: it has a zipper pocket above one of the front pockets, has a different tartan lining, and a small pocket on one of the sleeves.
A beautiful jacket, although slightly different from the film version, this Barbour 125 Year Anniversary edition is available at Uncrate ($499, and get an extra 15% off with code BONDLIFESTYLE).
---