Building the Aston Martin DB5 1/8 scale die-cast model
20 February, 2013
Currently the Aston Martin DB5 1/8 scale is available in The Netherlands, so I was able to subscribe. In the next 85 weeks, parts of this model will be delivered and put together.
On the Bond Lifestyle Forum (update: Forum is shut down) can stay up to date about the progress. Feel free to add your experiences with building this car, or ask questions about this set.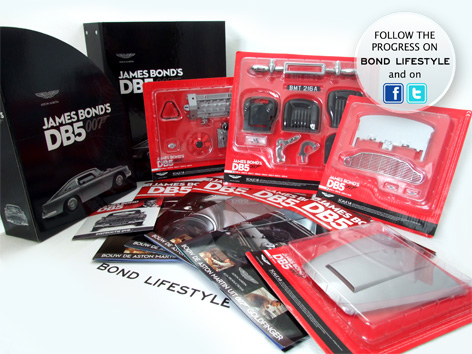 Every four weeks, four issues will be delivered. I'm very excited about this one as this is quite a unique model, with not only a large scale but also many working gadgets including lights, engine sound, and the well known modifications like the rotating license plates, bulletproof screen etcetera. Many parts are metal, and no glue is needed since all parts are fixed with screws.
Last week I received my first set of magazines and parts. The box contained a DVD, Magazines 1, 2, 3 and 4 plus parts, and I opted for option to buy the magazine binder as well, so I can store the magazines properly.
Part 1 includes a beautiful front grille, bulletproof shield and Aston Martin badges. Part 2 contains chairs, bumper and a license plate. Part 3 includes the engine bonnet. Part 4 has some nice parts for the engine. Just feeling the weight of these parts I can only image how heavy the final car will be. According to the official website of the car, it will weigh 20 pounds (9 kilo)!
All parts look very nice so far. In the next shipment I should receive some more tools and screws so maybe then the first assembly can take place. Stay tuned!
For more info, some great photos and videos of this car, visit the official website http://www.007db5.com (update 2017: or the Eaglemoss UK or Eaglemoss USA websites).
The model is only available in a select number of countries, for example:
UK http://www.007db5.com/
The Netherlands http://007db5.nl
South Africa http://007db5.co.za
New Zealand http://007db5.co.nz
Germany http://007db5.de
Subscribe to the Bond Lifestyle EYES ONLY newsletter