007 Fragrance available in new Ocean Royale version
14 March, 2013
The new addition to the official James Bond perfume collection from the motion picture company Eon Productions launched in 2012 (with the debut James Bond 007 fragrance and limited Gold Edition) is named James Bond Ocean Royale.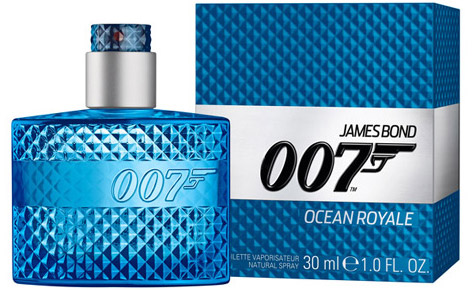 Ocean Royale features lime, anise, bergamot, sea breeze accord, iris, teak, tonka bean, coffee, cedar, sandalwood and guaiac wood.
It is available as 30, 50 and 75 ml and 125 ml Eau de Toilette with aftershave lotion, shower gel and two types of deodorants.
Ocean Royale is now available on Amazon in several sizes.
The black and gold bottles of 007 Fragrance are still available here on Amazon and Amazon.de in Germany offer the complete range of James Bond Fragrance, shower gel and deodorant.
Subscribe to the Bond Lifestyle EYES ONLY newsletter