Aston Martin DB5 James Bond 007 model car for sale on eBay
14 January, 2019
An Aston Martin DB5 James Bond 007 tribute model car in 1:1 scale is currently offered for sale on eBay.
The asking price is $165,000 (approx £130,000 or €145,000).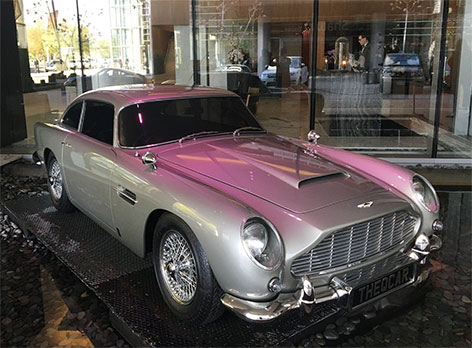 The Q Car, a full scale Aston Martin DB5 model, now on offer at eBay
This hand made full-size model Aston Martin DB5 movie tribute car from the film Goldfinger is supporting many original parts and working gadgets. The car rolls and steers, and has a 110v plug and remote control to run the gadgets.
The model has been on display at several locations and events, including the 2016 Aston Martin Vancouver debut of the DB11, the 2016 Luxury Supercar weekend with Aston Martin, 2016 SEMA Show, Aston Martin Beverly Hills, Aston Martin Vancouver and  the Pacific Rim Fairmount Vancouver hotel.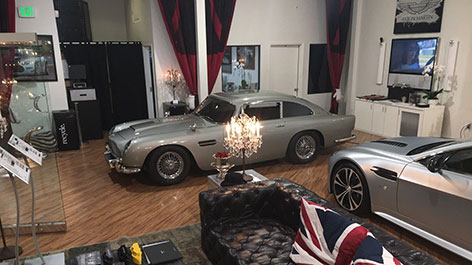 The model, named The Q Car, was developed by car builder, motorcycle racer and customizer Olivier Spilborghs ("Q") in Vancouver, Canada. When he grew up, he saw one of the original 4 original Aston Martins used in Goldfinger in West Vancouver, where it was on display at Frank Baker's restaurant The Attic for 13 years. This car switched hands a few times after that and is now owned by and displayed at the Louman Museum in The Netherlands.
A few years ago, inspired by his childhood memories of the car, he decided to create his own DB5 tribute car.
The Q Car took 5 years to build and search all the parts. The gadgets are handmade, and work either via switches or a custom remote control.
Working gadgets include:
- Retractable front machine guns with flashing stobes as "gun fire"
- Rear rotating plate that continues to show all 3 different plates
- Rear smoke screen
- Rear bullit screen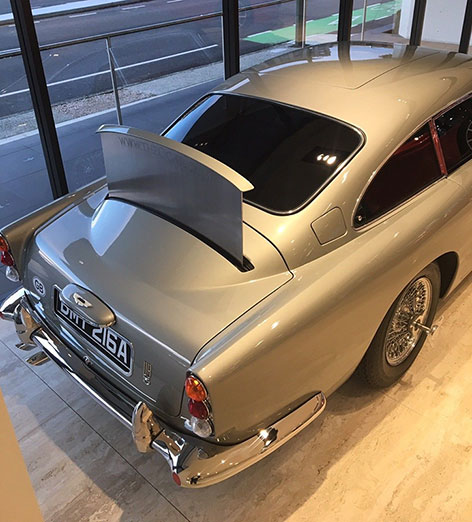 - GPS map with flashing light
- Tail light opens with oil slick nozzle
- Door panel pocket with phone
- Both rear spinners come out "tire slashers"
- Removable ejection roof section
- Centre console with gadget controls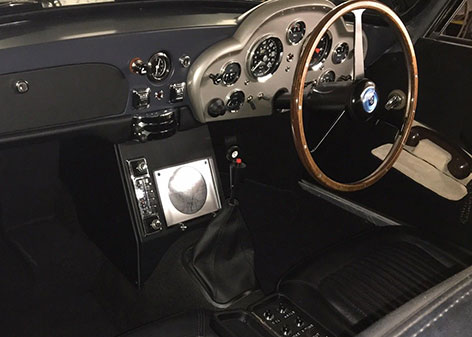 - Timer controlled 007 hologram from door sides to floor
- Remote control runs all gadgets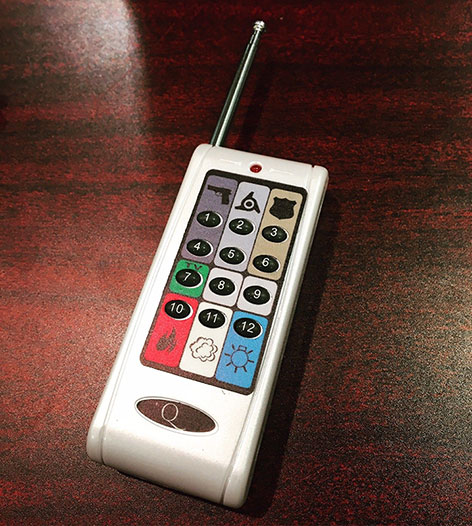 The model is currently being re-painted and getting upgrades and will be available for delivery in March 2019.
Q is already working on a running DB5 car now, based on a real DB5, but with the added gadgets. We can't wait to see the result which will hopefully be done before the release of Bond 25.
Visit eBay for more information and photos of The Q Car DB5, or to make an offer. And follow the Q Car on Instagram at @theqcar for updates on the new DB5 project.
Subscribe to the Bond Lifestyle EYES ONLY newsletter