La Perla "Grigioperla" blue swimming trunks
La Perla Grigioperla Lodato
photo © La Perla
Daniel Craig wearing the blue La Perla Grigio Perla swimming trunks
photo © 2006 Sony Pictures
Screenshot of the La Perla website, showing the La Perla trunks and bikini
photo © La Perla
Most women will still remember the scene from Casino Royale where James Bond emerges from the sea in his blue trunks. Daniel Craig's famous blue swimsuit from Casino Royale is a La Perla Grigioperla Lodato from the Spring/Summer 2006 collection.
The trunks have been flying off the shelves since the first publicity shots from Casino Royale showing a toned Craig emerging from the sea wearing a pair received wide publicity.
These famous trunks are not available anymore online or in stores, except sometimes on eBay.
La Perla later released the similar Alberti and Maurilio models, but those are currently also impossible to find.
 
Alternative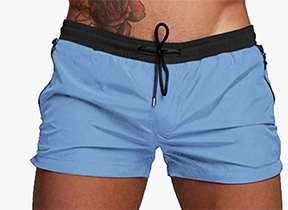 You can find affordable alternatives, for example these Coofandy Swim Trunks available on Amazon for $19.99.
These shorts are less tight than the La Perlas, but still quite short. It has zipper pockets and a draw string. I just purchased a pair myself. They are made in China, from a light polyester and spandex, but for this price you have a very decent pair of swim shorts similar to Bond's briefs that is also easier to wear (not as 'revealing').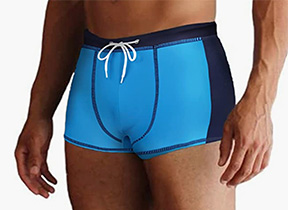 Another model from Coofandy are these elastic swim briefs in Sky Blue and Navy Classic ($19.98) that are just as tight fitting as the La Perlas and have similar dark blue lines on the sides, check it out here. (I don't have these myself yet so can't comment on the quality).

-
In the same film, Solange (Caterina Murino) wears a green La Perla bikini.
About La Perla
Sophisticated, luxurious and expensive, La Perla's beautiful lingerie has been worn by actresses and celebrities. The company's pieces have even become highly prized as collectables. La Perla currently sells mostly women's lingerie. Visit the website and online store on LaPerla.com
Other James Bond swim shorts
The Orlebar Brown Setter swimshorts worn by James Bond in SkyFall (2012) have a similar color, Sky blue, to the La Perla swimshorts, and have been popular ever since the release of the film, even though they only appear in the main promotion photo and briefly in the film itself.
The blue color might be inspired by the original Jantzen swim shorts worn by Bond in the early Bond films.
In 2013, Sunspel released a pair of light blue swim shorts directly inspired by the Jantzen shorts, also in the light blue color, and designed in collaboration with costume designer Lindy Hemming, who was also responsible for the costume design in Casino Royale.
Related Article:
Affordable Alternatives for Bond's blue swimshorts
---
Subscribe to the Bond Lifestyle EYES ONLY newsletter