Sunspel releases Bond's 1960s style swim short
15 May, 2013
After months of testing and refining, the Sunspel Swim Shorts are now available on the Sunspel website and in the three London stores.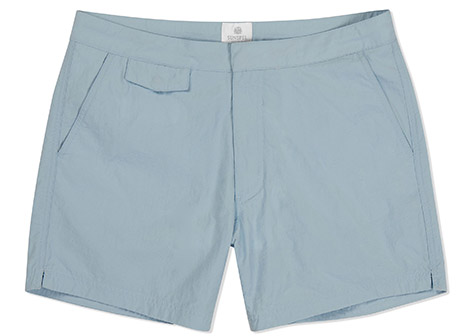 The shorts are inspired by Sunspel's work with the Barbican to recreate Sean Connery's shorts for the Designing 007: Fifty Years of Bond Style exhibition. Thanks to the exhibition, Sunspel received many requests to produce the shorts, and now they are finally available in the online store and in the London stores.


The Sunspel Swim Short is a combination of classic design and modern technical construction and detailing.
Sunspel's Head of Design about the design process:
"As with all our styles, finding the perfect fabric was vital. We tested hundreds of possibilities and worked closely with a performance fabric specialist to create exactly what we were after: a fast-drying, contemporary fabric that has the appearance and feel of soft, lived-in premium cotton."
"In 2012 we were asked to recreate the shorts worn by Sean Connery in his role as James Bond in Thunderball for an exhibition at London's Barbican. Our new shorts are a combination of Bond's 60s aesthetic with a modern design sensibility and technical construction."
"Every detail of our swim short has been poured over: to ensure a soft feel against the skin we sourced the finest mesh lining and drawcord we could find; we've used silver metal for the eyelets and drawcord endings as it's more authentic to Bond's wardrobe of luxury basics."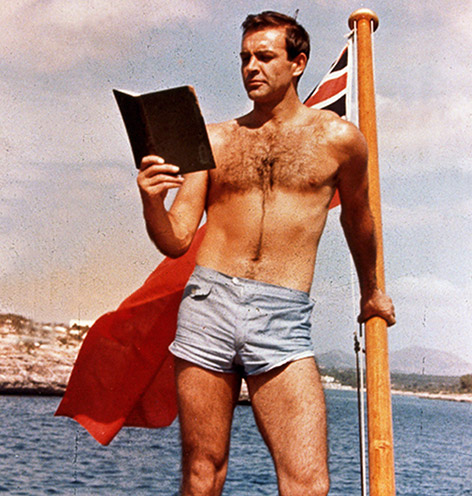 The shorts that were created for the Barbican exhibition were based on this photo of Sean Connery (see above). The photo turned out not to be from Thunderball, but from the set of the the movie Woman Of Straw, a movie Sean Connery was filming at a similar time as Thunderball. In Thunderball, Connery wears a a pair of Jantzen shorts.
Sunspel created the Riviera polo shirt and t-shirts for Daniel Craig in the movie Casino Royale (2006).
Subscribe to the Bond Lifestyle EYES ONLY newsletter