SPECTRE standee art with Daniel Craig and Léa Seydoux
05 September, 2015
After the new SPECTRE poster revealed earlier this week, we can now see a standee featuring both Daniel Craig as James Bond and Léa Seydoux as Dr. Madeleine Swann.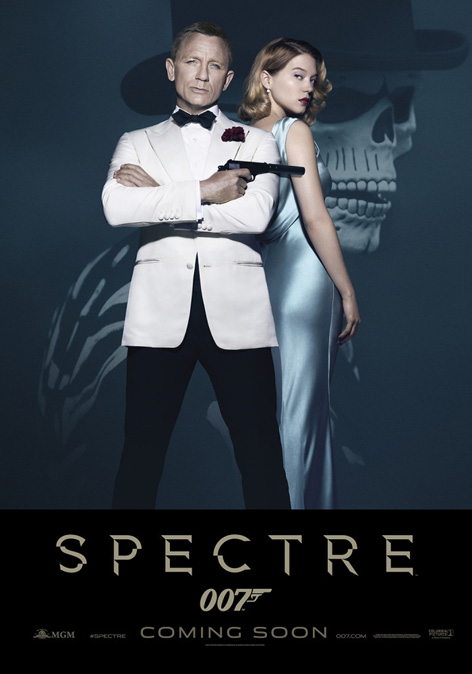 Daniel Craig has his head slightly titled in this standee image, while Léa Seydoux gives us a mysterious look.
Craig holds a Walther PPK with suppressor and wears a white Tom Ford Windsor evening jacket with peak lapels, a slim fit white Tom Ford evening shirt with french cuffs and black Tom Ford O'Conner evening pants.
Madeleine Swann wears the Ghost Salma dress we saw earlier in the SPECTRE trailer and stills, which in the film will be Dusty Green, but in the poster the color looks more like Sky Light blue. This dress is available for £225 at JohnLewis.co.uk or on Ghost.co.uk.
With this green dress, Madeleine Swann wears a pair of David Deyong DiamonDust Sterling Silver earrings made with Swarovski Zirconia (read more), available online at David Deyong for £199 - worldwide shipping available; free UK shipping; use promotional code BONDLIFESTYLE5 during checkout to get 5% off!
The SPECTRE poster released earlier this week shows Daniel Craig in a classic James Bond pose, looking a bit more serious than in the standee.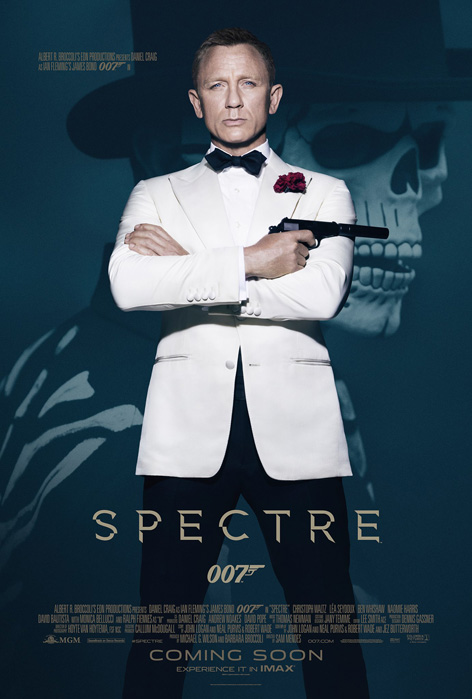 In the background of the poster we see Bond's Day of the Dead outfit, with skull and bones mask and suit.
Craig wears a red carnation in the left lapel, perhaps as a nod to Goldfinger (1964) in which Sean Connery also sported a white dinner jacket with peak lapels, black bow tie and red carnation. Harrison Ford wore a similar outfit in Indiana Jones and the Temple of Doom.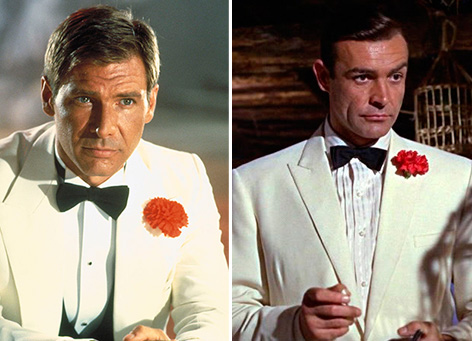 Harrison Ford in Indiana Jones and the Temple of Doom and Sean Connery in Goldfinger
The World Premiere for SPECTRE will take place in London on Monday, October 26, 2015.
For the first time ever, the film will open on the same night at cinemas across the UK and Ireland, giving audiences the opportunity to be the first in the world to see the hugely-anticipated 24th film in the James Bond franchise.
Following the World Premiere and release in the UK and Ireland, SPECTRE will begin its rollout in territories around the world. The film will release in the US on November 6, 2015.
Subscribe to the Bond Lifestyle EYES ONLY newsletter