Bond in white dinner jacket on new SPECTRE poster
03 September, 2015
A new SPECTRE poster has been released today, showing Daniel Craig in a classic James Bond pose.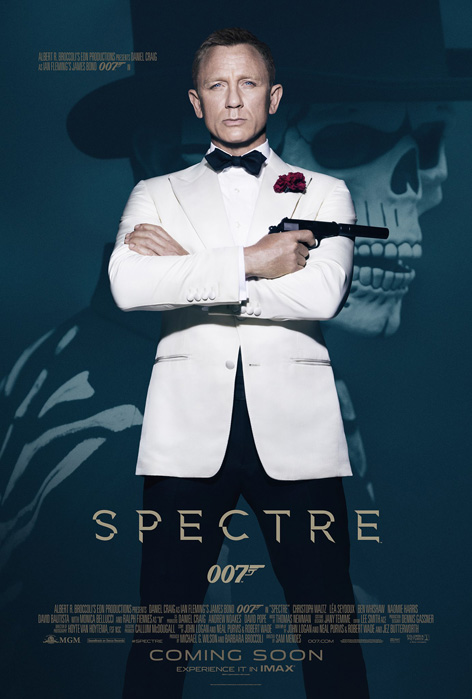 In the background of the poster we see Bond's Day of the Dead outfit, with skull and bones mask and suit.
Standing in front, Daniel Craig as James Bond holds a Walther PPK with suppressor. Bond wears a white Tom Ford Windsor evening jacket with peak lapels, a slim fit white Tom Ford evening shirt with french cuffs and black Tom Ford O'Conner evening pants.
Craig wears a red carnation in the left lapel, perhaps as a nod to Goldfinger (1964) in which Sean Connery also sported a white dinner jacket with peak lapels, black bow tie and red carnation. Harrison Ford wore a similar outfit in Indiana Jones and the Temple of Doom.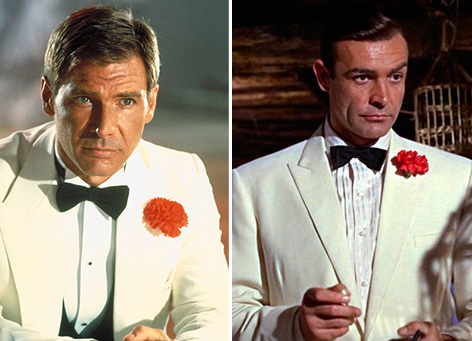 Harrison Ford in Indiana Jones and the Temple of Doom and Sean Connery in Goldfinger
The World Premiere for SPECTRE will take place in London on Monday, October 26, 2015.
For the first time ever, the film will open on the same night at cinemas across the UK and Ireland, giving audiences the opportunity to be the first in the world to see the hugely-anticipated 24th film in the James Bond franchise.
Following the World Premiere and release in the UK and Ireland, SPECTRE will begin its rollout in territories around the world. The film will release in the US on November 6, 2015.