Original Thunderball Geiger counter watch found by Bond fans
16 May, 2013
Yes, you read that correctly….THE original, screen-worn Breitling Top Time Geiger counter watch worn by Sean Connery in the 1965 film Thunderball has surfaced! Read the amazing story and see the photos.
Bond fan Brian Vinciguerra tells his story of how he was instrumental in this discovery.
Also involved were Bond props specialist Ed Maggiani (TheSpyBoys.com), Pete Harrison and the AJB007.co.uk forum.
Brian: "As some might remember, I had posted a thread about recreating the Geiger counter watch from Thunderball. Have no fear, this is going to be a reality…and sooner rather then later.
As I may have mentioned, this prop absolutely gripped me as a child. I am not sure what it was about it all, but I simply LOVED the watch given to Bond by Q-Branch. I guess I've always been a big watch fan and this, being the first gadget watch ever given to Bond, holds a place in my heart. It also doesn't hurt that the prop was based off of the very wonderful Breitling Top Time ref. 2002. A star in its own right. In the end, I wanted to try and create something for this community. Something that has not been done before and that others would potentially cherish as much as I will.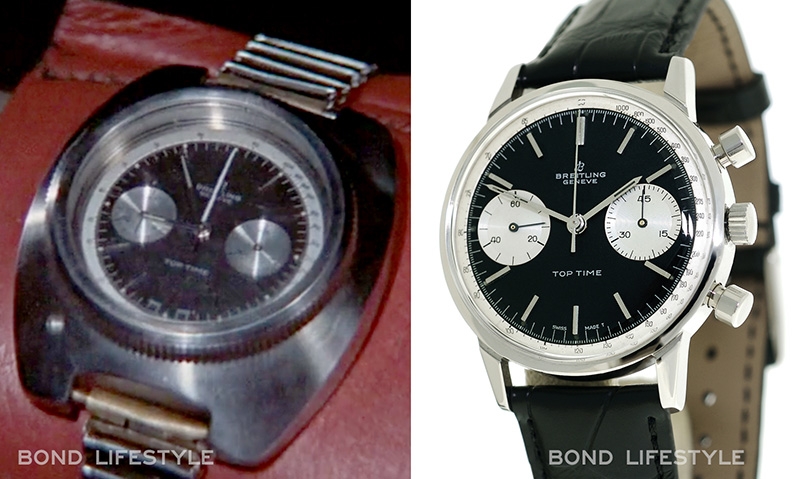 Bond's watch in Thunderball (left) and a standard Breitling Top Time on the right.
photo © United Artists, Danjaq LLC, Columbia Pictures / photo on the right © WatchClub.com
So, I plugged away at drawing after drawing, trying to get my prop as perfect as it could be. Never just saying its good enough. I wanted it to be perfect in every aspect. Very quickly I discovered what really goes into trying to recreate something… especially something that has never been seen since filming AND can only be viewed through a few screen grabs from the film. There was more to this then a simple case. How did the designers originally do it? Was the entire Breitling placed inside? Were just the guts swapped over? These are the things that kept me ever thinking. And kept me drawing and redrawing. I had finally come up with a theory about how it was all done. I needed to convince myself of it before I went mad!
That all changed on November 2nd of last year. I hadn't been on my Geiger thread for some time and, maybe a sort of Bond-like sense told me to check. Well, right there, smack at the end was a post from a gentleman stating he thinks he may have just stumbled into the original prop used in the movie! I was so excited I could barely contain myself. Even if it wasn't, this would be a great opportunity to see how someone else thought to solve the MANY problems that I had been running into. I sent the user a private message and waited (extremely anxiously) for a reply.
Martin replied back almost instantly and this is the exact moment that this little "project' of mine turned into something a bit more. This, to me, has no turned into one of the great Bond-find stories going.
Martin was amazing right from the start. He told of how he recently came into procession of this watch. Bought from a fellow who got it from a fellow who worked at Pinewood Studios. The man he bought it from was still in the area. When he was offered this unique item, he had no idea what it was worth or any of its significance. For pricing he had a very simple equation. Take the price of Top Time, add a bit for the (possible) Bond connection and take some off for a few minor things. Seemed to work well for him. He was searching the internet trying to find any info about the watch and its history and came up with my thread on the build. As anyone knows who have tried to look into this particular prop knows, there really isn''t much out there. He idea was to post the watch for sale on eBay the next week to help add some funds for a surprise 25th anniversary for his wife. Admittedly, my first thoughts turned to snatching this up myself but I knew that wasn't in the cards for me. I just hated the idea of it going to someone that didn't REALLY understand what they might be getting. I pleaded with him to hang onto it for a little so that we could try and find more out about it and to see, if in fact, this was THE actual prop used in the film and worn by the BOND of Bonds. It didn't take long to convince him as he truly believed in his heart of hearts that it was genuine. Being the amazing guy Martin is, he also agreed to provide me with anything I needed to help get my project finished. Even went out and bought a pair of calipers to help me with measurements. Did I say Martin was a fine gentleman? Haha. Well, I am a giant Bond fan but I can not hold a candle to most of you on this forum. I knew I needed to get in touch with some who really knows their stuff. Someone that also shares a passion for Thunderball. That man was Ed Maggiani of course! I will leave it to Ed to tell his part in this story but I can safely say that without him, and his world of knowledge on EVERYTHING Bond, we would not be where we are today.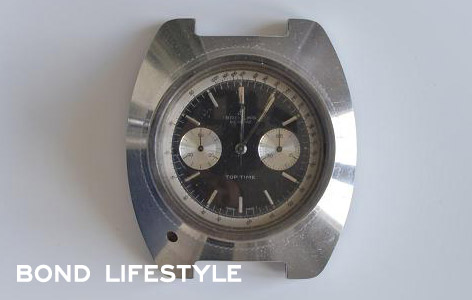 The original prop used on Thunderball - photo by Martin
So, where are we today you ask? Well we are now 100% certain that this is THE genuine prop designed, build and used in the filming of Thunderball. It is the only one ever created and was THE item worn by Sean Connery during the filming of this wonderful movie. Absolutely amazing!! Ed and I were like two school children when we found out the definitive news. It took a lot of back and worth and trips here and there. Even some people trying to make a quick sale buy flashing some big numbers at Martin. Martin held on and thank goodness. It would have killed me to have this potentially go back underground without getting to the bottom of it all.
For me, this ticks every box possible. For starters, to have actually been a part of this great find is just spectacular. I can almost imagine what is like to be a paleontologist on the verge of discovering a new, never seen species of dinosaur. I know all three of us where on the edges of our preverbal seats during this entire process. It also gave me the rare opportunity to see just how the original designers actually did it. Much to my surprise, I was very much on the right track, with one thing that totally blew me away. I will let the pictures do the talking on that.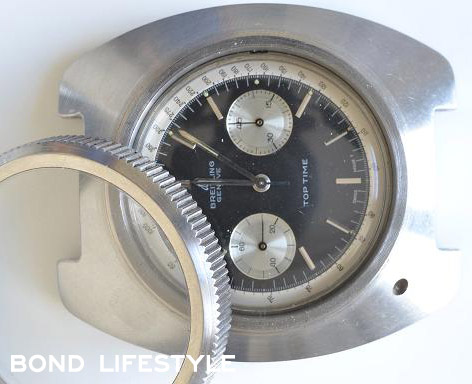 The original prop used on Thunderball - photo by Martin
I mentioned it was an interesting journey. Here's one instance. While in the middle of trying to get to the bottom of it all, Martin was approached by a potential buyer. Remember, we hadnt yet discovered if this one 100% genuine. The buyer brought a few people to look the watch over. They turned to Martin almost instantly and made him an offer. It was an amazing offer (several times more then he had paid) and it would have been so easy to take the money and run. When Martin told me of this offer I had to remind him that that was an offer on an item that we have no proof of its originality. It was a very, very large number for something like that…unless they know something we don't. Also, it isn't as if there is another of these floating around that they buyer could go and buy instead. Martin agreed and that ended that.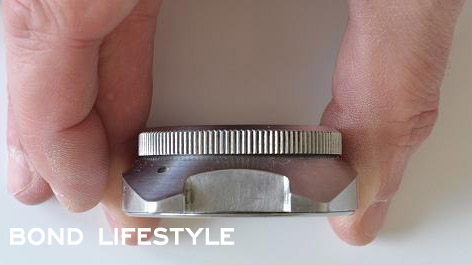 The original prop used on Thunderball - photo by Martin
It was Ed's connections within Eon that cracked the case on this one. After we found out, Martin was ecstatic and wanted to have the Breitling serviced and checked. He rang Breitling UK and told him the story. It all seemed rather "business as usual" while on the phone. He set up an appointment. When he got there, things were a bit different. The head of Breitling UK was standing at the door, hand extended. Behind him were no less then 6 technicians in white coats and all wearing matching white smiles. Martin was not allowed back into the "lab" but there is a large glass wall that allows you to observe. He said the techs were all hovered over the watch, watching pictures and discussing. Needless to say, it made quite a hit. When they were finished, they each came out to shake Martins hand and thank him for the opportunity to see this amazing relic. The head of Breitling had stepped away for some time and Martin thought he was off doing his day to day business. He caught Martin as he was leaving, winded slightly from running. He had stepped away to contact Breitling HQ. After a lengthy enough conversation, he expressed Breitlings extreme interest in the watch. They wanted to make an offer on it!
Stephen Lane, CEO of Propstore, Tim Lawes and two other colleagues were brought in to examine the watch.
Here is what Tim had to say regarding their meeting….
"The watch is a very exciting item indeed and it was a pleasure to have inspected it in person. We were invited to the meeting at the request of Martin, the owner of the watch via a friend who is a Bond connoisseur. I understand we were the first prop specialists to see the watch.
There were 4 of us at the meeting and we had a long discussion about the processes of authenticating such an item.
Martin was very pleased with our assistance, our method and information we were able to provide. We even had pretty good evidence at the meeting of potential screen matches. We also identified a number of "tells" that would have been impossible to replicate without having the original in hand. We were in little doubt that the watch was original and made that fact quite clear before the meeting was over.
Martin was very interested in the procedure of authentication as this was a new territory for him. We advised him on the next steps to take. Initially, we suggested that he might have the watch disassembled professionally to get access to the serial number and that number should then be submitted to Breitling for them to confirm that it predated the production of the film and to see if Breitling might be able to add any other reference for it. We already have a contact at Breitling and offered to assist if needed. Martin is an experienced watch collector and this element of the project was something he was able to take care of himself."
Christies and Meg Simmons, the Archivist of Bond props at EON, were contacted. She stopped by to examine the watch. Peter Lamont was also there and he confirmed that the initials engraved on the rear of the watch stood for the Tool Company who made the casing and that there was only one made.
The watch is currently with Christies, who are very excited to have it and it will be in their Pop Culture Auction on Wednesday June 26th 2013 in South Kensington, London, UK. The catalog will be distributed around 26th of May, four weeks before the sale date. The watch was photographed as a 3d image and will available to view on the online catalogue which will become available around the same time.
Text by Brian Vinciguerra and Ed Maggiani, photos by Martin
Visit the Christies website here
Read more about the Breitling Top Time
Visit AJB007.co.uk Collecting Forum
Subscribe to the Bond Lifestyle EYES ONLY newsletter