Incredibly detailed fanmade Glastron-Carlson CV21 Live And Let Die remote control model
05 July, 2017
French industrial designer Bertrand Le Bris used his skills to create an incredibly detailed scale model of the black and yellow "Billy Bob" Glastron-Carlson CV21 jet speedboat. And it even works!
All photos below are of the model. Click for larger version.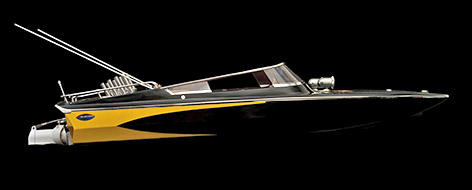 In the movie 1974 James Bond movie Live And Let Die, a speedboat owned by Sheriff J.W. Pepper's brother-in-law "Billy-Bob", is stolen by a Kananga henchman and used to chase James Bond (Roger Moore) in his Glastron GT150. The speedboat is described by the Sheriff as "the fastest boat on the whole damn river."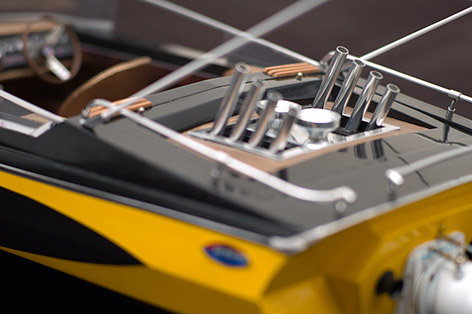 The speedboat in the movie is a 21 feet (6,4 meter) Glastron-Carlson CV21, powered by a V8 Olds 455 CI (Oldsmobile marine version with almost 400HP) and a Berkeley jet unit. The Berkeley can be used in shallow waters ... and cross the road because there is no propeller. The 8 exhaust pipes on the Bond boat are fake and only used for style. The real exhausts are on the back board of the boat. But with its 8 pipes and two large VHF antennas, it is aggressive and look like a fast powerboat.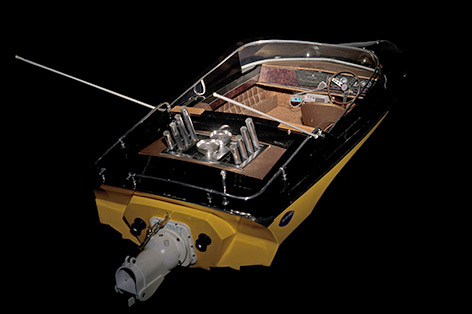 After seeing the speedboat in Live And Let Die, Bertrand's son told his dad how he loved this boat. Bertrand, a former industrial designer, promised his son a working R/C model of the speedboat.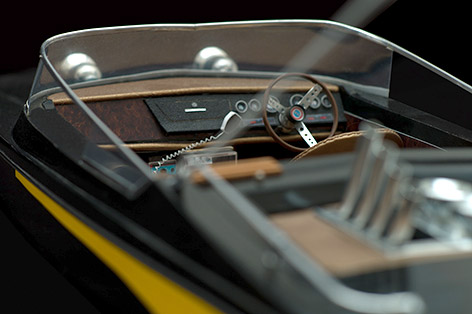 A few years ago, when he was an industrial designer, Bertrand created a prototype boat for Lamborghini Marine. His skills are evident in the Bond boat model, which he constructed from scratch, including creating his own blueprints.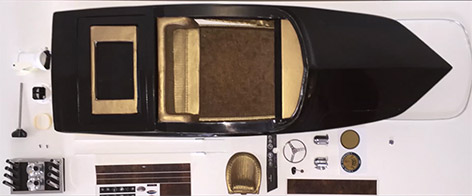 The replica model is 31,5" (80cm) long, made from plywood.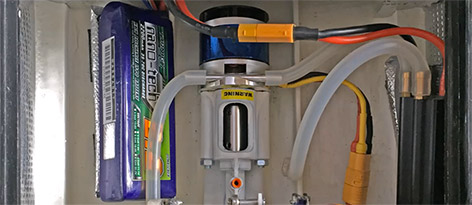 Bertrand's model is powered by a 700W (1HP) brushless electric motor and a KMB modified jet unit.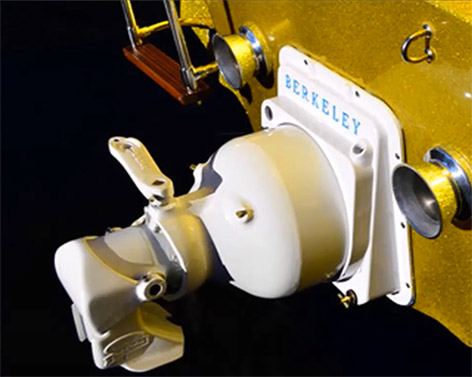 The R/C model can reach a top speed of around 35 mph, but Bertrand is planning to upgrade the engine and Lipo batteries so it can run around 45 mph.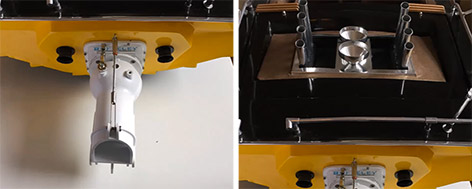 The interior and dashboard is also handcrafted with beautiful materials and an eye for detail.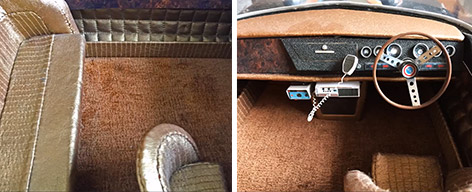 See the boat in action in this video:
Unfortunately Bertrand has no plans to make more of this model or any other Bond boat model.
Photos by Bertrand Le Bris
All copyrights for products, logos, images etc are held by their respective owners. Bond Lifestyle is not responsible for these articles, please take any queries up with the author.
---