When you purchase through links on this site, we may earn an affiliate commission. Here's how it works.
Advertisement

N.Peal 007 Roll Neck Sweater
N.Peal 007 Roll Neck Sweater in baby blue
photo © N.Peal
The N.Peal sweater stays very close to the design and color of the original sweater seen in From Russia With Love.
photo © Danjaq LLC, MGM, United Artists
N.Peal 007 Roll Neck Sweater in baby blue has a ribbed cuff and hem to match the roll neck.
photo © N.Peal
This baby blue roll neck sweater, made from 100% Mongolian cashmere, is inspired by the piece worn by Tatiana Romanova (Daniela Bianchi) in From Russia With Love (1963).
In From Russia With Love, we see the sweater first when James Bond (Sean Connery) and Tatiana are about to go out for tea on the Orient Express train. "Do I look right, Mr Somerset?" asks Tatiana when she wears a blue roll neck sweater and a long sand color coat with brown fur collar. "Yes... Mrs Somerset" Bond replies when he puts on a ring on her finger. Their tea plans are interrupted by the sudden death of their ally Kerim Bey, but Tatiana keeps wearing the sweater throughout the next scenes when Bond interrogates her and when Donald Grant (posing as Nash) joins them it the train in Zagreb. She wears the outfit during the diner in the train where they drink Taittinger champagne, and also when Bond and her leave the train and continue the trip in the truck and get attacked by the helicopter. Later in the speedboat she puts on a brown wool vest over the sweater.
The sweater has a ribbed cuff and hem to match the roll neck.
Comparing the new N.Peal sweater to the movie sweater (see screenshot images on the left) shows that the sweaters are very similar in design and color, making this one of the closest reinterpretations of this collection.
Available on N.Peal for £265 / $365

The N.Peal 007 Roll Neck Sweater is part of the 2020 N.Peal 007 Bond Woman cashmere collection that was launched in June 2020. The collection celebrates Bond women with pieces that are inspired by items worn in classic Bond films by Honey Ryder, Pussy Galore, Tilly Masterson and Holly Goodhead. The N.Peal cashmere t-shirt seen in No Time To Die is the only item that was worn in a Bond film.
All pieces in the N.Peal Bond Woman cashmere collection are finished with an N.Peal 007 stitched label and exclusive swing ticket. Each Bond purchase will arrive gift wrapped in N.Peal's 007 custom packaging.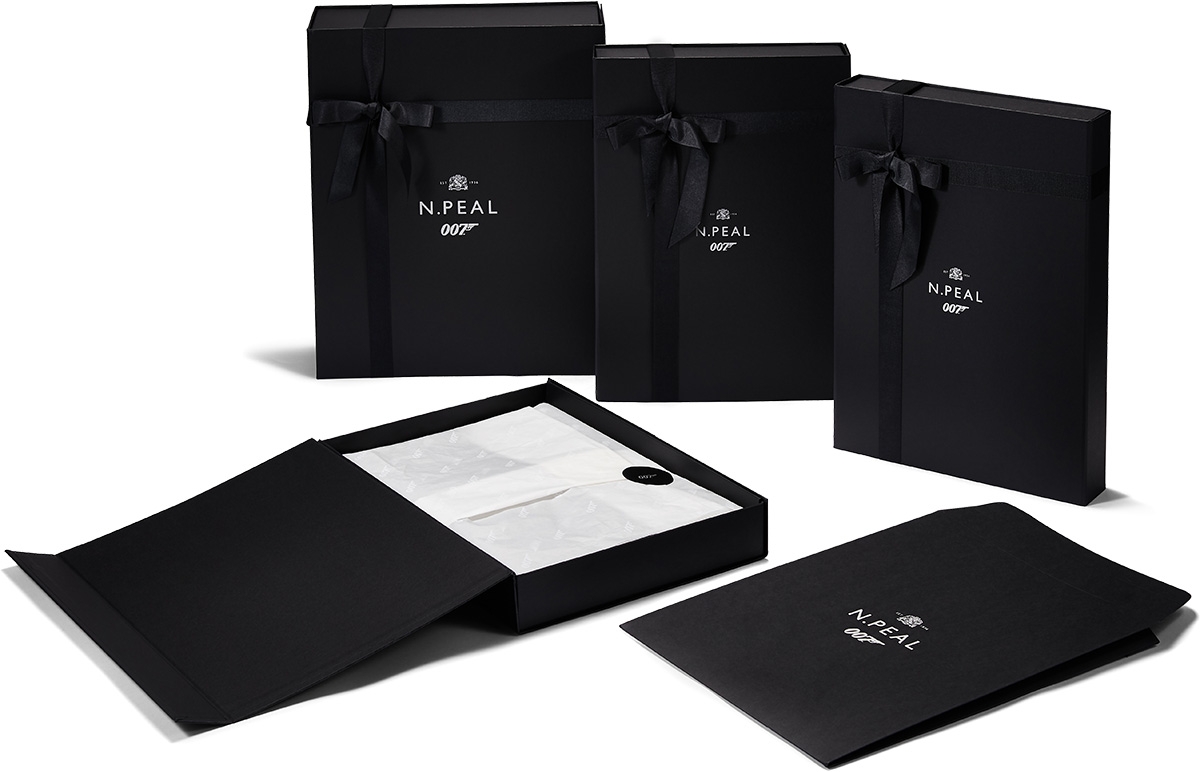 ---