When you purchase through links on this site, we may earn an affiliate commission. Here's how it works.
Advertisement

N.Peal 007 Superfine Shirt
N.Peal 007 Superfine Shirt
photo © N.Peal
The piece on which it is based is pink while N.Peal's new interpretation is off-white, similar to Ryder's bikini
photo © Danjaq LLC, MGM, United Artists
N.Peal 007 Superfine Shirt
photo © N.Peal
This N.Peal 007 Superfine Shirt is inspired by a shirt worn by Ursula Andress as Honey Ryder in Dr No (1962).
The shirt that inspired the piece is worn by Honey Ryder when she leaves the beach in Jamaica with James Bond (Sean Connery) and Quarrel (John Kitzmiller) when Dr No's henchman come looking for them. She grabs the shirt from her boat, which is perforated with bullets, and the trio runs into the jungle.
She puts on the shirt over the iconic bikini with belt and knife with which she appears from the sea. She takes the shirt off again after their refreshing bath in the waterfall and once again straps the shirt on, this time with a knot. Honey Ryder still wears the shirt when she and Bond are captured and taken to Dr No's lair. Bond and Ryder then have to take off all their clothes including the shirt because it's full of radioactive mud.
The N.Peal 007 Superfine Shirt inspired by this item is made from 85% silk and 15% fine cashmere, making this a very light and comfortable shirt. The shirt in the movie is pink, but the N.Peal shirt is an off-white, more reminiscent of the color of Ryder's famous bikini.
Available on N.Peal for £265 / $365.

The N.Peal 007 Roll Neck Sweater is part of the 2020 N.Peal 007 Bond Woman cashmere collection that was launched in June 2020. The collection celebrates Bond women with pieces that are inspired by items worn in classic Bond films by Honey Ryder, Pussy Galore, Tilly Masterson and Holly Goodhead. The N.Peal cashmere t-shirt seen in No Time To Die is the only item that was worn in a Bond film.
All pieces in the N.Peal Bond Woman cashmere collection are finished with an N.Peal 007 stitched label and exclusive swing ticket. Each Bond purchase will arrive gift wrapped in N.Peal's 007 custom packaging.
Matching James Bond outfit
In the same scene James Bond wears a blue toweling poloshirt and blue trousers, followed by a blue bathrobe in Dr No's lair. The blue polo shirt and the blue robe were remade by Orlebar Brown as part of their 007 Collection in 2019.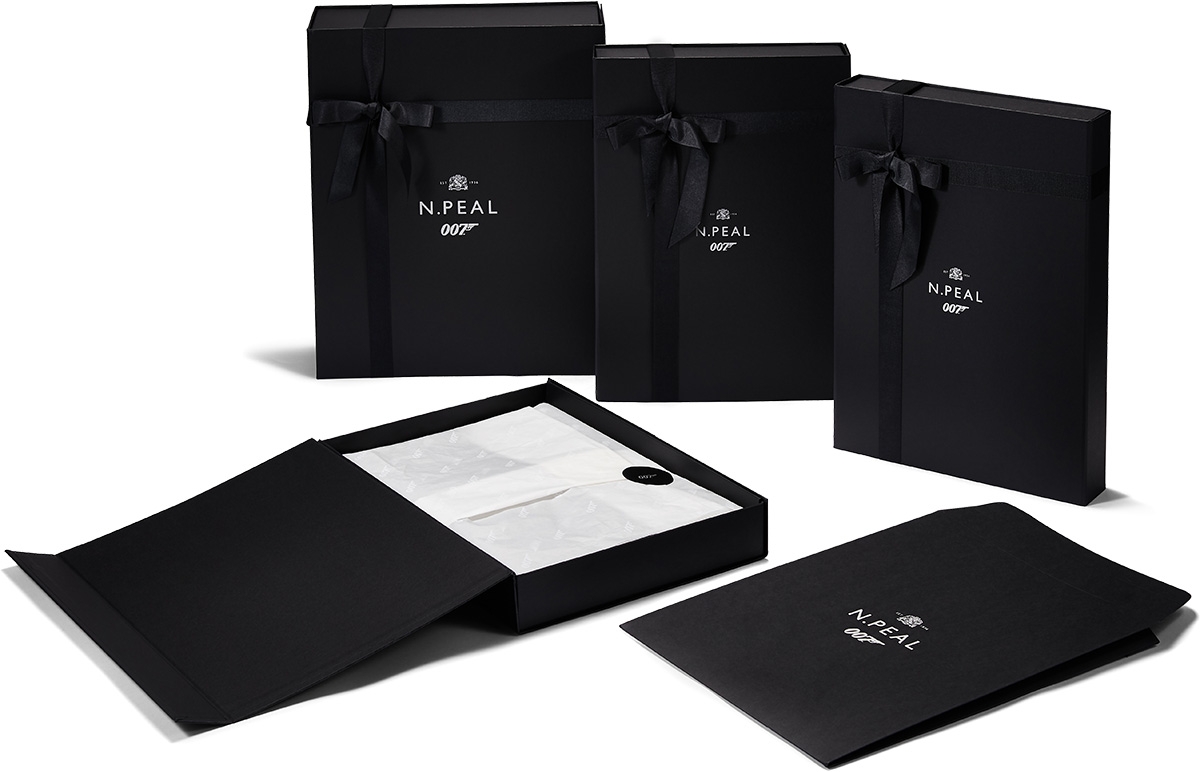 ---