SPECTRE Live Auction results: Aston Martin DB10 sells for £2.4m
19 February, 2016
Yesterday evening, Thursday 18 February, Christie's and EON Productions presented a live charity auction of ten star lots of SPECTRE memorabilia. The star of the evening was the unique Aston Martin DB10, the only one of ten made for the film that is sold, which was auctioned for £2.1m (£2.4m including buyer's premium).
Bond Lifestyle attended this very special auction. Read the report and the final prices of all ten lots.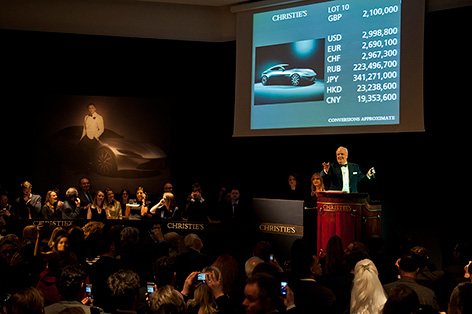 The Aston Martin DB10 sells for £2.1m (excl. fees)
photo © Christie's Images Ltd. 2016
The auction offered Bond fans and collectors the unique opportunity to acquire a piece of SPECTRE memorabilia direct from the archives of EON Productions, with additional donations from Bond cast members, Director Sam Mendes and Bond Producers Michael G. Wilson and Barbara Broccoli.
The sale realised a total of £2,785,500 / $3,977,694 / €3,568,226 with proceeds benefiting Médecins Sans Frontières (MSF), other charitable organisations and the United Nations Mine Action Service (UNMAS). Christie's will be donating all profitable proceeds to the charities.
Auctioneer Hugh Edmeades led the sale, with assistance from actor/writer David Walliams (who presented the 007 documentary David Walliams: My Life with James Bond in 2005), who was very entertaining with his introduction of some of the lots, including the DB10.
The auction was attended by Bond Producers Michael G. Wilson and Barbara Broccoli, associate producer Gregg Wilson (SPECTRE), special effects supervisor Chris Corbould (all Bond movies since The Spy Who Loved Me), costume designer Jany Temime (SkyFall, SPECTRE) and Bond Girl Carole Ashby.
A video message was played in which Naomie Harris (Moneypenny) introduced the auction and encouraged everyone to bid generously for charity.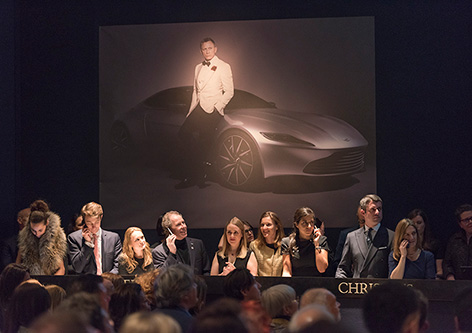 Phone bids in the auction room
photo © Christie's Images Ltd. 2016
All ten lots sold and the auction welcomed registered bidders from 25 countries across four continents, demonstrating the demand from James Bond fans around the world. During the auction, online and phone bids were also accepted.
The final sale prices including buyer's premium:
Aston Martin DB10 SPECTRE
Estimate: £1,000,000 - 1,500,000
£2,434,500 ($3,476,466 / €3,118,595)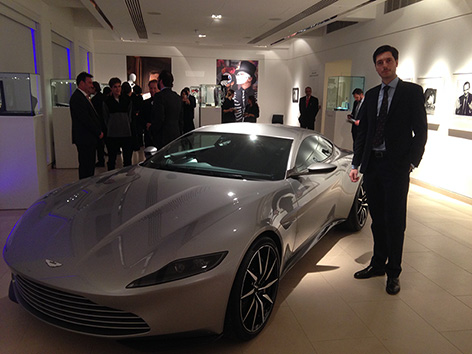 Yours truly next to the Aston Martin DB10, less than an hour before it was sold at auction
photo © Bond Lifestyle
The Aston Martin was sold to a buyer who was present in the room at the live auction, after a fierce bidding race with several other fans online, on the phone and in the audience. A good price for a unique and stuning car that will no doubt stay one of the most wanted collector's items in many years to come. The price of this car alone makes this SPECTRE auction already more successful (in terms of money raised for charity) than the Bond at 50 auction in 2012, which realised £752,050 for charity.
James Bond's Day of the Dead Costume worn by Daniel Craig
Estimate: £12,000 - 18,000
£98,500 ($140,658 / €126,179)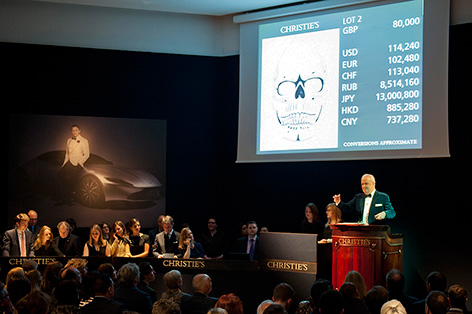 James Bond's Day of the Dead costume fetched the second highest price of the evening
photo © Christie's Images Ltd. 2016
This amazing costume with Hat, Mask, Suit, Cane and Gloves fetched a surprisingly high price, much higher than Bond's white Tom Ford Tuxedo outfit which sold for £27,500 (see below).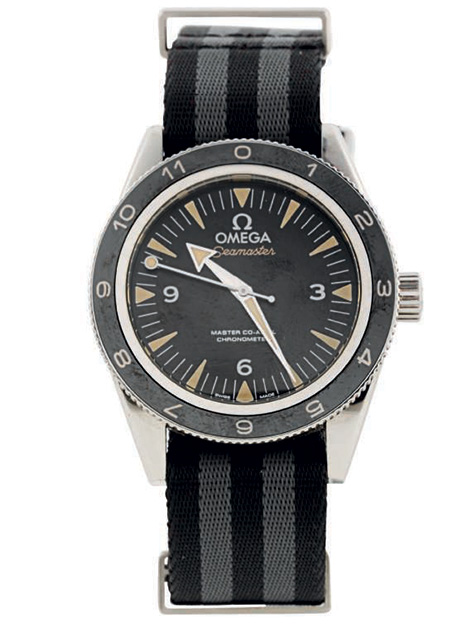 Prototype one of eight Omega Seamaster 300 wristwatches, worn by Daniel Craig as James Bond
Estimate £15,000 - 20,000
£92,500 ($132,090 / €118,493)
This is one of two Omega Seamaster 300s in the auction. The price is much higher than the estimate, but much lower than Bond's SkyFall Omega Seamaster Planet Ocean which was sold in 2012 for almost £160.000. The other Seamaster 300 in the SPECTRE auction, a gift from the producers to actor Jesper Christensen (Mr White) is still available at the Online Only auction.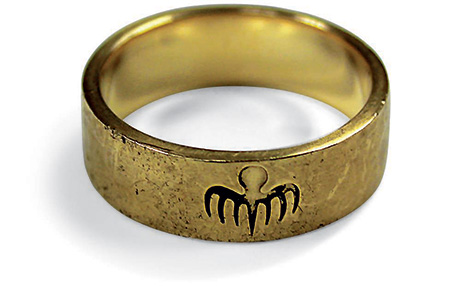 Oberhauser's SPECTRE gold ring worn by Christoph Waltz
Estimate: 4,000 - 6,000
£32,500 ($46,410 / €41,633)
If £32,500 for the Gold SPECTRE ring is too much for you, you can get an official replica of the ring at the 007 shop for £145.
Blu-ray disc signed in gold marker pen by Daniel Craig - James Bond's blue initialled 'JB' Tom Ford cufflinks worn by Daniel Craig
Estimate: 3,000 - 5,000
£30,000 ($42,840 / €38,430)
Rankin framed set of character art
Estimate: 6,000 - 8,000
£30,000 ($42,840 / €38,430)
A two-piece dinner suit by Tom Ford, worn by Daniel Craig as James Bond
Estimate: 20,000 - 30,000
£27,500 ($39,270 / €35,228)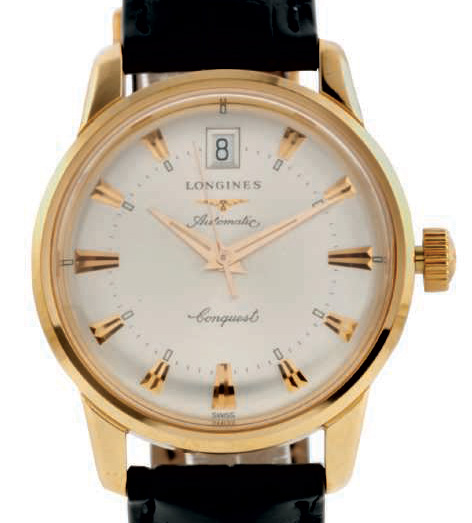 Longines 'Conquest Heritage', 18-carat rose gold automatic wristwatch, worn by Ralph Fiennes as M
Estimate: 5,000 - 7,000
£20,000 ($28,560 / €25,620)
The £20,000 is a world auction record for any Longines watch.
Final Legal Spectre Script signed by Sam Mendes, Michael G. Wilson and Barbara Broccoli
Estimate: 3,000 - 5,000
£10,625 ($15,173 / €13,611)
Sam Smith signed 'Writing's on the Wall' sheet music framed with 45rpm 7" vinyl single and sleeve
Estimate: 2,000 - 3,000
£9,375 ($13,388 / €12,009)
But it's not over yet! The online-only auction, James Bond Spectre: Online, remains open for bidding until 23 February at www.christies.com/spectreonline offering a further 14 lots. Estimates range from £1,000 up to £7,000, but many bids are already much higher, take a look at the lots and current bids here.
With many thanks to Christie's, EON and Dr. AM for a great evening
Subscribe to the Bond Lifestyle EYES ONLY newsletter