Sixty Years Of James Bond Christie's Charity Auction Announced
28 July, 2022
This autumn, Christie's and EON Productions present Sixty Years of James Bond, an official two-part charity sale celebrating the 60th Anniversary of James Bond on the silver screen.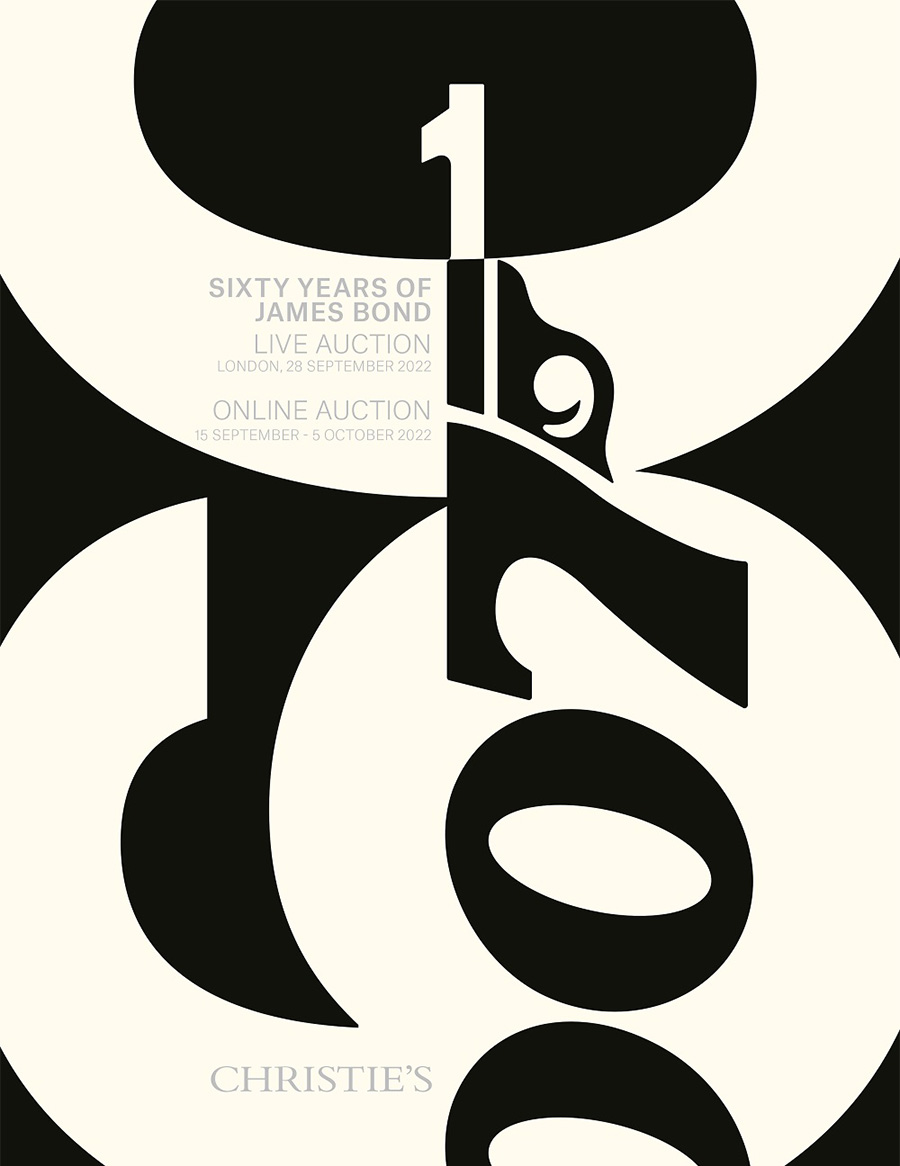 The auction will see 60 lots go under the hammer to benefit 45 chosen charities:
- a Live Sale on September 28th 2022 featuring vehicles, watches and costumes from No Time To Die.
- an Online Sale from September 15th until James Bond Day on October 5th 20022, of themed experiences, props and collectibles from all 25 movies.
A free-to-attend, pre-sale exhibition showcasing highlights from Sixty Years of James Bond will take place between September 15th - 28th at Christie's at 8 King Street, London, with limited edition catalogues available to pre-order now.
Live Sale
The headline lot for the live sale on September 28th is a silver birch Aston Martin DB5, one of just eight replica stunt cars built for No Time To Die and the only one to be released for public sale.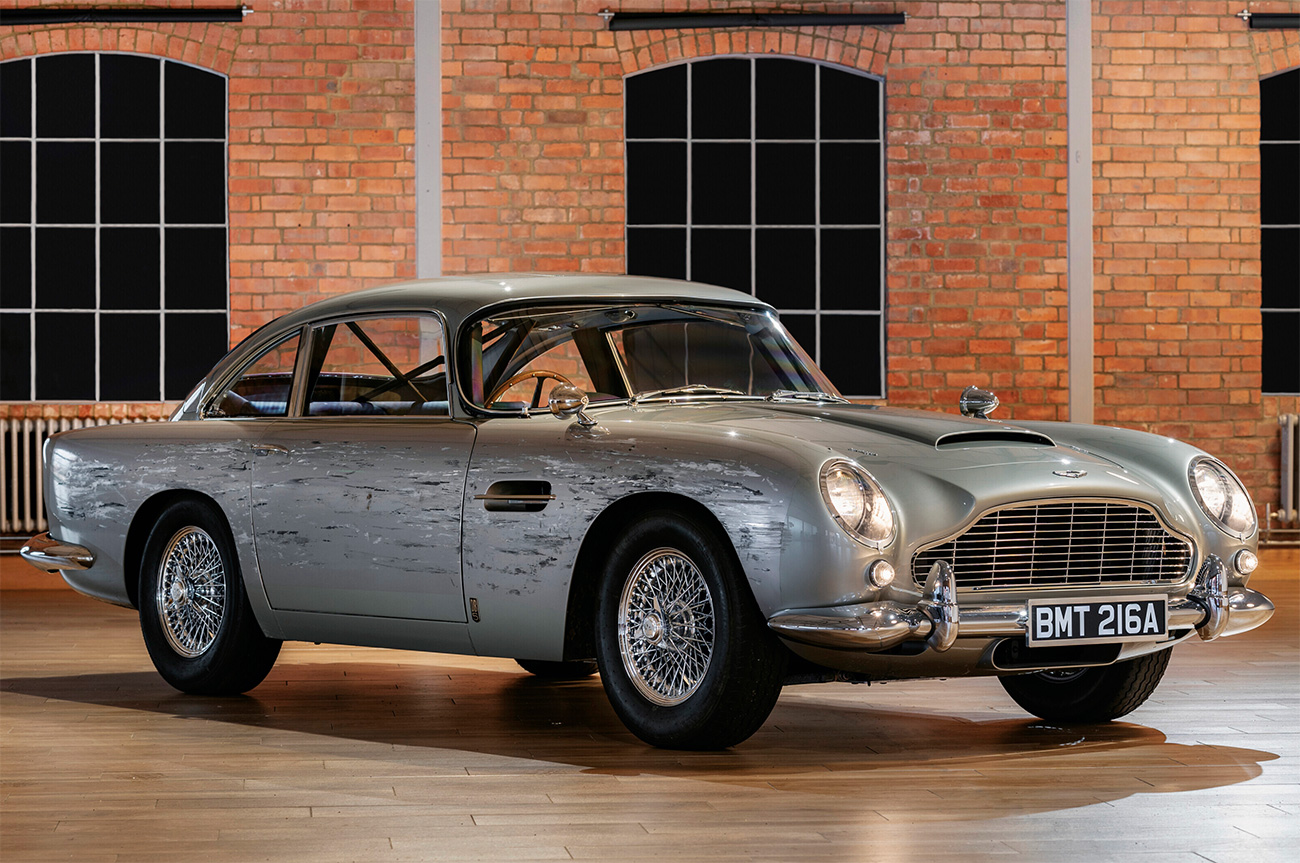 Estimated to fetch between £1.5 and £2 million, proceeds from this sale will benefit The Prince's Trust in its work with young people and the Prince of Wales's Charitable Fund's support of charities assisting serving and former members of the three Intelligence Agencies and UK Special Forces.
Other vehicles in the sale include an SFX version of the Q Jet Boat from The World Is Not Enough, a Land Rover Defender 110 featured in No Time To Die's stunt scenes and a bespoke 007 Land Rover Defender with the 60th Anniversary logo on the instrument panel.
Standout pieces available to bid on include a Swarovski-encrusted, gold-plated egg in the style of Faberge from Octopussy, an Omega Seamaster from No Time To Die, a Q boat, and Timothy Dalton's signed tuxedo from Licence To Kill.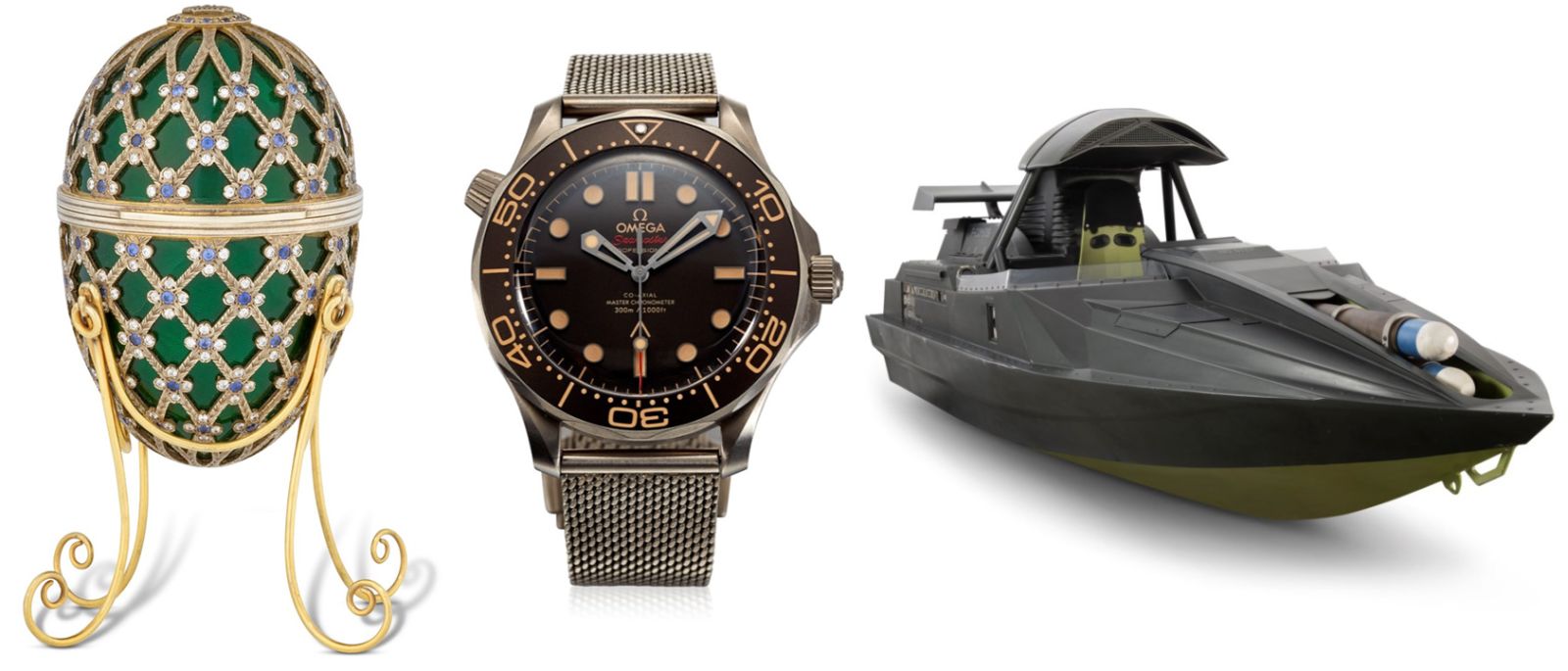 The items from the Live Sale will be mentioned in more detail in an upcoming news article here on Bond Lifestyle, stay tuned, or read more on the Christie's website.
Online Only Auction
The online-only auction takes place from September 15th until James Bond Day on October 5th 20022 at christies.com.
Here are some highlights of the online only part of the auction:
Major Anya Amasova's dress worn by Barbara Bach in The Spy Who Loved Me
A beautiful navy silk jersey dress with Swarovski elements in neckline and straps.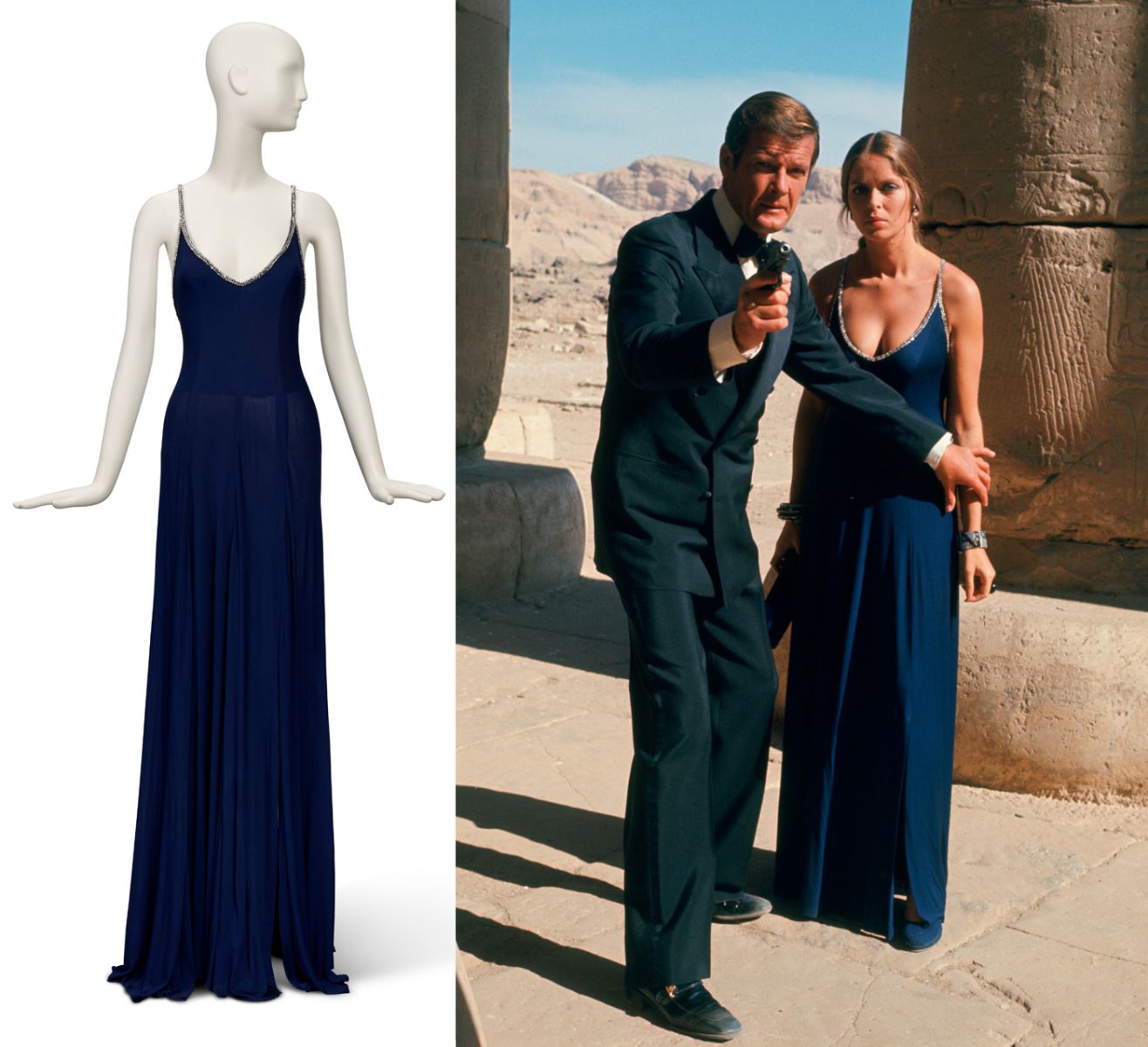 Soviet KGB Major Anya Amasova (Barbara Bach) wears this navy evening dress while meeting Bond (Roger Moore) at Cairo's Mujaba Club in Egypt and when she and Bond are confronted with the giant henchman, Jaws, at The Great Hall of Columns, Karnak. London society dressmaker Baroness Franka Stael Von Holstein – whose clients included Ava Gardner and the Princess Royal –was appointed to conceive Barbara Bach's wardrobe for the character.
Estimate: GBP 5,000 - GBP 8,000
-
BMW 750iL miniature model Tomorrow Never Dies
This one-third scale model of Bond's BMW 750iL is one of three surviving models used to film the finale of the action-packed car chase sequence in Tomorrow Never Dies (1997). The production built a miniature set and air cannoned the miniature cars off the top.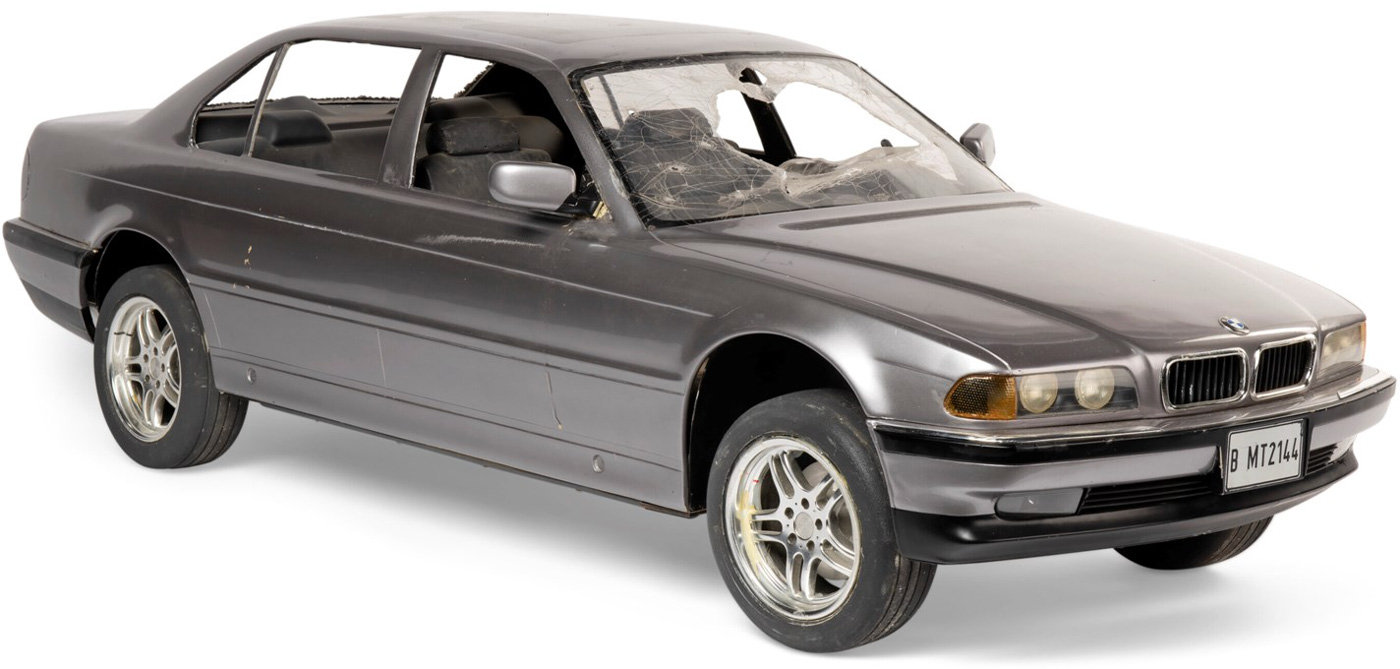 Unusually this miniature model has a detailed undercarriage because it would be visible when filming from below. It also includes intentional continuity damage.

Estimate GBP 7,000 - GBP 10,000
-
Clock with Nuclear Locator Card
A clock used by Judi Dench as 'M' with Nuclear Locator Card. Seen in The World Is Not Enough (1999) when M is being held captive.
Renard leaves this clock in M's cell so that she can count down the minutes to her demise – but fast thinking M uses the locator card Bond gave to her from a stolen nuclear bomb and the battery from this clock to alert Bond to her location.
Estimate GBP 3,000 - GBP 5,000
-
Cello Case Sled, The Living Daylights
In The Living Daylights (1987), James Bond (Timothy Dalton) employs every gadget on his Aston Martin V8 to elude pursuing Russian soldiers, including the self-destruct button. This leaves Kara's (Maryam D'Abo) cello case as the only option for a final get-away vehicle.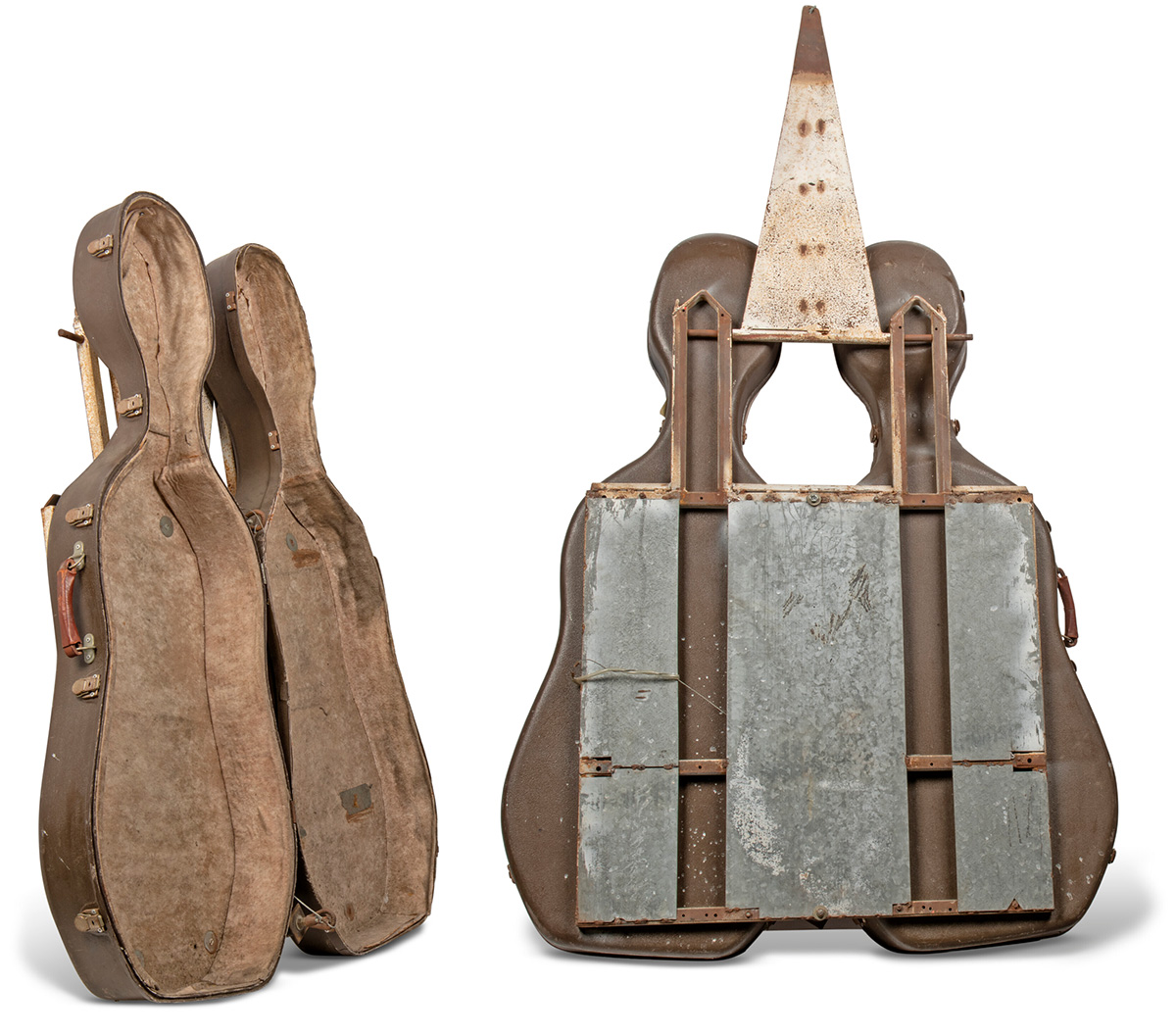 This is one of three sleds made by the Bond Special Effects team for filming the scene in Austria (the others retained by the EON archive).
Estimate GBP 5,000 - GBP 8,000
-
Tom Ford Suit worn by James Bond in SkyFall
One of the suits on auction is the Tom Ford grey two-piece suit rayon & silk (Size 48F) with embroidered tag inside breast pocket 'Daniel Craig Bond 23', Tom Ford Shirt white cotton with French cuffs (Size 40) and a Tom Ford silver grey neck tie.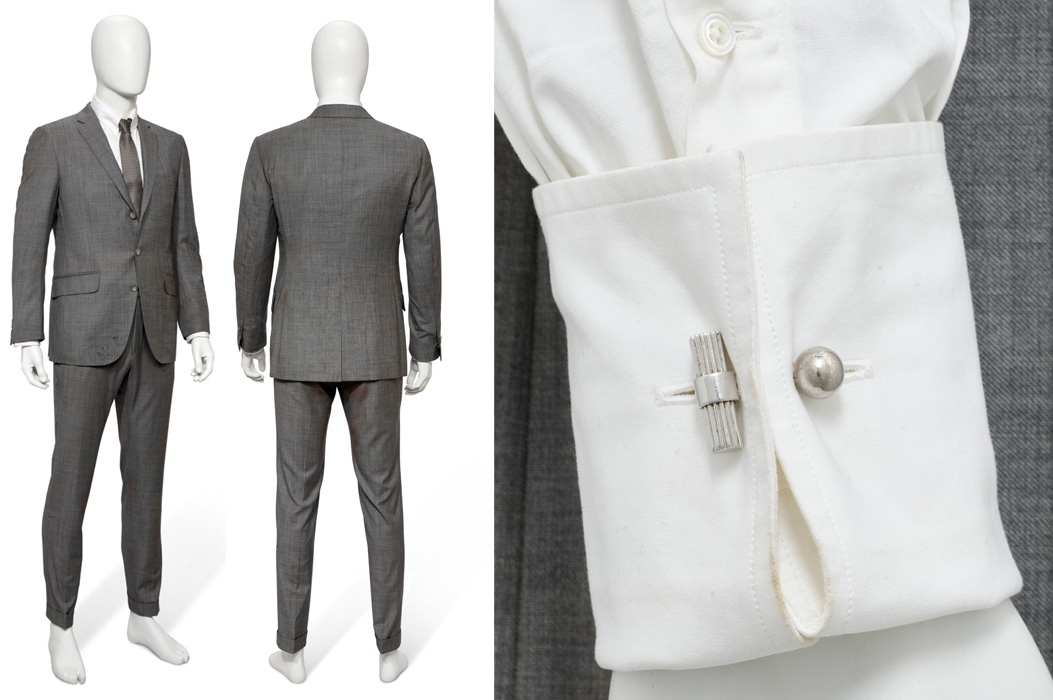 The sale includes the suit and shirt. It is not confirmed yet if it also includes the Tom Ford cylinder cufflinks (which are currently sold for $8,000 at Tom Ford).
The suit was worn by Danel Craig as James Bond in the Turkey scenes in SkyFall.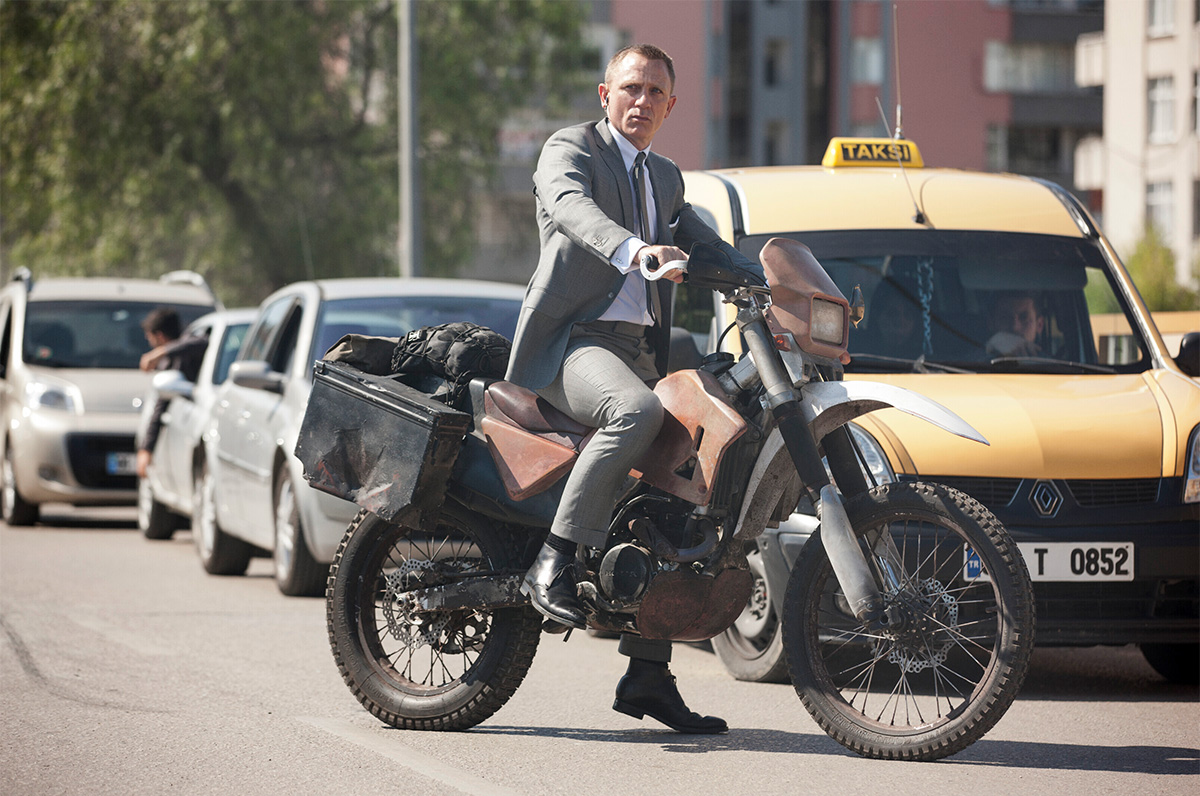 Estimate GBP 10,000 - GBP 15,000
-
Tom Ford Suit worn by James Bond in SPECTRE
Suit size 48R embroidered with 'Daniel Craig/Bond 24' on the inside breast pocket, Tom Ford white shirt size 40 and a Tom Ford blue silk tie.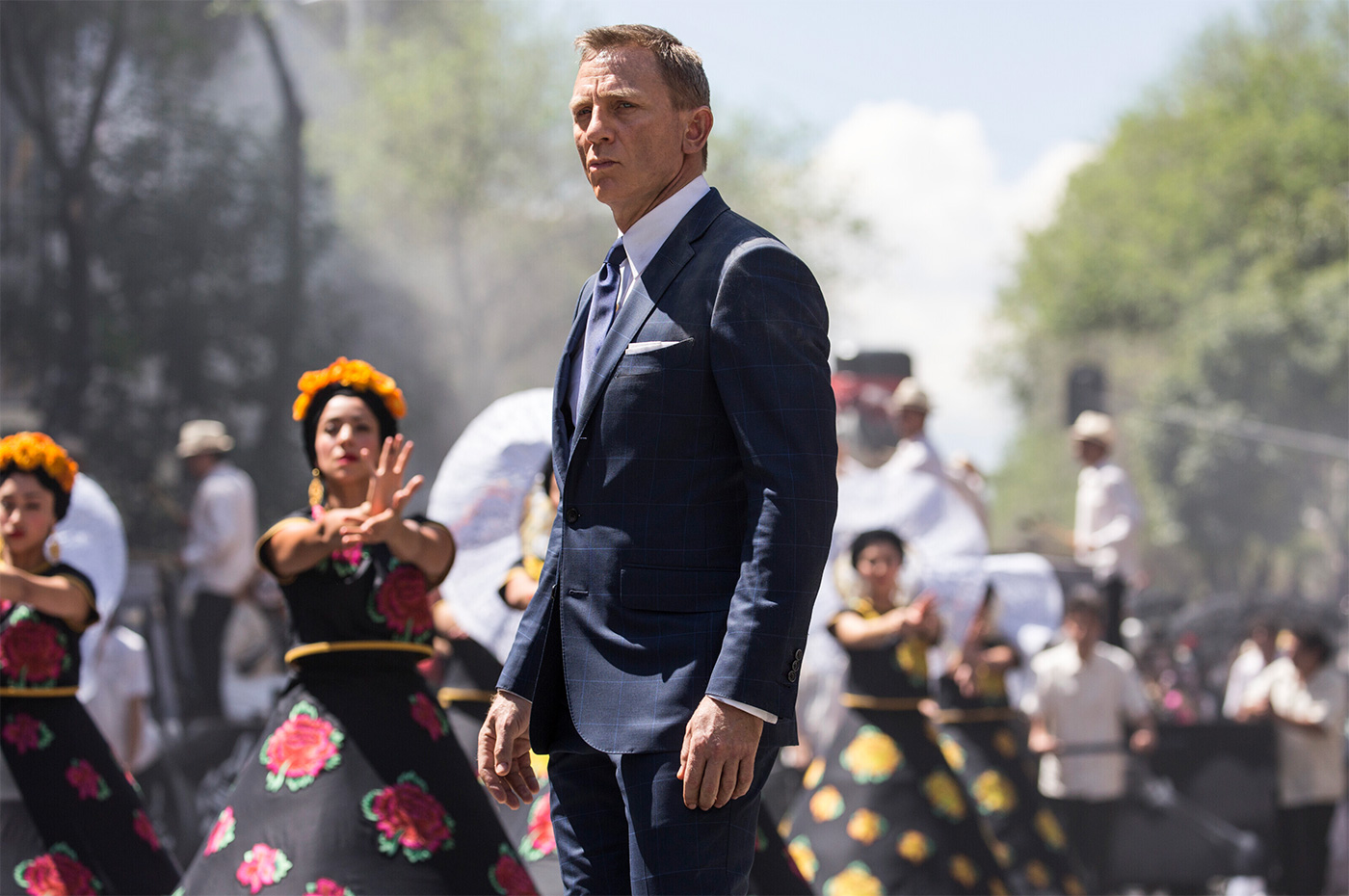 Estimate GBP 8,000 - GBP 12,000
-
Dead City costume Silva, SkyFall
Dead City costume worn by Javier Bardem as Raoul Silva, designed by Jany Temime.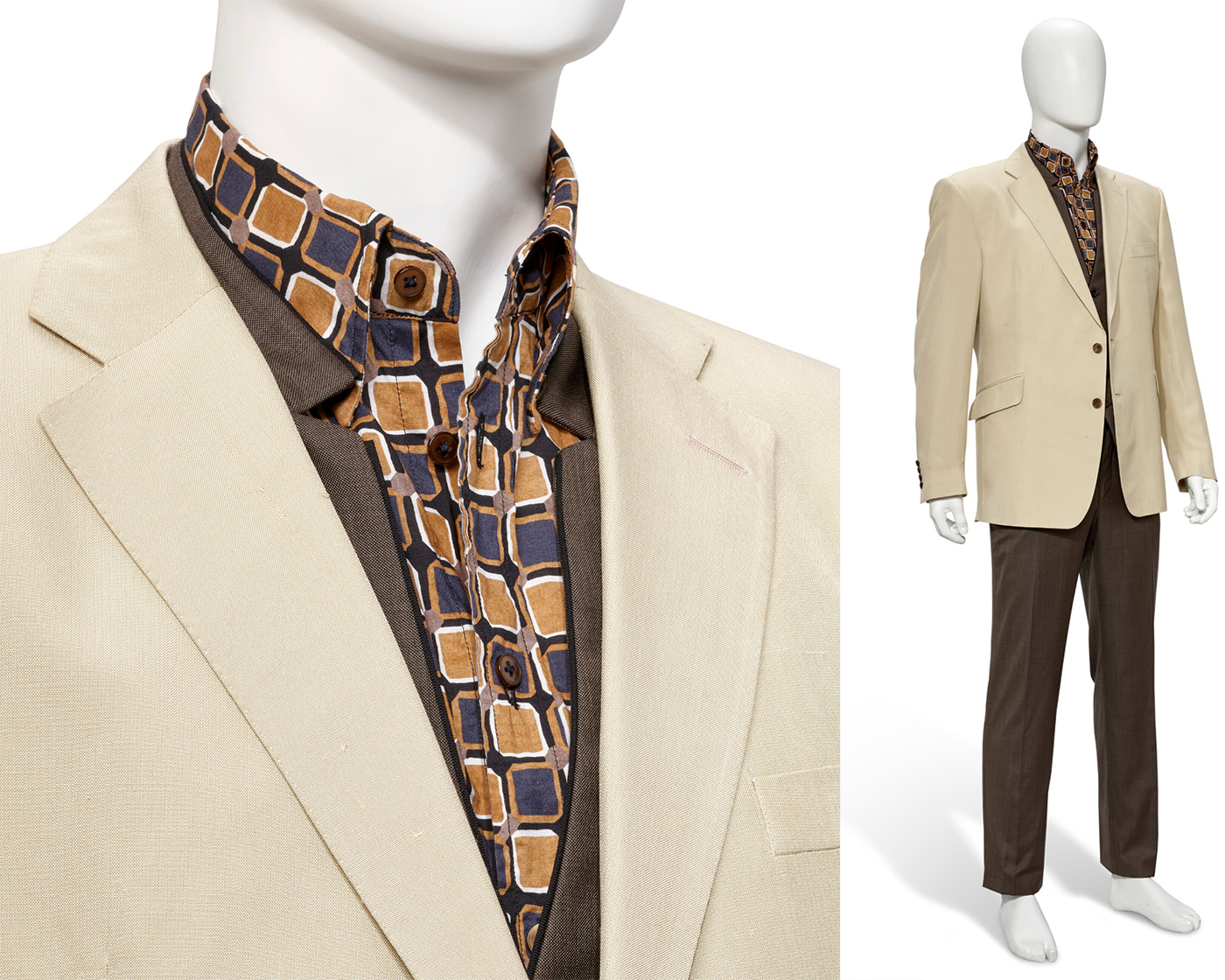 The outfit on offer includes a cream silk jacket, waistcoat and trousers with black/brown cross-hatched weave, bespoke brown shirt with orange and dark blue square pattern with black & fawn geometric grid style print.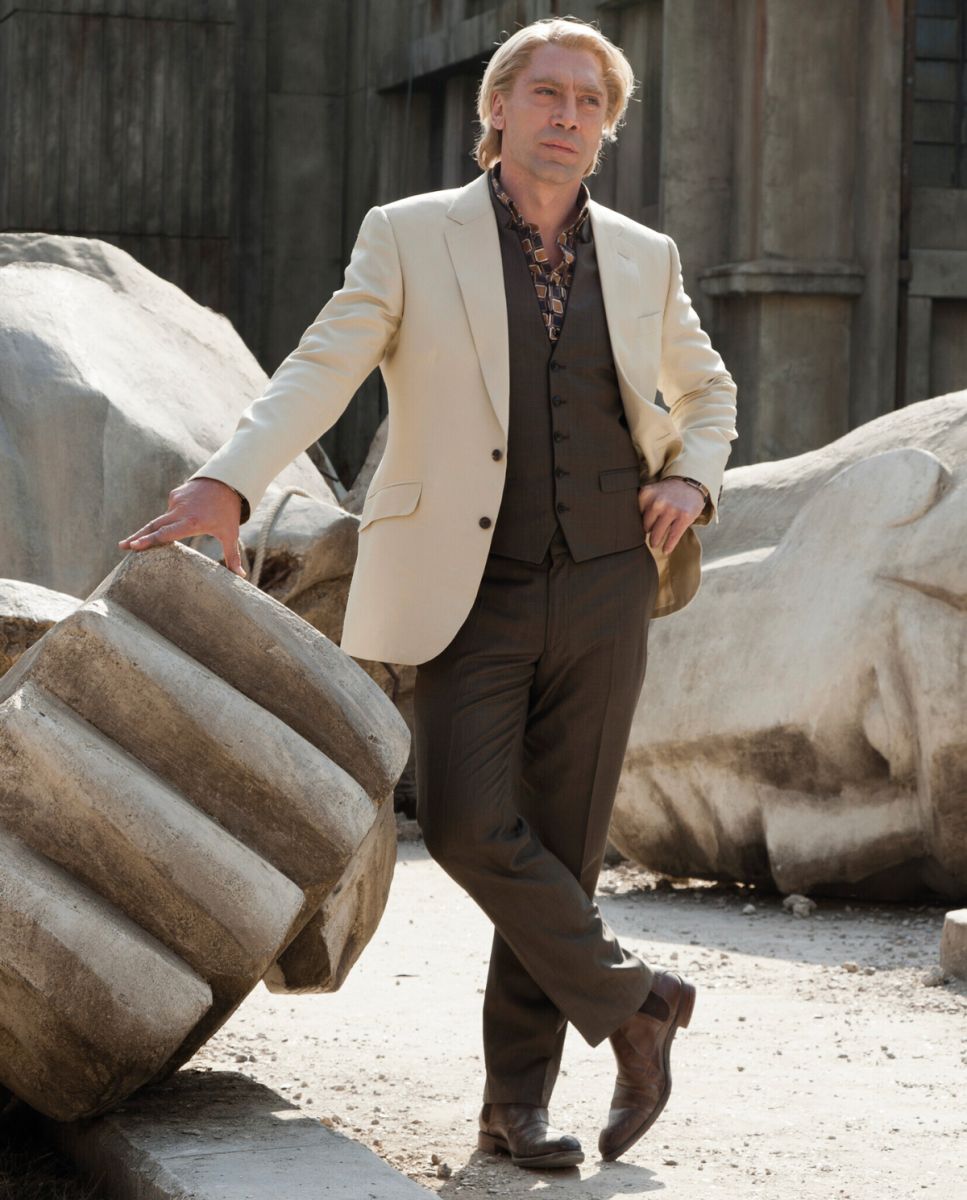 The shoes are not included, but you can read more about those Jeffery West boots here.
Estimate GBP 8,000 - GBP 12,000
-
Barton Perreira 'Norton' Sunglasses worn by Daniel Craig as James Bond
This is number one of three pairs of Barton Perreira Norton sunglasses worn by Daniel Craig as James Bond in No Time To Die (the others retained by the EON archive).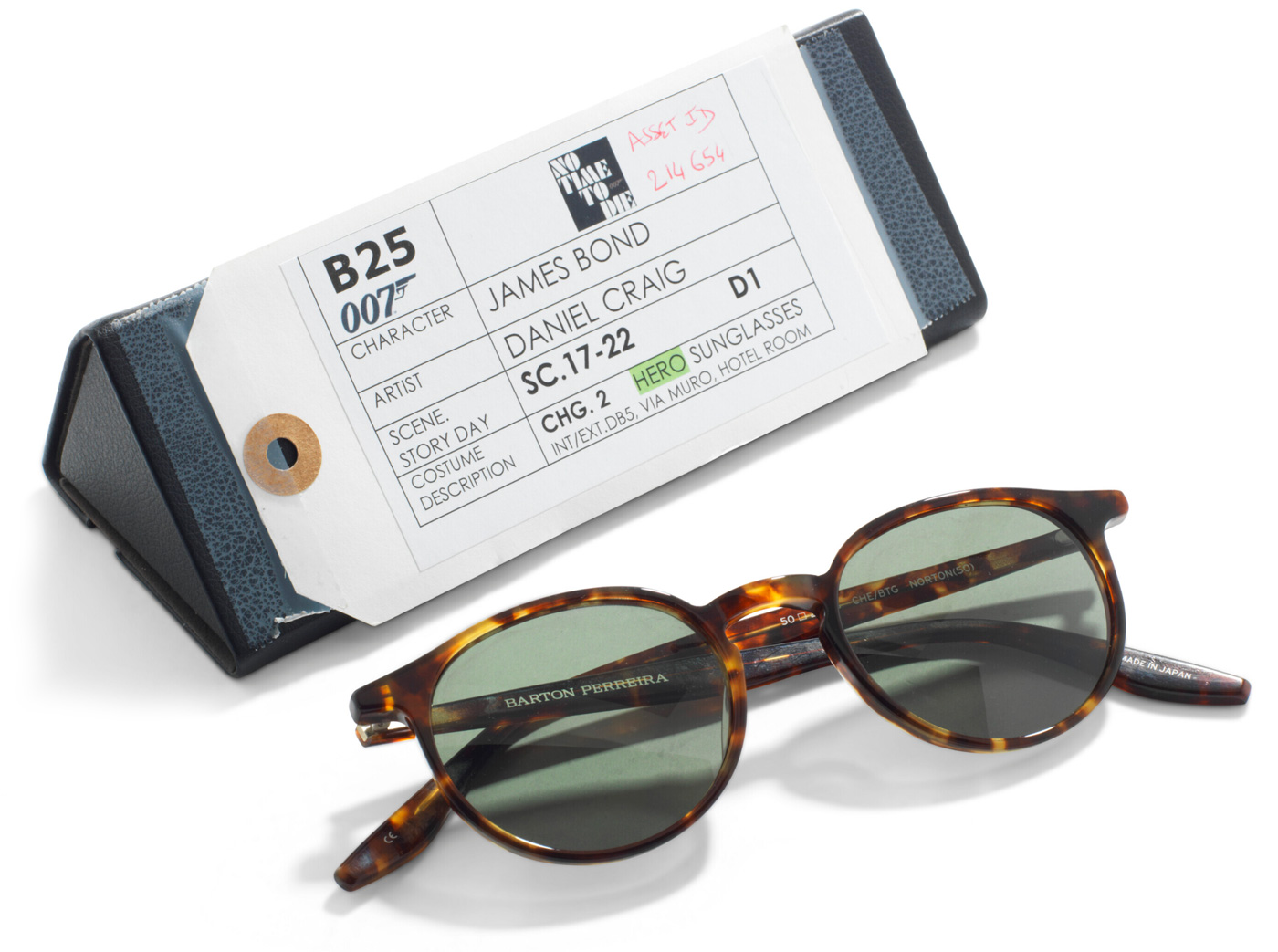 Bond wears these sunglasses when he visits Vesper Lynd's tomb to put the ghosts of his past to rest. Shot on location in Matera, Italy.
Read more about the Barton Perreira Norton sunglasses and the special 007 edition that was released.
Estimate GBP 10,000 - GBP 15,000
-
A Set of two Globe-Trotter Ocean Green and Black Leather Luggage Cases, No Time To Die
The No Time To Die costume designer Suittirat Anne Larlarb worked directly with Globe-Trotter to select the style and colour for the cases. These Ocean Green and Black leather cases were one of two sets custom made especially for the film and will be the only ones available to purchase.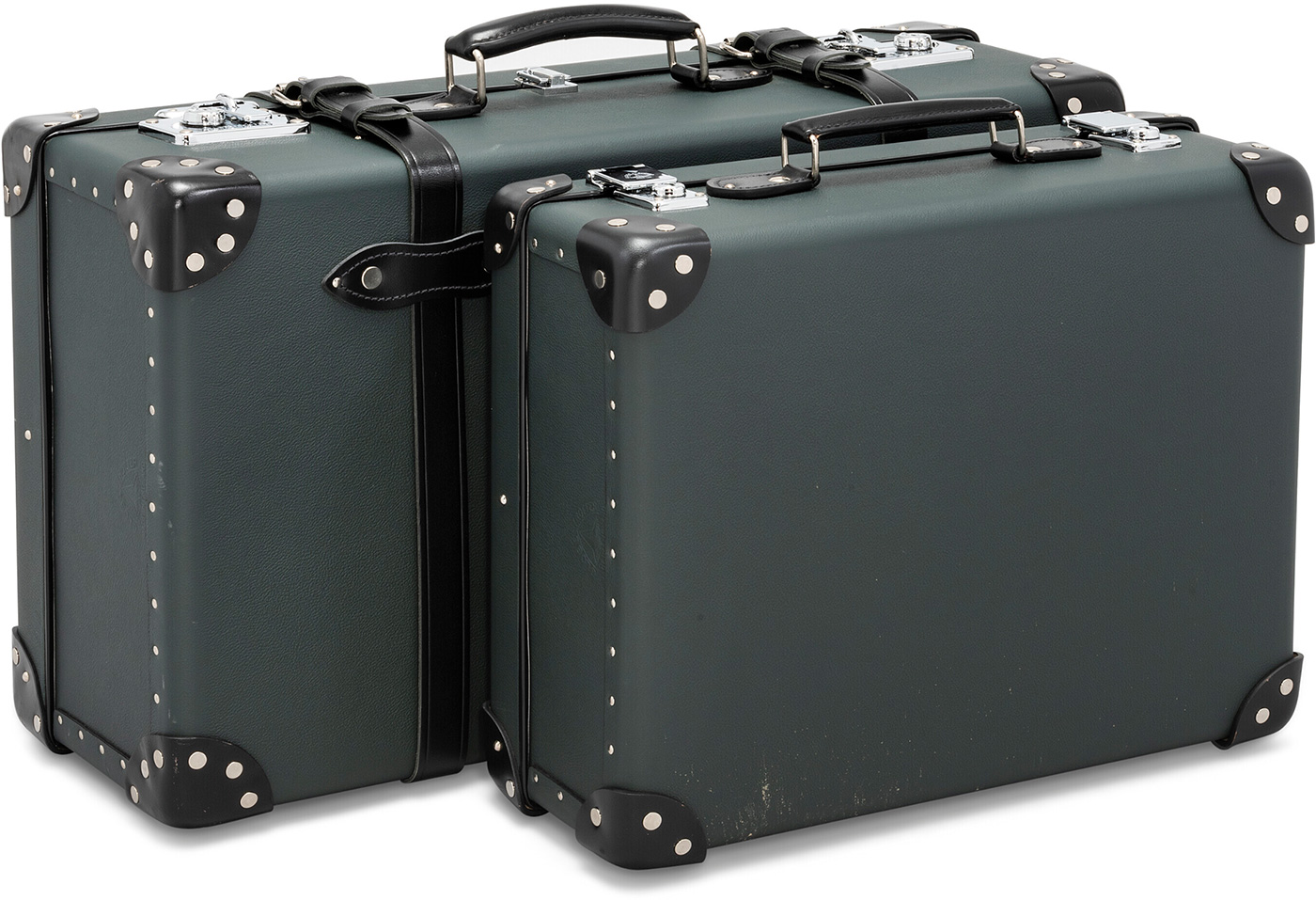 The cases were used by Daniel Craig as James Bond and Léa Seydoux as Madeleine Swann on screen in Matera, Italy.
Read more about Globe-Trotter cases in No Time To Die.
Estimate GBP 10,000 - GBP 15,000
-
Moscot glasses worn by Q in No Time To Die
This is one of two pairs of Moscot Mensch glasses worn by Ben Whishaw as Q in No Time To Die (the other retained by EON archive).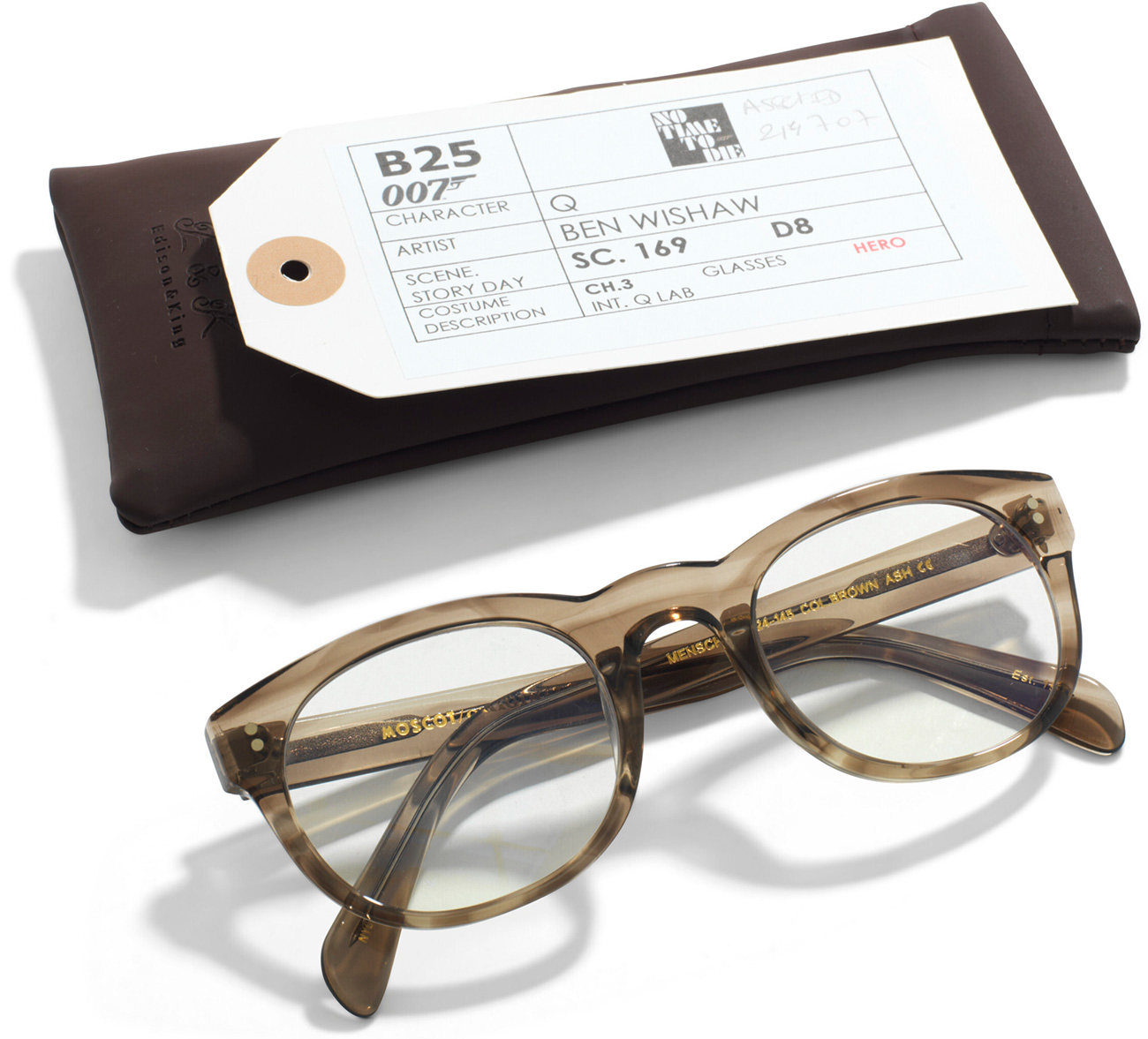 No Time To Die marks Whishaw's most recent outing as the quartermaster in the Bond series.
Read more about the Moscot Mensch glasses.
Estimate GBP 3,000 - GBP 5,000
-
Other items in the Online Auction include:
A complete set iof Ian Fleming Works
Original posters designs
Thunderball Café Martinique menu
Live And Let Die Song Score signed by Sir Paul McCartney
A Drax Crew Belt Buckle And 'Classified Information' Document From Drax Industries
A fabric Zorin logo
Casino Royale Script Signed By The Producers, Actors And Screenwriters
Another Way To Die Sheet Music Signed By Jack White And Alicia Keys
SkyFall Song Score Signed By Adele
SkyFall Floating Dragon Casino Lion Statue
Day Of The Dead Wheel Dancer Costume
Writing's On The Wall Song Score, Signed By Sam Smith
Day Of The Dead Aztec Skeleton Puppet
Day Of The Dead Parade Mexican Bicycle
SPECTRE Costume Worn By Christoph Waltz As Blofeld
‌A Limited Edition Michael Kors Collection Bancroft Leather Satchel, Used By Naomie Harris As Moneypenny
A Navy Blue Ribbed 'Hanten' Coat And Costume, Worn By Rami Malek As Safin With Coloured Concept Costume Design Print, Signed By Suttirat Anne Larlarb
007 Special Edition Leica Q2 Camera, Signed By Daniel Craig
Exclusive Champagne Bollinger Experience For Four Guests Together With An Original Poster For A View To A Kill (1985)
A Signed Skyfall Clapperboard
For more information about the lots and which charities they support, visit the Christies auction page.
Subscribe to the Bond Lifestyle EYES ONLY newsletter