James Bond guitar and other memorabilia on auction
11 December, 2012
Vic Flick's world famous "James Bond" Guitar is being featured at Profiles in History on Saturday, December 15th, 2012. It is part of the "Drama, Action, Romance: The Hollywood Auction 53". The auction also features many James Bond photographs, posters and memorabilia.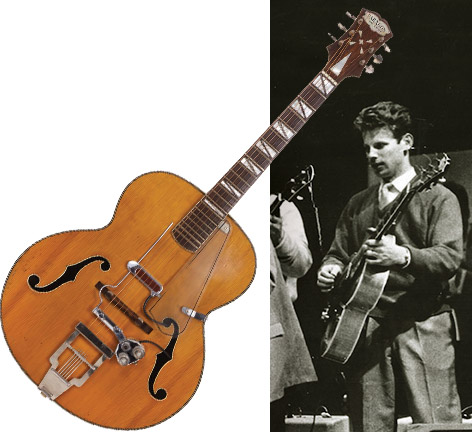 Guitarist Vic Flick's Clifford Essex Paragon electric/acoustic guitar (serial No. 1056), vintage ca. 1939, used to record the original James Bond theme for 1962's Dr. No. The Paragon was one of two guitars Flick was using on the road in the early 1960s, the other being a Fender Stratocaster. While being heckled and harassed while loading up his gear after a gig one night, he accidentally left the Strat behind, so the Paragon was his only instrument when he got the call to record the Dr. No theme. The rest is history.
As Flick himself said: "The Paragon's sound was perfect for the riff. The combination of the way I played, the type of strings I used, the Vox 15 amplifier, the microphone and the studio set up all helped to give the guitar, on that particular session, an identity that has maintained its popularity for 50 years. Although no film was shown during the session there was a feeling of excitement at the music being for a spy film."
Other interesting James Bond related lots include:
Asian-style bent bamboo folding screen from "Miss Taro's" bedroom in Dr. No.
Gert Fröbe (Goldfinger) costume, worn by Fröbe in scenes cut from movie.
Bill Suitor James Bond screen-worn sports jacket from rocket-belt flying sequence in Thunderball.
Several prop weapons.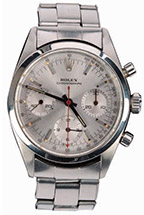 The screen-used pre-Daytona Chronograph Rolex (reference 6238), case number 1206613, worn by George Lazenby in On Her Majesty's Secret Service. The watch was used as a rare working prop with full-screen close up and stopwatch function featured in scenes filmed on his escape from Blofeld's mountain lair in Switzerland. Comes with original Bucherer of Switzerland box, as well as copy of original 1968 Bucherer invoice billed to EON Productions.
Moonraker helmet and suit worn by a henchman of Drax.
Julian Glover "Aristotle Kristatos" Jacket from For Your Eyes Only.
Christopher Walken "Max Zorin" leather JacKet from A View To A Kill.
Pierce Brosnan "James Bond" suit from The World Is Not Enough: Brioni, with Church's shoes.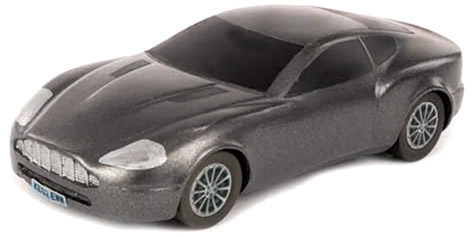 Several Aston Martin Vanquish Die Another Day items, including license plate KE02 EWW, "handbuilt in England for James Bond" plate, airbag cover and visual effects model (see photo above).
The auction also includes dozens of other film related memorabilia including:
Harrison Ford's "Indiana Jones" revolver from Raiders of the Lost Ark.
Kate Winslet's signature "jump dress" from James Cameron's epic, Titanic.
Orlando Bloom's hero "Legolas" bow from The Lord of the Rings trilogy.
Leonard Nimoy "Mr. Spock" second-season velour Starfleet tunic from Star Trek: The Original Series.
See the full listing in this PDF.
More information, registration and bidding on the Profiles in History website.
More information on guitarist Vic Flick on www.vic-flick.com
Subscribe to the Bond Lifestyle EYES ONLY newsletter