Bollinger and Bond at Schiphol Airport
30 November, 2012
If you happen to be one of the 50 million yearly visitors of Schiphol Airport in Amsterdam, The Netherlands, you might encounter the Bollinger 007 commercial event that is set up in the airport this November and December. Visitors have a chance to win a Bollinger R.D. 1969 or a 002 for 007 Limited Edition box.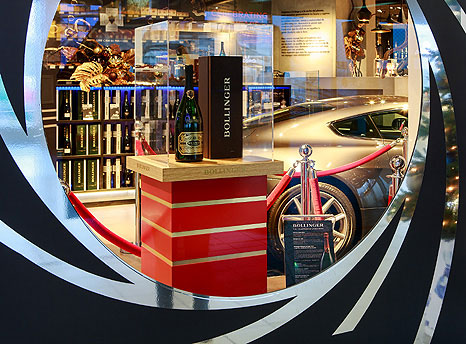 Bollinger and Bond have taken up residence in the airport's five stores.
The decor has been entirely redesigned for the event and a variety of activities have been organised. An Aston Martin Vantage V8S (provided by dutch Aston Martin dealership Kroymans) can be admired, as can Bollinger's exclusive wine cases, designed to showcase the brand's champagnes.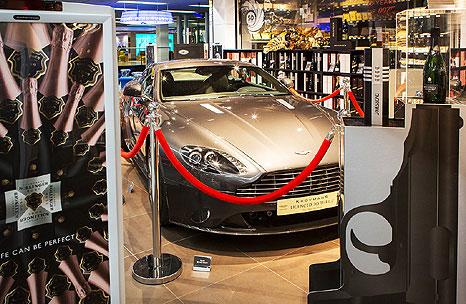 To round off this exceptional event, a magnum of the celebrated Bollinger R.D. 1969 (the very first vintage enjoyed by Bond in Moonraker, in 1979!) has been put on sale. A unique prize of a limited edition Bollinger 002 for 007 gift box has also been carefully locked away in a safe. Visitors at Amsterdam Schiphol Airport have until the end of December to try to crack the secret code, and to discover the event's remarkable atmosphere.
Read more about Bollinger and Bond here, or check out the Bollinger 002 for 007 Limited Edition box.
Subscribe to the Bond Lifestyle EYES ONLY newsletter