Vuarnet Legend 06 sunglasses
Daniel Craig wearing the Vuarnet 06 sunglasses in a Land Rover Series III while filming No Time To Die in Jamaica (April 2019)
Daniel Craig wearing the Vuarnet 06 sunglasses in a Land Rover Series III while filming No Time To Die in Jamaica (April 2019)
Daniel Craig and a stunt double wearing the Vuarnet 06 sunglasses with a sunglasses strap on a Spirit Yacht while filming No Time To Die in Jamaica (May 2019)
Bond will NOT wear the Vuarnet 06 sunglasses in the London and Italy outfits, but Daniel Craig was wearing them in between shoots on set, pictured here in Matera, Italy in September (left) and in July in London (right)
James Bond (Daniel Craig) will be wearing a pair of Vuarnet Legend 06 sunglasses in the 2020 film No Time To Die.
The glasses are vintage shape, available in only one size, but different frame colors. The Vuarnet 06 sunglasses worn by James Bond have a Brown frame and Brownlynx lenses. These mineral glass lenses give some color distortion (yellow tint), but provide great protection to the eyes and clearer contrast.
The Vuarnet 06 is a famous pair of shades: the model became already legendary in 1969, when Alain Delon wore Vuarnet 06 sunglasses in the French film La Piscine by director Jacques Deray.
The Vuarnet Legend 06 (or Legend 06 or VL0006), sunglasses are available online at Vuarnet UK/EU and Vuarnet USA, or sometimes available at Uncrate.

On the set in Jamaica in April/May 2019, Daniel Craig was spotted wearing the sunglasses while driving a blue Land Rover (Land Rover Outfit), and also while sailing a Spirit Yacht and walking on a dock with a speargun (Jamaica Yacht Fishing Outfit).
Croakies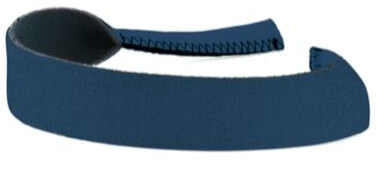 When Bond is sailing and fishing, he is wearing the glasses with a Croakies Original sunglasses strap in the color Navy. These Croakies are sold out on Amazon but available on for example eBay for around $13.
Although not certain yet until wee seen the film or trailer, it is extremely likely that the glasses will appear in the film, because Craig wears them with the same blue Croakies eyewear strap in different ocean scenes, and a (stunt) double was wearing them the exact same way.
UPDATE 4 December 2019: the glasses are briefly visible in the trailer so seems like they will be in the final film as well!
Daniel Craig has been spotted with the same Vuarnet 06 glasses on other sets of the same film, in London and Matera, Italy for example, but in those scenes, he will wear different sunglasses: Barton Perreira Joe in London and Vuarnet Edge 1613 model in Norway scenes and inItaly it's not yet confirmed what he will wear.
Daniel Craig was already wearing Vuarnet 06 sunglasses in his private life way before the production of the No Time To Die movie was underway. The earliest sighting on whatsdanielwearing dates from May 2017. So it's possible that it was Craig's suggestion to wear the glasses in the film. In previous films he has been wearing Persol (2720 and 2244 in Casino Royale) and Tom Ford sunglasses (the FT108 in Quantum of Solace, Marko in SkyFall and the Snowdon and Henry in SPECTRE).
In the same film No Time To Die, James Bond might also wear Vuarnet Edge 1613 sunglasses, also a model worn by Daniel Craig in his private life (he wears the matte black with gunmetal frame model) and possibly the glasses Bond will wear in the scenes filmed in Norway.
James Bond also wore Vuarnet sunglasses in the movie SPECTRE (2015). In the snow scene in Sölden and the first promotional image of the film, Daniel Craig as James Bond wears a pair of vintage Px Vuarnet model 027 glacier goggles/glasses. Vuarnet has released a similar pair called the Vuarnet Glacier. The Glacier 1315 ($600 or €420 on Vuarnet) is the modern version of the ones worn by Bond: the Glacier has a different logo on the temples and the shape of the frame and temples is also different. For vintage Vuarnet goggles, check out eBay.
Complete the outfit
James Bond also wears a pair of Tom Ford jeans, Tommy Bahama shirt and his No Time To Die Omega watch. For more information on the Land Rover / Meeting Felix Leiter outfit worn by Bond in Jamaica, click here, and for more items seen in his Jamaican villa, click here. For his Sailing Yacht and Fishing outfit, click here.
---