For Your Eyes Only - 35 years of Bonding in Cortina D'Ampezzo
16 April, 2016
James Bond Club Switzerland and James Bond Club Germany have joined forces to organise 'For Your Eyes Only - 35 years of Bonding in Cortina', a celebration of the 12th James Bond film. The event takes place from Friday July 1st - Sunday July 3rd 2016 in Cortina d'Ampezzo, Italy, a location seen prominently in the film.
Programme
- 2-day location tour in and around Cortina d'Ampezzo
- Dinner on Saturday July 2nd
- Meet and greet with the stars
- Autographs and goodies
- Professional foto shootings
- Various surprises
- The event will commence on Friday July 1st at 2pm
VIP guests
Stars that will attend the event include John Moreno (who plays Luigi Ferrara in the film), John Wyman (Erich Kriegler), Remy Julienne (legendary stunt driver) and some surprise guests.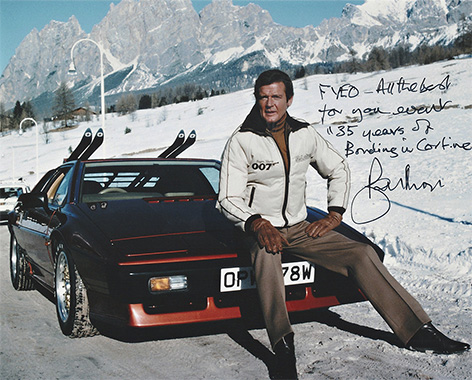 Cars
Sir Roger Moore himself has given his official approval for the event. He is very sorry he can't be there, however he is happy that there will be at least two Bond cars in Cortina, which will be prominently featured in the photo shoots. Luc Le Clech (president of James Bond France) will personally drive to Cortina in his yellow Citroën 2CV. Bond fan Hansi Zweigle will join with his newly restored Lotus Esprit (in the same red color and with skis, as seen in the film).
Auction: win a ride in the Lotus Esprit!
An auction is taking place on eBay (ends May) for a 30 minute (passenger) ride in the Lotus Esprit, a photo book and a professional photoshoot with the car.
Locations
Locations include Miramonti Majestic Grand Hotel, the town center of Cortina, the Olympic ski jump and other sights in and around the town.
Price: €345,00
Booking will only be available through James Bond Club Switzerland. Contact event manager Peter Hermann via events@jamesbondclub.ch.
For more details about the booking, payment and hotel recommendations, check out the event's Facebook page.
For questions, don't hesitate to get in touch with James Bond Club Switzerland or James Bond Club Germany.
The Swiss Bond Club has a track record of organising great Bond fan events. The unforgettable Goldfinger Reloaded event took place in September 2014, celebrating the iconic film with locations, dinner with the stars, an Aston Martin DB5, Ford Mustang and Rolls-Royce, read the report here.
In 2015, the Swiss Club was essential in organising and setting up the 007 Walk Of Fame at the Schilthorn Cableway (Piz Gloria, Blofeld's location in On Her Majesty's Secret Service). This new attraction was inaugurated in August 2015, in the presence of stars and contributors to the James Bond film On Her Majesty's Secret Service.
The new James Bond Club Deutschland was founded in April 2014, read more here.
Subscribe to the Bond Lifestyle EYES ONLY newsletter