Up Front with Bond girl Valerie Leon
23 November, 2013
Following the Up Front with Valerie Leon performances in 2010, Valerie is back with a new one-woman show at Putney Arts Theatre on Saturday 23 November 2013.
Valerie Leon made her West End debut in Funny Girl with Barbra Streisand at London's Prince of Wales Theatre. This was followed by many TV appearances which include The Saint and The Persuaders both with Roger Moore.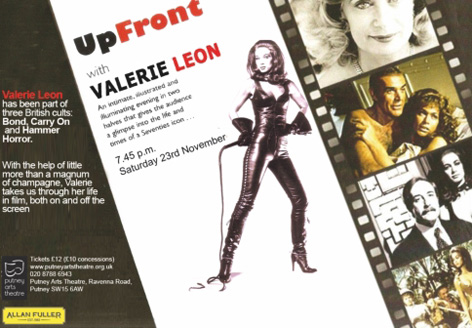 She appeared in many films, for example as 'Tanya The Lotus Eater' in The Revenge of the Pink Panther with Peter Sellers, and with Roger Moore in The Wild Geese.
Valerie has appeared in two Bond movies The Spy Who Loved Me with Roger Moore and as 'The Lady In The Bahamas' in Never Say Never Again with Sean Connery.
Event info:
Venue: Putney Arts Theatre, Ravenna Road, Putney, London SW15 6AW
(Nearest Tube: East Putney)
Time: 7.45pm
Ticket price: 12 GBP (10 GBP for concessions)
Box Office and other enquiries: +44 (0) 20 8788 6943
For more information about the event, visit the official event website: www.putneyartstheatre.org.uk
For more information about Valerie Leon's life and career, visit her official website.
All copyrights for products, logos, images etc are held by their respective owners. Bond Lifestyle is not responsible for these events, please take any queries up with the author.
---
Subscribe to the Bond Lifestyle EYES ONLY newsletter