New SPECTRE video: The Bond Women of SPECTRE
13 August, 2015
A new SPECTRE behind the scenes video has been released: The Bond Women of SPECTRE, which focuses on actresses Léa Seydoux and Monica Bellucci and the roles they play in the film. Watch the video below.
Director Sam Mendes says, "In SPECTRE, the two women who Bond hooks up with, both have great mystery, they both have depths and for that you need fantastic actresses."
On her role as Madeleine Swann, daughter of Bond's old nemesis Mr White (Jesper Christensen), Seydoux says: "She's a doctor, she's intelligent and very sensitive…"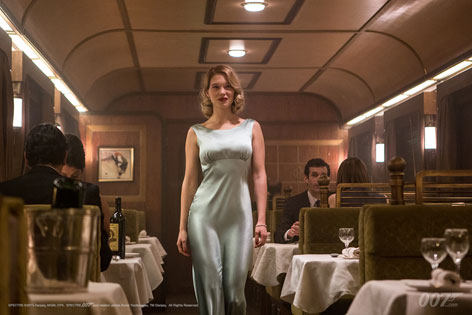 The dress worn by Léa Seydoux in this newly released picture is a Ghost Hollywood Salma dress which is now said (by Ghost) to be in the color Dusty Green and not the color Silver Lake as previously reported by Ghost, but the color is hard to determine, it also looks like it could be blue (Sky Light). Ghost now claims is Dusty Green and you can change your order to the new colour if you already ordered the Silver Lake version, just contact Ghost customer service.
With this green dress, Madeleine Swann wears a pair of David Deyong DiamonDust Sterling Silver earrings made with Swarovski Zirconia (read more), available online at David Deyong for £199 - worldwide shipping available; free UK shipping; use promotional code BONDLIFESTYLE5 during checkout to get 5% off!
Also note the wine bottle on the left in the image is Château Angélus Premier Grand Cru Classé Saint-Émilion, the same wine that Bond and Vesper shared in the train scene in Casino Royale.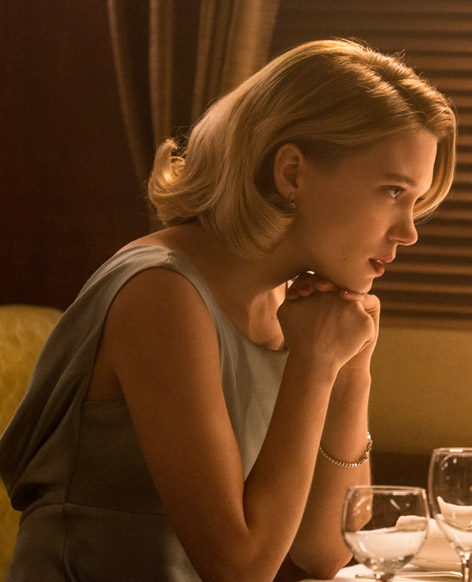 Léa Seydoux as Madeleine Swann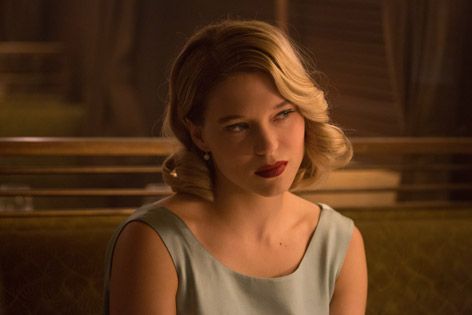 Léa Seydoux as Madeleine Swann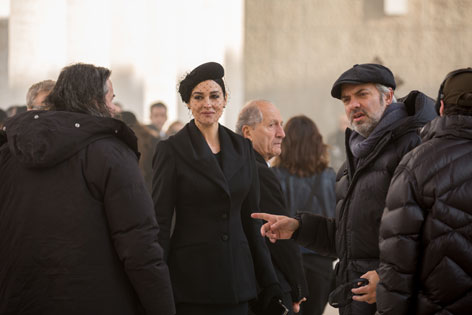 Meanwhile, Monica Bellucci (who plays Lucia) says about her character: "She's an Italian widow with secrets."
SPECTRE is set for release in the UK on October 26, 2015, and in the US on November 6, 2015.
Subscribe to the Bond Lifestyle EYES ONLY newsletter