James Bond will use Sony Xperia T phone in SkyFall
02 September, 2012
At IFA in Berlin, Sony CEO Kaz Hirai has revealed that Xperia T, the latest smartphone from its new Xperia range is set to feature in SkyFall – the 23rd James Bond film and first to feature an Xperia smartphone from Sony.
Sony has been in the field with 007 before as Sony Ericsson, with gadgetry featured in previous missions Die Another Day, Casino Royale and Quantum of Solace.
Sony Ericsson first partnered with Bond for Die Another Day starring Pierce Brosnan in 2002, using both the T68i and P800 in the film. Sony Ericsson phones have since featured in all Bond films, with the K800i and M600i making their debuts in Casino Royale, and the C902 bringing limited edition glamour to Quantum of Solace. Click here for an overview of all Sony products in those movies.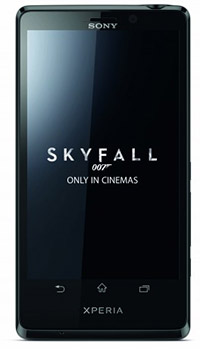 Xperia T will be part of a new range of smartphones available upon the film's release later this year.
Xperia T provides Sony's best HD smartphone screen, camera and One-touch connectivity enabled by NFC, with key features including:
4.6" HD Reality Display powered by the Mobile Bravia Engine for razor sharp clarity
13MP fast capture camera that goes from sleep mode to snap in just over a second
Full 1080p HD video recording capabilities and a 720p HD front camera for the highest quality content
PlayStation™ Certified
Latest generation 1.5GHz dual core processor for improved battery life, fast performance and ultra sharp graphics
MHL connectivity for viewing content on a big screen without the need for a charger
More details on the phone will be released over the next few weeks.
Subscribe to the Bond Lifestyle EYES ONLY newsletter