Guernsey Post celebrates Ian Fleming's life on stamps
17 July, 2014
The life of James Bond's creator, Ian Fleming, has been celebrated in a set of stamps and limited edition items to be released by Guernsey Post, 50 years following his death on August 12, 1964.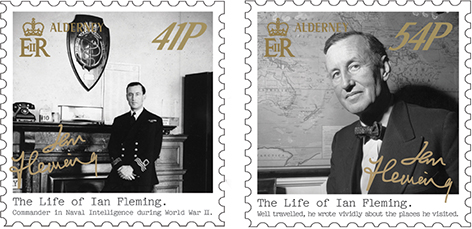 Guernsey Post's 41 pence and 54 pence stamps focus on Fleming's role as a Commander of Naval Intelligence during World War II, having been recruited as personal assistant to the Director of Naval Intelligence at the outset of the war.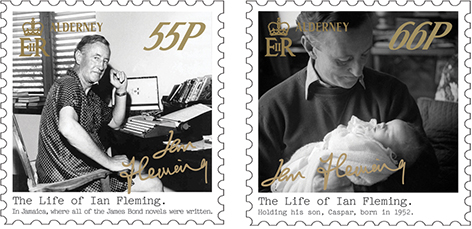 Fleming's time at his Jamaican home, Goldeneye, where he wrote all of the James Bond novels, is the focus of the 55 pence stamp. The first, Casino Royale, was written in 1952 - the same year that his only son, Caspar, was born, as depicted in the 66 pence stamp.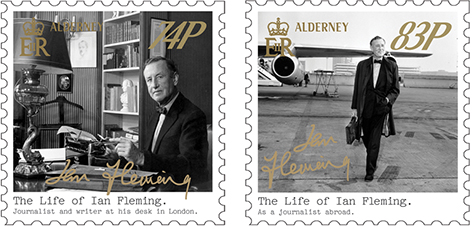 The 74 and 83 pence stamps reflect Fleming's role as a successful journalist and writer – both at home in London and as a journalist abroad. Following the war he became foreign manager of Kemsley newspapers and travelled to many countries, where he gained inspiration for the far flung locations featured in the James Bond novels.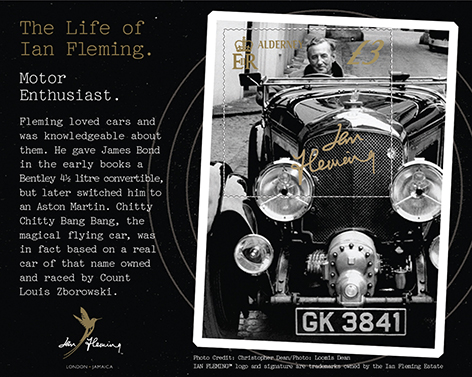 Complementing the stamps is a miniature sheet (£3.00 stamp) depicting Ian Fleming behind the wheel of a Blower Bentley, which was taken by veteran Life Magazine photographer, Loomis Dean. Fleming's love of cars is well documented; in the early novels he gave James Bond a Bentley 4 1/2 litre convertible, but later it was replaced by an Aston Martin.
Also available is this miniature sheet, produced in 24 carat gold (99.99% pure) and sealed in acrylic crystal. It comes in an attractive black presentation box.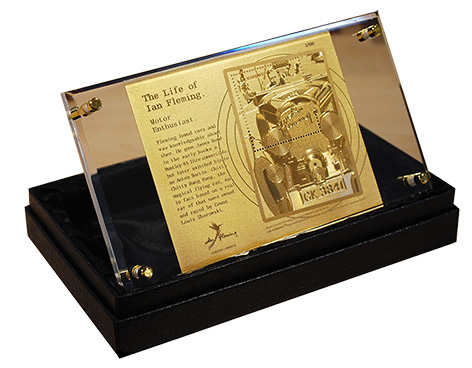 This gold miature sheet is a strictly limited edition product; only 500 have been produced and each gold foil sheet is numbered so be sure to order yours today on the Guernsey Stamps website.
Dawn Gallienne, head of philatelic at Guernsey Post, said: "Our commemorative stamps, marking great moments, famous anniversaries and important cultural themes, are always hugely popular. I am delighted that we have been able to celebrate the life of Ian Fleming in this year's stamp programme, as his legacy and influence continues today."
The stamps, which are to be issued on 30 July, are available to pre-order now visiting www.guernseystamps.com or by calling philatelic customer services on (01481) 716486.
Subscribe to the Bond Lifestyle EYES ONLY newsletter