Bond Lifestyle Summer Essentials
01 July, 2014
Whether you will be enjoying a poolside game of gin rummy in Florida, sipping a Mojito in Cuba, horseback-riding on the Bahamas or just watching Bond movie in your backyard, here are five essentials to help you enjoy it in style.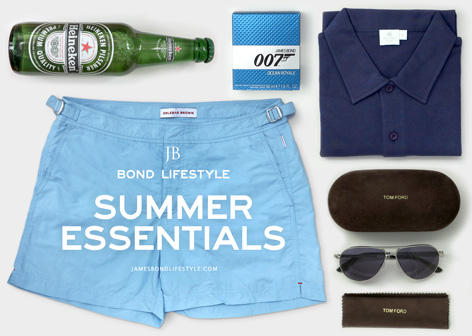 1. Tom Ford Marko sunglasses
As worn in SkyFall, these Tom Ford with shiny rhodium frame and blue glasses are not only stylish, but also very light and comfortable.
Get Tom Ford Marko sunglasses here:
Amazon.com ($174 - $338)
Amazon.ca (CDN$380)
Amazon.co.uk (£150.00)


2. Orlebar Brown Setter Sky shorts
Also worn by Bond in SkyFall, the Orlebar Brown swimming shorts are available in many colors and different lenghts. Bond wears the Setter (short version) in the color Sky. Get these shorts at the official Orlebar Brown website. If you want slightly longer shorts, get the Bulldog model, or the really long Dane model. If you dare to go even shorter than the Setter, get the Springer.
3. Sunspel Riviera Polo shirt
Created by Sunspel for Daniel Craig in Casino Royale, this navy polo shirt (£80.00 / €96 / $128) is one of most popular Bond items and still available. The polo shirt is now also available as part of the Riviera Set (the navy polo, white v-neck shirt and grey crewneck shirt) or the Riviera Polo Set (three Riviera polos in the color of your choice) which gives you a 12,5% savings on the individual price.
Bond Lifestyle recommends the Riviera polo in Navy (as seen in Casino Royale), Sky (a color reminiscent of the Dr No polo worn by Sean Connery) and Black (the Quantum of Solace style shirt). This set can be ordered for $336 / £210 / €252 on the official Sunspel website (12,5% discount on the individual items).
Buy the Riviera Set ($272, USA) or Riviera Polo Shirt Set ($336)
Buy the Riviera Set (£170, UK) or Riviera Polo Shirt Set (£210)
Buy the Riviera Set (€204, EU) or Riviera Polo Shirt Set (€252)
Read more about the Sunspel shirts in Casino Royale
4. 007 Fragance Ocean Royale
The fresh ingredients found in Ocean Royale add an adventurous twist to your Bond summer. The sea-breeze accord carries you to far away destinations, and the top notes of lime, aniseed and bergamot create an energising essence as stimulating as crisp sea-water. 
Get the 007 Fragrance online at Amazon.com, Amazon.co.uk. Now also available with a set of playing cards at Harrods for £16,75 (update: sold out). See all other 007 fragrances here.
5. Heineken beer
When Bond is 'enjoying death' on a remote beach, he drinks a bottle of Heineken. Make sure yours is nice and cold. And when you're visiting Amsterdam, make sure to visit the Heineken Experience, to learn about the brand's history.

More about Heineken and Bond.
Get more ideas in the sections Gift Ideas, Clothing, Accessories, Books.
Subscribe to the Bond Lifestyle EYES ONLY newsletter