Turnbull & Asser Dr. No 'cocktail cuff' shirt
Turnbull & Asser blue shirt with cocktail cuff
photo © Turnbull & Asser
Collar and two-button cocktail (turnback) cuff
photo © Turnbull & Asser
This classic shirt was specially created for the film Dr. No by Turnbull & Asser and was worn by Sean Connery when he played James Bond. The shirt features the special "cocktail" cuff, which is a two button turnback cuff and is unique to this shirt.
Turnbull and Asser now offers the shirt online for £225 / $335 / €225 on the Turnbull & Asser website in White or Blue, or ask for the shirt in a Turnbull & Asser boutique.


Black Friday / Cyber Monday 2018 offers
From Thursday 22nd November at 7pm - Midnight Monday 26th November – savings of up to 20% at the Turnbull & Asser website!
Spend up to £250 and receive a 10% discount (auto-applied)
Spend over £250 and receive a 20% discount (auto-applied)
In the USA there is even a 25% discount (auto-applied)
Terms: excludes bespoke, made-to-measure and personalised products
There's also FREE UK delivery on all orders with offer code: FREESHIPAW18
You can use the 20% OFF deal for example for the Legends: James Bond tie collection. This trio of ties are official replicas of original designs worn by Pierce Brosnan during in Tomorrow Never Dies (1997), The World Is Not Enough (1999) and Die Another Day (2002).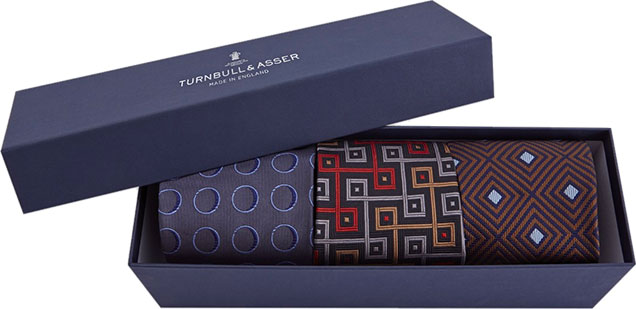 Sean Connery mostly wears shirts with turnback cuffs in his Bond movies, and Roger Moore wears turnback cuffs in Live And Let Die and The Man With The Golden Gun.
---