Harrods Diary
Bond holds a brown leather Harrods Diary in Moonraker
photo © United Artists, Eon Productions
The brown leather diary has gold edges pages
photo © United Artists, Eon Productions
The diary of Holly Goodhead (played by Lois Chiles) in Moonraker (1979) is a brown leather Harrods diary.
The logo of Harrods and the words "real leather" are imprinted on the back and the logo on the front, and can be seen clearly in Bond's hands in Goodhead's room in Hotel Danieli in Venice. The sides of the pages are gold coloured.
The Harrods diary is one of Goodhead's standard CIA gadgets and can shoot a poisoned dart out of the cover, as James Bond (Roger Moore) demonstrates. "Fairly deadly diary", says Bond, before commenting on the bottle of Bollinger: "If it's a '69, you were expecting me".
The scene is filled with product placements: in the next shot, we can see that all Goodhead's lipstick, parfums and other toiletries are by Christian Dior.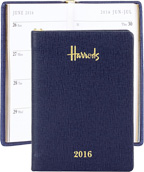 Currently Harrods still carries a line of leather diaries with small pens, find them here.
Thanks to Robert Scheidemann for the ID
---
Subscribe to the Bond Lifestyle EYES ONLY newsletter