Côte d'Azur - James Bond locations in South of France
Côte d'Azur, by Simon Firth
photo © On The Tracks of 007
Fort Antoine in Monaco, as featured in GoldenEye
photo © Simon Firth
Maison Rouge, as featured in Never Say Never Again
photo © Simon Firth
Fort Carr in Antibes, as featured in Never Say Never Again
photo © Simon Firth
Villefranche harbour 'DARSE', as featured in Never Say Never Again
photo © Simon Firth
Villefranche Sur Mer, as featured in Never Say Never Again
photo © Simon Firth
Côte d'Azur - James Bond locations in South of France
On December 4th, 2020, Onthetracksof007.com presents a brand new publication: Côte d'Azur.
The book is written by Simon Firth and looks at the many James Bond connections in the South of France, with a special focus on the filming locations.
The 116-page, full colour book is available as on Amazon as Paperback (£17.95 / $24.95 / €19.95) or Hardcover (£24.95 / $32.95 / €27,95) and as limited edition hardcover with dust jacket at Onthetracksof007.com.

The allure of the French Riviera, or the Côte d'Azur as it is variously known, needs little or no introduction. The landscape, the wealth, the film stars, the artists, the Belle Epoque architecture and the azure sea have all ensured the longevity of its rightful place in stunning coast lines and picturesque villages to soak up. That in various forms, James Bond has left his mark in such pantheons of beauteous geography is no surprise.
But just what are they, and in how many forms? From his time living in Villefranche sur Mer in the summer of 2019, author Simon Firth documents, dissects and discusses the locations for:
The Films, Diamonds Are Forever, Never Say Never Again and GoldenEye
The Books, Role of Honour and Forever and a Day
The Residences of Sir Sean Connery, Sir Roger Moore and David Niven
The Cannes Film Festival and the Carlton Intercontinental Hotel
And an unfinished 1958 version of Casino Royale and the 'What If..' locations.
To widen the context and to add colour, the Riviera Life and its people accompany the journey with eye-catching imagery, in the defi nitive account of James Bond in the Côte d'Azur.
With a Foreword written by Gareth Owen, Sir Roger Moore's former Personal Assistant.
Paperback
116 pages
ISBN-10 : 9081329499
ISBN-13 : 978-9081329491
Dimensions : 15.6 x 0.76 x 23.39 cm
Publisher : DMD Digital (4 Dec. 2020)
Language: : English
19.95 EUR | 24.95 USD | 17.95 GBP
Buy on Amazon
Hardcover
116 pages
ISBN-10 : 9081329456
ISBN-13 : 978-9081329453
Dimensions : 15.6 x 1.12 x 23.39 cm
Publisher : DMD Digital (4 Dec. 2020)
Language: : English
27.95 EUR | 32.95 USD | 24.95 GBP
Buy on Amazon
About the author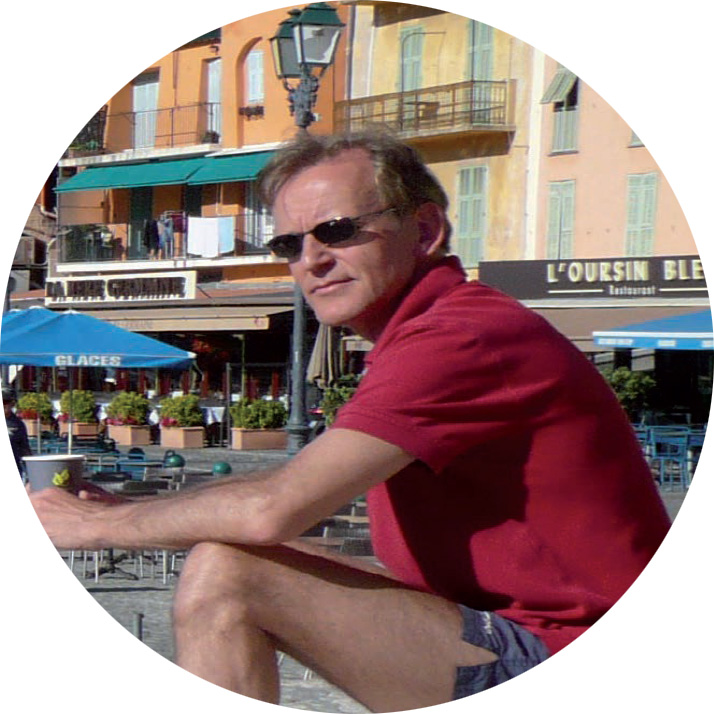 Simon Firth became interested in, and subsequently hooked on the world of James Bond from a) being asked by his father to come back downstairs from bed to watch on TV Dr No and, months later, Thunderball and b) being taken to the cinema to see The Spy Who Loved Me as a family outing. Being of responsible age sufficient to taking buses by the time Moonraker was released sealed his fate and a collection was subsequently embarked upon.
While in awe of the present day's dissection of the subject matter of James Bond into its infinite parts; Clothes, Cars, Food, Drink, Books, Films, Graphic Novels and the multitudinous contributors and content makers plying their knowledgeable and artistic creativity to discuss such, it is the poster artwork that by and large was the greater attraction within.
But a love for Villefranche sur Mer and the surrounding countryside from working holidays abroad in the 1980s and a couple of subsequent holidays ensured that Simon would briefly enter the Locations department; with all due deference to those who have steadily worked their way up this explicit ladder.
For all things professional, he is a self-employed contract Project Manager working in the Telecommunications and Media sector.
---
Subscribe to the Bond Lifestyle EYES ONLY newsletter