Zippo releases James Bond lighter line
26 September, 2017
Famous American lighter producer Zippo has released a new line of lighters inspired by James Bond 007. A wider collection of Zippo lighters dedicated to James Bond poster art is set to launch later this year, in time for Christmas 2017.
The full selection of lighters is available on Amazon.com and Amazon.co.uk.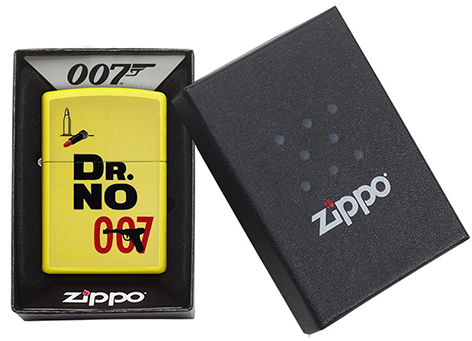 The lighters are officially licensed, thanks to a deal between Zippo and EON Productions, brokered by IMG Licensing.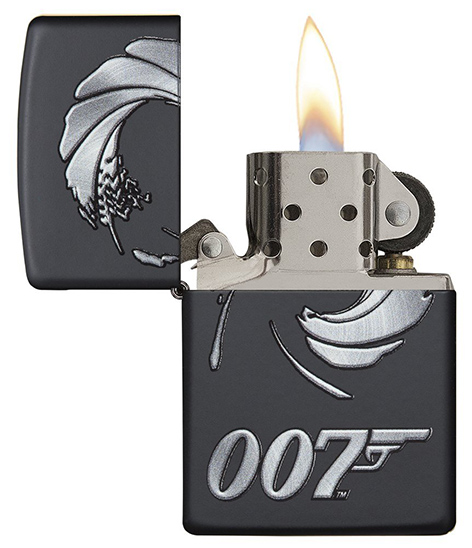 All Zippo 007 lighters, with distinctive Zippo "click" come with the Zippo lifetime guarantee that "It works or we fix it free™". The lighters are all metal and the windproof design works virtually anywhere.
The Zippo James Bond range of lighters currently consists of 6 different designs, all based on the 007 logo.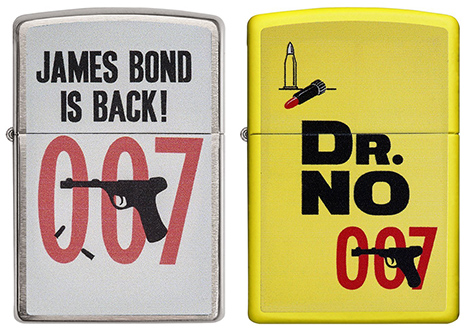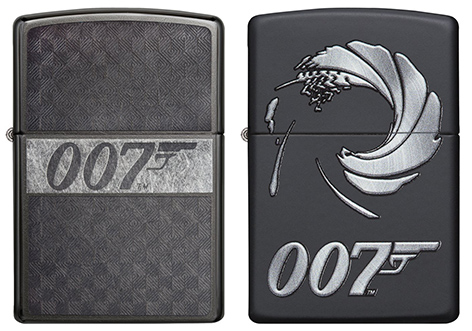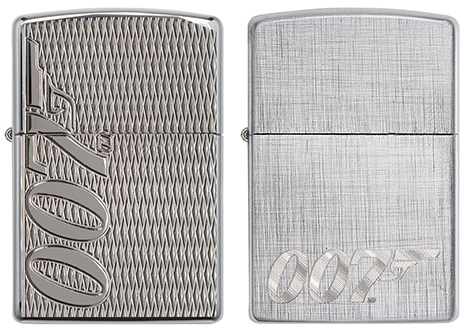 You can find the new Zippo lighters online at Zippo.com, Amazon.com (slightly cheaper), Amazon.co.uk, or try your local Zippo retailer.

Zippo in James Bond novels
James Bond the character only used a Zippo once, in the novel Live And Let Die, when Bond is in America and acquires "a plain Zippo lighter". Zippo lighters are mentioned a few other times in Ian Fleming Bond novels. In the From Russia With Love book, Russian General G. lights a pack of Moskwa-Volga cigarettes with "an American Zippo". In the Goldfinger book, Mr. Du Pont "sat down opposite Bond and produced cigarettes and a plain gold Zippo lighter". Fleming continues to write that "Bond affected not to notice the offered lighter. He disliked held-out lighters."
Other 007 branded lighters
In 1996 Zippo also released 007 lighters with movie posters and a brass (gold colored) lighter with 007 logo.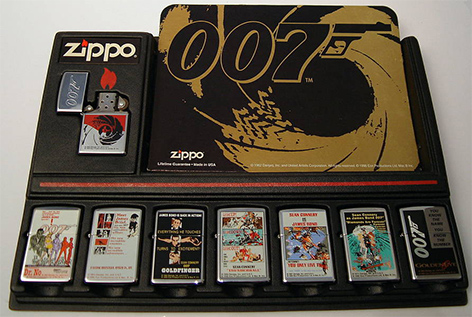 Shop display of the 1996 Zippo set of lighters with movieposter designs
Photo by Monkey's Lighter site
A few years later, in 1999, French company Bic released a set of 12 lighters with movieposters. This Bic collection can still easily be found on eBay.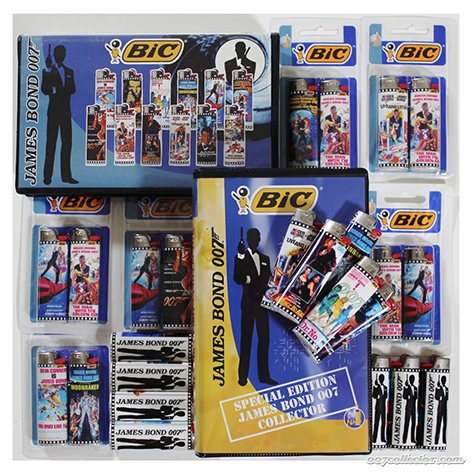 Bic James Bond 007 lighter collection
Photo by 007collector.com
French luxury brand S.T. Dupont offered 007 branded lighters in their 2004 (007), 2006 (Casino Royale) and 2015 (SPECTRE) collections.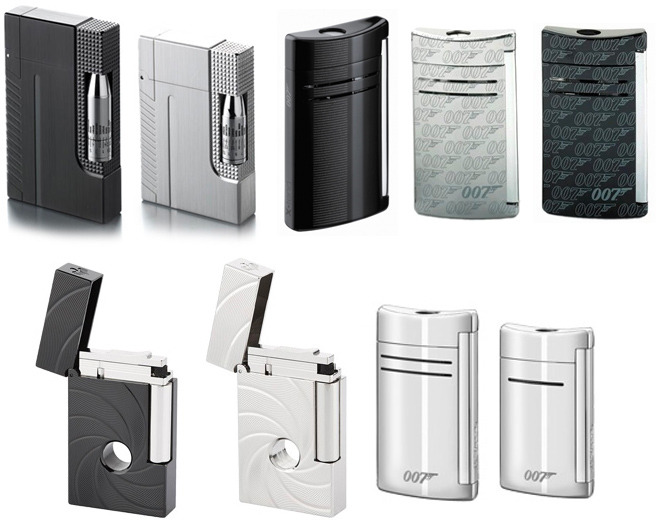 S.T. Dupont made 007 lighters from 2004 - 2015
The S.T. Dupont SPECTRE lighters are still available, although hard to find online. On eBay there is always a selection of S.T. Dupont Bond lighters.
Thanks to Frank Anderson for the alert
Subscribe to the Bond Lifestyle EYES ONLY newsletter