Visiting the studio of jewellery designer Sophie Harley in London
13 June, 2013
One of the most famous pieces of jewellery in Bond movie history is the Algerian Love Knot necklace by Sophie Harley, worn by Eva Green (who plays Vesper). The intricate necklace features in not just one but two Bond films, Casino Royale (2006) and Quantum of Solace (2008). Now, five years after that last movie, the love knot necklace and collection including the earrings are still a popular part of Sophie Harley's impressive collection.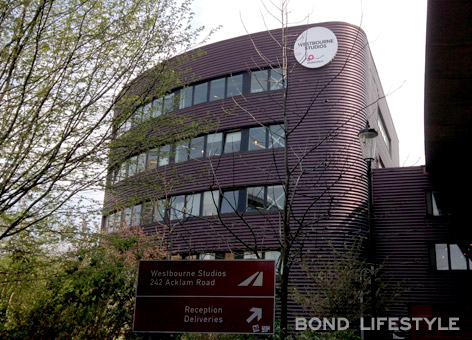 One sunny spring morning I make my way to Sophie Harley's studio, which is located in the trendy Notting Hill area of London, to meet Sophie and her team. The studio is part of Westbourne Studios, a modern building with a wide range of stylish offices and studios space.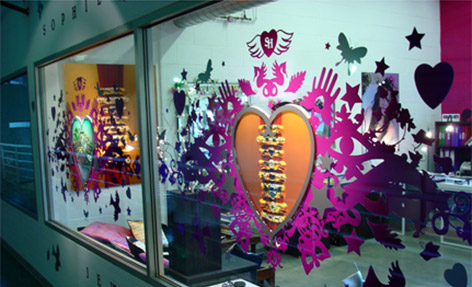 Sophie's beautiful and recently refurbished studio welcomes clients to browse existing collections or design and create their own bespoke pieces. When I walk into the studio I'm overwhelmed by a glittering of gold, silver, precious stones, a colourful interior and a most welcoming Sophie Harley herself. Quickly I feel at ease and with a large cup of hot cappuccino in my hand I'm shown around and introduced to the other members of Sophie's creative team.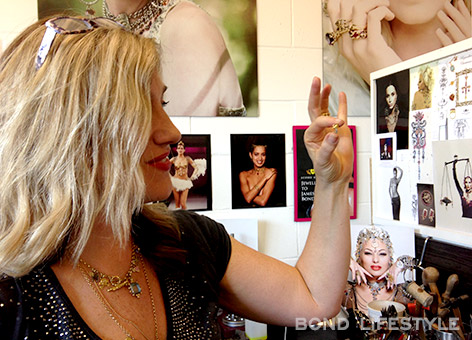 Luxury jewellery designer Sophie Harley in her studio
Sophie tells me about her 20 years in the jewellery business and the positive impact the Bond film commission had on raising her profile to an international level.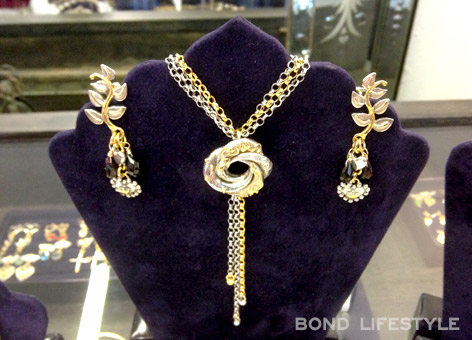 Sophie Harley Algerian Love Knot necklace and earrings as seen in Casino Royale
"I was contacted by costume designer Lindy Hemming in 2006 with the question to make a piece for the new Bond movie. Hemming had personally bought some of my pieces before, so she was familiar with my work already. When she approached me to see if I'd be interested in creating a necklace for the film I jumped at the opportunity." Hemming thought the style of Sophie's designs would fit perfectly with the script.
Sophie grabs a sketchbook from one of her glass cabinets and shows me the detailed sketches she made and presented to Lindy Hemming. The drawings show the love knot concept. The fact that Sophie loves drawing can clearly be seen in these beautiful original designs for the Algerian Love Knot and the other drawings in the book.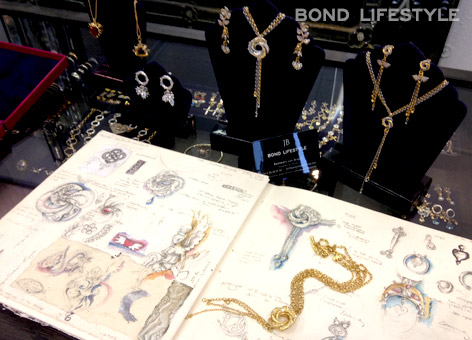 The Love Knot collection and the original sketches for the Algerian Love Knot necklace
When the final design was approved, Sophie had to make about 20 copies of the necklace and several pairs of earrings for the film. She remembers: "One evening I received a call from Lindy Hemming from the Casino Royale set in Prague, saying "We lost all the earrings!" so I had to work all night to make new earrings." Not a problem for the skilled artist who not only designs but also produces her pieces herself by hand, together with a young and creative staff. She creates jewellery already since she was a child and besides her practical experience also has an MA in jewellery design from The Royal College of Art.
The design of the Love Knot proved to be extremely popular when Casino Royale came out. Even today, years after the movie, Sophie receives orders for the necklace from all over the world. Sophie has expanded the Love Knot necklace and earrings collection, with a necklace in 18ct gold, several variations of the earrings, a small version of the necklace, and love knot cufflinks and pins. The collection is on display at the studio and I marvel at the jewellery that has a very distinct style and an almost vintage look.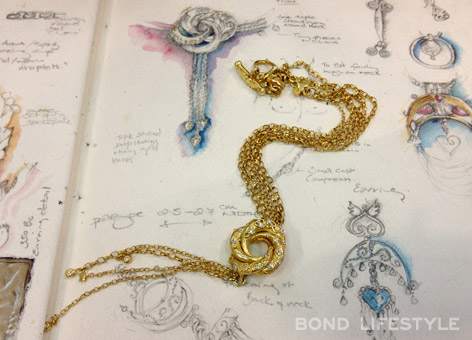 18ct gold Love Knot necklace and the original sketches for the Algerian Love Knot
Sophie's award winning jewellery collections and private commissions have created a huge following throughout the world including the more famous; Joss Stone, Jerry Hall, Judi Dench, Colin Firth, Kate Beckinsale and Naomi Campbell. Recently, actress Kate Winslet asked Sophie to create a personal piece of jewellery using the 'love letters' (silver letters with Sophie's trademark flying heart). Sophie received a call and had to go instantly to a studio in London where, in between shoots for Vogue, Kate worked with Sophie to create the piece.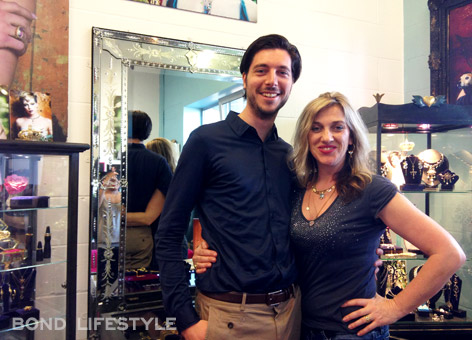 Bond Lifestyle's Remmert van Braam and Sophie Harley
After taking a closer look at Sophie's other collections and taking a few photos, I say goodbye to the charming, inspiring, generous and positive Sophie Harley and her talented staff, leaving this creative space for more Bond adventures, but not without a pair of Algerian Love Knot cufflinks for my collection and a gift for my Bond girl.
Want to have your own Bond jewellery, or commission Sophie Harley for a personal piece of luxury jewellery? Please give Sophie or her team a call in the studio on 0207 430 2070 or email Sophie at info@sophieharley.com to arrange a studio appointment.
For more info please visit www.sophieharley.com. 
Make sure to Like Sophie Harley Design Facebook page.
Read more about the Algerian Love Knot in Casino Royale.
All photos © Bond Lifestyle
Subscribe to the Bond Lifestyle EYES ONLY newsletter