Third SPECTRE vlog reveals Rome car chase
01 May, 2015
The third SPECTRE video blog (vlog) was released today, showing amazing car chase footage from the streets of Rome and interviews with Sam Mendes and Dave Bautista. Watch the full video below.
The latest vlog from the set of SPECTRE focuses on a car chase in Rome between the Aston Martin DB10 and the Jaguar C-X75. SPECTRE filming in Rome took place from 17 February until early March. Some of the shots were filmed in the UK, at Blenheim Palace.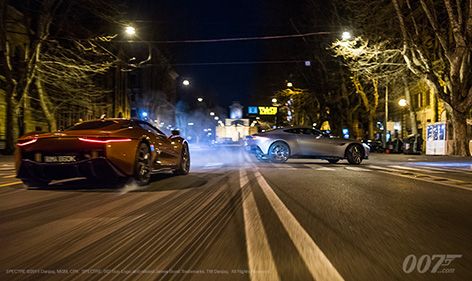 The video features Director Sam Mendes, actor Dave Bautista (Mr. Hinx), Special Effects Supervisor Chris Corbould, Stunt Coordinator Gary Powell, and Action Vehicles Technical Coordinator Neil Layton.
"I love the idea of this fantastic car being in a one-on-one battle with another incredible car from Jaguar, which is similarly extraordinary actually," says Sam Mendes. "So it's a cat-and-mouse game through the night time streets of Rome, at great speed, between two of the fastest cars in the world."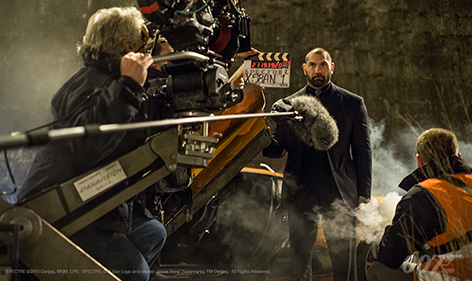 "It's amazing. It's one of those scenes that's going to be very iconic," adds Dave Bautista. "Just with the two cars racing through the streets of Rome – I mean, how often do you see that? It's one of those things you only see in a James Bond film."
In February of this year, the first videos were launched: the first vlog showed some beautiful scenes filmed in Austria and the second video focused on director Sam Mendes, again showing some scenes from Austria.
For more details about some of the clothes, weapons and locations in Rome, check out the Guide to SPECTRE (spoiler warning).
SPECTRE 
© 2015 MGM, Danjaq
Subscribe to the Bond Lifestyle EYES ONLY newsletter