Aston Martin DB10
Daniel Craig as James Bond poses with the Aston Martin DB10
photo © Danjaq, MGM
James Bond drives the Aston Martin DB10 in Rome
photo © Danjaq, MGM
Q reveals the Aston Martin DB10 in his lab.
photo © Danjaq, MGM
Front and back of the Aston Martin DB10
photo © Aston Martin
In SPECTRE (2015), James Bond (Daniel Craig) drives an Aston Martin DB10. This car was especially designed for the film. 10 DB10 cars were manufactured in total of which eight have been used for SPECTRE filming, along with two show cars.
In the film, the DB10 is actually built for Bond colleague, secret agent 009, but Bond 'borrows' the car from Q and takes it to Rome, Italy. Bond drives the car to the funeral of Sciarra and later he drives to the SPECTRE meeting. He escapes the SPECTRE meeting in the DB10 and is chased by Hinx who drives a Jaguar C-X75. Bond uses some of the gadgets to escape from Hinx, including the flame thrower and an ejector seat with parachute.
The Aston Martin DB10 has a 4.7 litre V8 engine and 6-speed manual transmission.
The licence plate of Bond's car is DB10 AGB.
Unveiling
The DB10 was unveiled by director Sam Mendes at the official press launch of SPECTRE on the 007 Stage at Pinewood Studios on 4 December 2014.
Auction
So far, only one of the 10 DB10's has been sold: on 19 February 2016, one of the two show cars was sold at the Christie's SPECTRE auction for £2.4 million.
Scale model cars
Currently there are a few small scale models of the DB10, including the Hotwheels version, and a 1:36 scale Corgi DB10. The smallest version is the metal DB10 keychain, exclusively available on the 007 online store and at Bond In Motion.
See all available DB10 model cars here.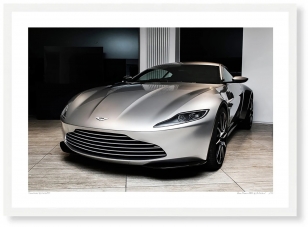 Limited Edition photo prints
Limited100 offers a very nice Aston Martin DB10 photo print, get this and other Aston Martin Bond car photos at Limited100.co.uk with 5% off if you use the code BONDLIFE5.
---
Subscribe to the Bond Lifestyle EYES ONLY newsletter