SPECTRE filming begins
13 December, 2014
On December 8th 2014, as planned, the filming for the 24th Bond film SPECTRE started. The first set photo shows a familiar dog statue.
On the official 007 Twitter account a photo of a clapperboard on the set was published, as was also a regular thing during the filming of SkyFall in 2012. The photo shows the Royal Doulton Jack Bulldog that was featured in SkyFall. The bulldog figurine was originally owned by M, but after her death bequeathed to James Bond. Since the statue is shown in this first teaser production photo from the set, it may appear once more in SPECTRE, maybe on the desk of James Bond himself?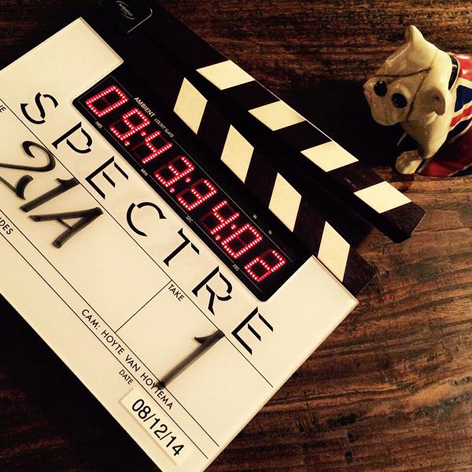 Read more about the Royal Doulton Bulldog here. Since a few weeks, the statue is not available anymore on the official Royal Doulton website, but you can still find it on Amazon.com, Amazon.co.uk or eBay.
On the clapperboard we can also see the name of Dutch cinematographer Hoyte Van Hoytema, who will be behind the camera for SPECTRE.
SPECTRE is set to be released in November 2015. After the official press event last week announcing the name and cast of the movie, more and more news is now leaking on the internet due to a hack of Sony Pictures. Many details about the budget, locations and storylines, and maybe even the script has been part of the massive hack that causes a major headache for Sony. Not to spoil the plot or too many details, these leaks will not be published here but you can easily find them online if you're interested.
In the meanwhile, filming locations are being prepared in London, Austria, Rome and Morocco, so in the next few months we can expect more set photos.
Subscribe to the Bond Lifestyle EYES ONLY newsletter