SkyFall crew in Istanbul, Turkey
02 May, 2012
The SkyFall crew is currently working in Istanbul, Turkey, to film action scenes in the famous city. This marks the third time in the 50 year history of the James Bond franchise that the city has served as a backdrop to 007's adventures, with previous outings including From Russia With Love (1963) and The World Is Not Enough (1999).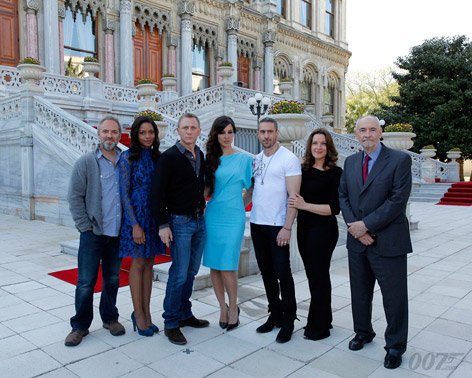 (L-R) Director Sam Mendes, Naomie Harris, Daniel Craig, Bérénice Marlohe, Ola Rapace, Producer Barbara Broccoli and Producer Michael G. Wilson attend a photo call to mark the filming of SkyFall, the 23rd James Bond adventure, in Istanbul, Turkey.
Locations to be used in the Turkish capital city will include the famous Egyptian Bazaar, the Old Post Office, the New Mosque and the Grand Bazaar. Daniel Craig stays in Istanbul for three three weeks of filming. Other members of the cast were scheduled to be in the city for five weeks.
The second unit and stunt teams were on the roofs in the city filming motorcycle stunts performed by a stuntman doubling for Ola Rapace's character Patrice. The motorcycle driven by Patrice is a Honda with Turkish traffic police ("Trafik Polisi") stickers. (Join the discussion about the model of this bike on the Forum.)
Istanbul isn't the only Turkish location the team has been visiting; further filming locations include Adana (a southern Turkish province where some train action sequences have been filmed earlier this year) and the coastal city of Fethiye (where the crew will film on a pier at Koca Calis beach).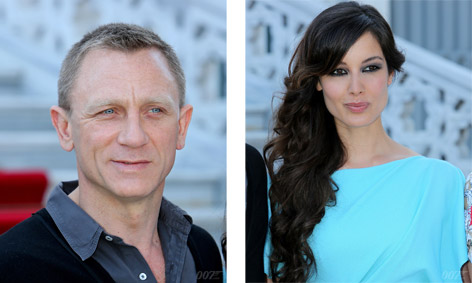 To mark the occasion, a photocall and press conference was held at the Ciragan Palace hotel in Istanbul on 29th April with producers Michael G. Wilson and Barbara Broccoli, director Sam Mendes, and cast members Daniel Craig, Naomie Harris, Bérénice Marlohe, and Ola Rapace. See the video of this press conference below:
Visit 007.com to see all of the images from the SkyFall press conference in Istanbul.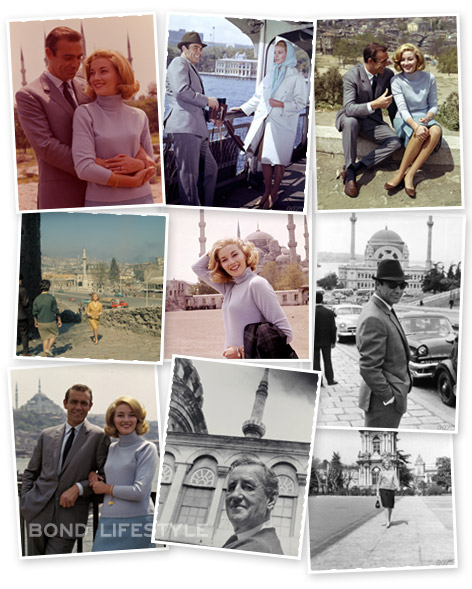 A collage of photos showing Sean Connery, Daniela Bianchi and Ian Fleming in Istanbul during the filming of From Russia With Love.
Subscribe to the Bond Lifestyle EYES ONLY newsletter