Mason & Sons recreate outfit worn by Sean Connery in Goldfinger
22 October, 2018
Mason & Sons have recreated the jacket and trousers worn in Goldfinger (1964) by Sean Connery.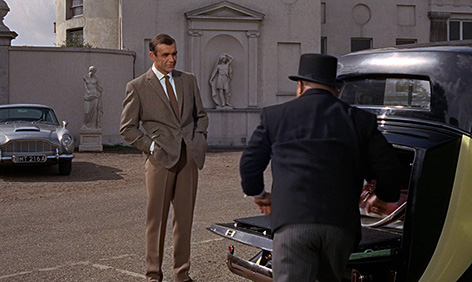 The hacking jacket and cavalry twill trousers are inspired by horse-riding outfit and are a good match for action and driving comfortabely in an Aston Martin.
Sean Connery, as James Bond, wears the Barleycorn tweed hacking jacket with cavalry twill trousers after the famous golf match at Stoke Poges with Auric Goldfinger. He then gets in his Aston Martin DB5 and follows Goldfinger and the Rolls-Royce all the way to Switzerland. He still wears the outfit when he meets Tilly Masterson and later when he spies on Goldfinger's factory.
Mason & Sons commissioned the 180-year-old West Yorkshire mill Abraham Moon to recreate the brown Barleycorn tweed that was worn in the film. In addition to the tweed, the mill has also produced a Cavalry Twill fabric for the trousers which pairs with the jacketing to complete the iconic outfit.
Barleycorn tweed jacket
The single breasted jacket, made from 100% Wool, features two button, slanted side pockets, an outside ticket pocket, out breast welt pocket, centre vent in the back and four button cuffs.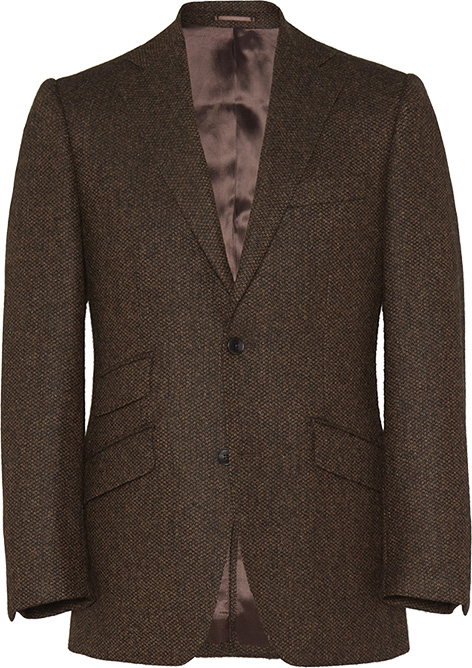 For more information on the history of the Hacking jacket, or to order the outfit, visit:


 Shop now at Mason & Sons UK/EU

 Shop now at Mason & Sons USA
Cavalry Twill trousers with "frogmouth" pockets
The cavalry twill trousers are cut by Anthony Sinclair, the tailor that dressed Sean Connery in his first Bond films.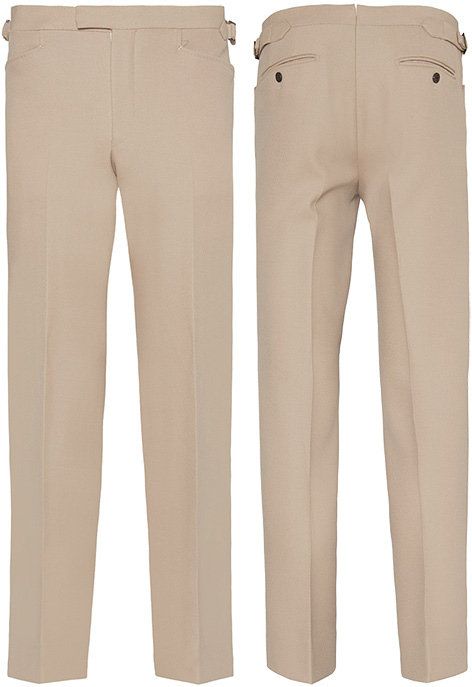 But unlike the high-waisted pleated trousers made by Sinclair for the majority of Connery's Bond suits, this model has a slimmer line with plain fronts and "frogmouth" pockets (usually associated with horse riding trousers) which are more easily accessed when seated.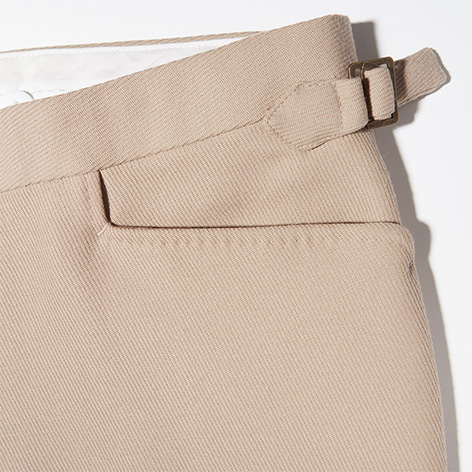 Furthermore, the trousers feature a flat front, zip fly, strap & buckle side adjusters, braces buttons a fob pocket and plain bottoms.
The trousers are available to order via the Mason & Sons website:


 Shop now at Mason & Sons UK/EU

 Shop now at Mason & Sons USA
The jacket and trousers were also worn by Sean Connery in the next James Bond film Thunderball (1965) and in the 1964 crime thriller Woman of Straw in which he starred with Gina Lollobrigida.
Complete the look
In the Goldfinger scenes, the outfit is matched with a brown knitted tie, white ecru shirt with double cuffs and a pair of rose gold cufflinks which, on close inspection, appear to have been attached back to front.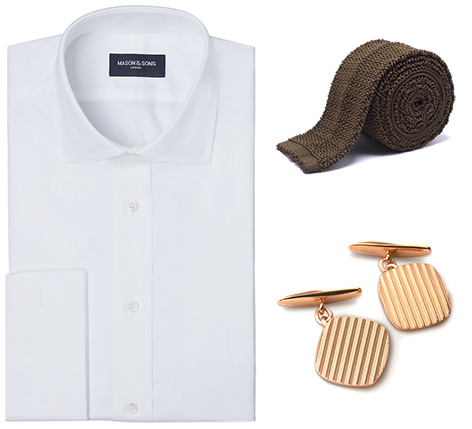 Find this and other timeless James Bond clothes at the Mason & Sons website


 Shop now at Mason & Sons UK/EU

 Shop now at Mason & Sons USA
Subscribe to the Bond Lifestyle EYES ONLY newsletter