Anthony Sinclair's David Mason launches Mason & Sons, Mr Fish, Curry & Paxton and Motoluxe
02 August, 2016
David Mason, the man behind the recent reawakening of the Anthony Sinclair brand, has launched his own label, Mason & Sons. Coinciding with the launch, Mason announced the resurrection of three other brands, Mr. Fish, Curry & Paxton and Motoluxe.
Four and a half years ago, David Mason, together with the help of his sons and colleagues, began the process of reawakening the Anthony Sinclair brand from a long period of dormancy. Starting with the famous bespoke three-piece Goldfinger suit, the business grew quickly, adding ready to wear suits, shirts and ties to its brand.
The business moved from Savile Row to another famous location, 34 Montagu Square, a former residence of John Lennon, Ringo Starr and Jimi Hendrix. Here you can be fitted for your bespoke suit in luxurious surroundings steeped in history. Bond Lifestyle got a bespoke Goldfinger suit fitted here in 2013.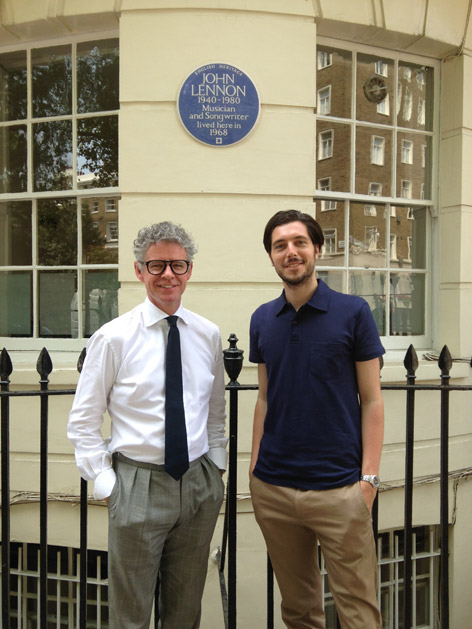 David Mason (left) and Bond Lifestyle's Remmert van Braam in front of 34 Montagu Square
Read more: Getting the Goldfinger Three-Piece Suit
The Anthony Sinclair website grew from a small offering of knitted ties into a platform for 16 different heritage brands, allowing customers to acquire a complete James Bond-style wardrobe online.
Popular James Bond related items on the website include the Slazenger Heritage Goldfinger Golf jumper, the Sanders & Sanders Chukka boots, Dents gloves, Sunspel shirts, John Smedley Bobby V-neck sweater, Albert Thurston braces and the famous Baracuta Harrington jacket.
Recently Anthony Sinclair was recognised as one of the 125 Great British Brands by Country & Town House magazine in their 2016 luxury brand bible.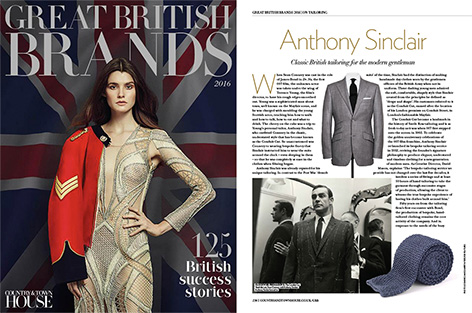 Now with the launch of the new brand Mason & Sons, the Anthony Sinclair website has been renamed MasonandSons.com and still offers the wide variety of heritage brands, and adding three new historic brands: Mr. Fish, Curry & Paxton and Motoluxe.
Mr. Fish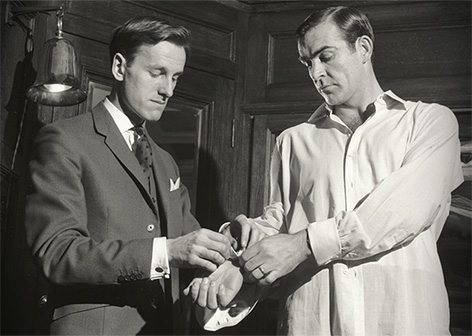 Michael Fish Fitting Sean Connery's shirt
To many, Michael Fish needs no introduction. He was the shirtmaker at Turnbull & Asser who famously fitted Sean Connery with cocktail cuffs for his 007 debut in 1962. Four years later, Fish opened his eponymous store on Clifford Street in Mayfair, from where he led the Peacock Revolution, making dresses for Mick Jagger and David Bowie, and boxing robes for Muhammad Ali along the way.
Find Mr. Fish on masonandsons.com
Mr. Fish x Anthony Sinclair
A special collection of dress shirts is available under the Mr. Fish x Anthony Sinclair label, find them here. 
Curry & Paxton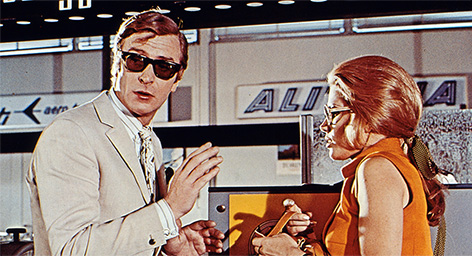 Michael Caine wearing Curry & Paxton sunglasses
Curry & Paxton made ophthalmic instruments in the Victorian age, and by the mid-19th Century had developed a nationwide chain of optician stores in the UK. Michael Caine was a customer, wearing their spectacles in the Harry Palmer film trilogy and The Italian Job.
The brand will relaunch in September 2016 with bespoke optical frames and ready to wear sunglasses.
UPDATE SEPTEMBER 2016: read more about Curry & Paxton and the Thunderball inspired sunglasses.
Motoluxe
In 1905, Motoluxe began making alpaca coats and travel requisites for early motorists who needed protection from the elements during winter driving. It was undoubtedly the world's first motoring apparel brand, and its reintroduction will offer a collection of performance tailoring, inspired by a century of love between man and his cars.
Anthony Sinclair
Anthony Sinclair ready to wear suits and shirts are now exclusively available on masonandsons.com. You can now customize suits with the Conduit Cut in a wide variety of fabrics, and with alterations including sleeve lenght and shoulder width, try it here.

The 007 for £700 deal is still available as well. This popular deal gives you a two piece Anthony Sinclair suit, together with a shirt, plain knitted necktie and pocket square of your choice, all for only £700. Read more about the deal here and use code CCSUIT at checkout.
Find out more about the new brands, Anthony Sinclair and Mason & Sons on the brand new website masonandsons.com
Subscribe to the Bond Lifestyle EYES ONLY newsletter