Anthony Sinclair launches Trouser Project to commemorate the Centenary of Aston Martin.
13 October, 2013
Anthony Sinclair has made Great Strides to commemorate the Centenary of Aston Martin.
Whilst Sinclair had become firmly established as James Bond's tailor of choice in the early 007 movies, the character had to wait until the 1964 filming of Goldfinger before being introduced to his favourite motorcar, the Aston Martin DB5.
In order to celebrate the 100th anniversary of the marque in 2013, Anthony Sinclair has produced its very first piece of ready-to-wear tailoring - a reproduction of the iconic Cavalry Twill trousers worn by Sean Connery as he navigates his Aston around the Swiss Alps during a scene from Goldfinger. They are unquestionably a perfect pair.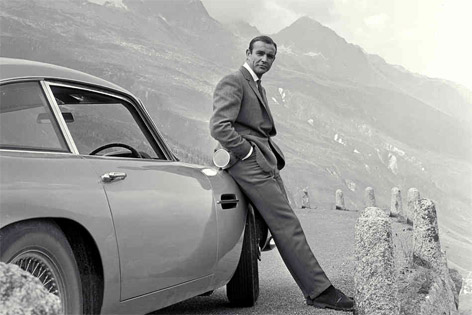 Just like the DB5, production of the new trouser is an Anglo-Italian collaboration, with Sinclair's timeless styling and the finest British cloth trusted to the highly skilled hands of Italy's unrivalled pret-a-porter manufacturers.
SEAN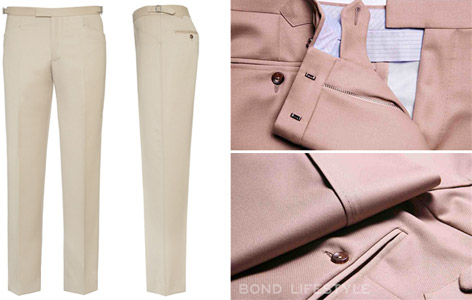 The original model (designated SEAN) is a mid-rise classic cut. The trouser is supported at the waist by side strap and buckle, fastened by clips on the waistband and closed with a zip fly. There are "frogmouth" pockets at the front and jetted hip pockets at the rear. The narrow leg has Sinclair's subtle, yet distinctive, "open-lapped seam" running along the outside, with the "Sartoriale" curtain waistband of the interior representing an elegant detail and a respectful acknowledgement of the product's bespoke roots.
Sean £396
DANIEL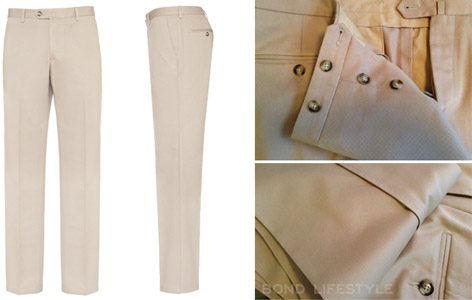 A second model (DANIEL) has also been developed. This style has a low rise and slim cut. The standard garment has belt loops, slanted side and jetted hip pockets. It is fastened with buttons at the waist and fly, and, as with SEAN, carries the signature open-lapped seam along the outside leg. Made from cotton drill, rather than traditional wool twill, the trousers may be laundered and are made with a more robust "Sport" interior as opposed to the Sartoriale finish.
Daniel £198
SEAN and DANIEL are both available to buy ready-to-wear online in 13.5oz (420g) pure wool Cavalry Twill and 12oz (370g) Cotton Drill respectively.
Coming soon is the Special Order System (SOS) which may be used to create personally customised versions of either model from a wide selection of fabrics, styling details and measurement options.
Visit Mason & Sons (formerly AnthonySinclair.com).
Subscribe to the Bond Lifestyle EYES ONLY newsletter