Interview with Bérénice Marlohe
01 November, 2012
On Monday October 29th, 2012 I had the chance to speak to French/Cambodian actress Bérénice Marlohe, who plays leading Bond girl Severine in the James Bond film SkyFall. Heineken offered me and a few select journalists a chance to meet the latest Bond girl in the Conservatorium Hotel in Amsterdam.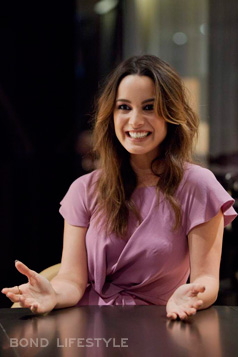 Just before the interview we spot the beautiful actress while promotional photos are taken of her and a silver Aston Martin DBS for the Heineken advertising campaign Crack The Case. A stunning appearance, dressed in a purple dress, and her long hair worn down, she stands out from the crowd in the impressive hotel. Marlohe had appeared the night before at the Dutch premiere of SkyFall at the Tuschinski cinema, the spectacular theater in the center of Amsterdam. Today, she was shooting some more photos for the Heineken campaign and would appear at a black tie premiere of the Dutch beer brand later that evening.
After an ice cold Heineken at the designer lobby on the hotel, it's time to meet Marlohe. She welcomes us and seems surprisingly energetic after what must have been, and still are, very busy months for her. She later admits that she was very exhausted, but that the atmosphere and people at the Amsterdam premiere gave her a lot of new energy.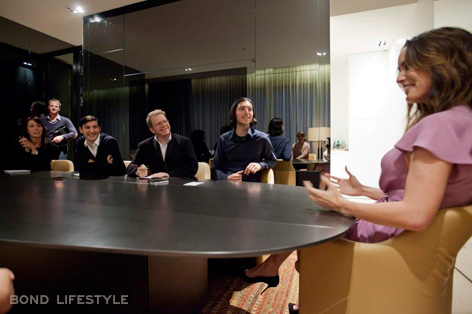 Around the round table in a stylish, mirrored room sit Bérénice Marlohe, myself, Luke Williams (007 Magazine), Benjamin Williams (MI6 Confidential) and an NRC (Dutch newspaper) journalist.
Since Bérénice Marlohe has an amazing wardrobe and wears some stunning Swarovski jewellery in the film, I start to ask her if she had any influence on the selection of the pieces herself.
Marlohe: "I was lucky, I could see the dress before, and I just thought that some changes should be done because it had to fit my idea about the Severine character. I'm very happy with the result because it is exactly what I had in mind: a bit dangerous and 'dragonesque', with the tattoos and the long scary nails. I always wanted to be a dragon and a panther for the character."
"Swarovski designed a special line for the movie, truly beautiful and they fit perfectly what I was expecting: with some Asian spirituality in them and the cobra in the ring it really give me a sensation of power, almost like a gangster rapper, a little 'Bling'. Dark, diamonds... very Bond. It fits the character really well."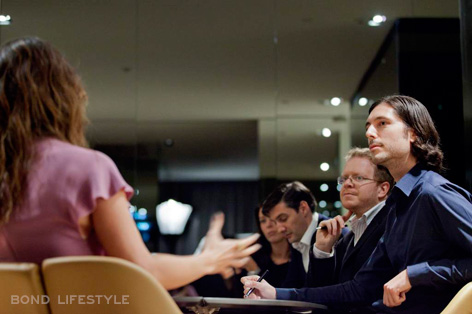 Becoming Severine
"To get into my character I use a lot of music, which is very important in my life. For the casino scene I wanted to stay connected with my imagination at every moment. So I used what really moves me as a human being, I used what happened in Cambodia 37 years ago, I use all that. It really moves me and I want to fight for it and put all that in that scene."
"I wanted to play on difference faces, different moods, almost different characters in that scene. I was inspired by the Chimera (the name of the ship in SkyFall), a mythical Greek creature with three heads: I wanted to make it a snake, dragon and a black panther. The Dragon because I wanted Severine to have a dangerous presence in the room. A dragon can kill from far and I wanted to give Severine that power when she enters the room. I love the idea of working on animals, because you're not human anymore, you just act on instinct. I also want to play, in general for any character, with the male and female side. When I think about the Bond girl, you always have those women entering casino's in a very feminine way, but at the same time also very 'in charge', like "I'm the man, I'm the boss". That's an idea I really like when I think about the Bond girl."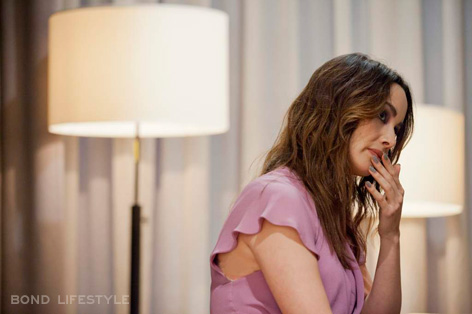 Did she go back and watch some of the old Bond movies to get inspired?
"I watched some of the new Bond movies and the ones I didn't see just to get inspired and an idea, but also I needed to forget about it so I could create my own character. I wanted to create a real human being and a unique character with my own personality."
Human rights
"The whole SkyFall experience changed me a lot. I had to recreate a whole life and connect with me, my origins... I got to explore dark aspects. When I came out of this experience, I felt truly more open than when I entered. Thats why it was so extraordinary, because I had so many revelations."
"I always wanted to work for human rights, but it's difficult to be heard. Now is the time to do whatever I can for my country Cambodia. Now I have a chance to be heard, to be a voice. My main goal right now is to gather the attention of the world on the trial that takes place in Phnom Penh now to judge the former Khmer Rouge that was responsible for the genocide that happened 37 years ago. This trail is a very crucial point in history, because it was such a crime against humanity and the trial can set an example to the rest of the world. The justice and human conditions can be improved from there."
I always wanted to work for human rights, but it's difficult to be heard. Now is the time to do whatever I can for my country Cambodia. Now I have a chance to be heard, to be a voice.
Brand ambassador
Remmert: "Currently you promote a lot of brands as well, including Omega, OPI nailpolish, Swarovski and Heineken. Which one do you enjoy most? Since we're here with Heineken, probably Heineken I would say?"
"Haha, yes, I really like the Heineken commercial. I saw some Heineken commercials before and I thought they were really well done. I'm really happy with this latest commercial, so full of life and a sense of humour, with Dr. No for example. It's a mini movie on its own."
Working with Daniel
"We filmed the Heineken commercial in between shoots for SkyFall. To work with Daniel on the movie and commercial is amazing. As an actress to have the opportunity to interact with such a subtle actor is a fantastic experience. You get to see his inner life in his eyes, this is a great quality of an actor to have. He is also one of the most beautiful human beings, so kind and he has a great sense of humour. It was truly a pleasure to interact with him."
Locations
SkyFall was filmed in several beautiful locations, from Shanghai and Macau to Turkey and London. What was her favorite location?
"I went to most of them, but honestly, I was so amazed by the sets they created at Pinewood Studio: the Casino set and the Death City set. The Casino, after one hour of being there I could feel I was there, truly moving. And to think they would destroy it, it was weird."
Don't miss the chance to see Bérénice Marlohe her yourself on the big screen or on one of the upcoming premiere events worldwide.
Many thanks to Heineken and fellow reporters Luke Williams (007 Magazine) and Benjamin J. Williams (MI6 Confidential).
Read more about Heineken and James Bond.
© 2012 Remmert van Braam, Bond Lifestyle
Subscribe to the Bond Lifestyle EYES ONLY newsletter