Heineken: Crack the Case!
20 September, 2012
Heineken launched a thrilling new TV and digital campaign, in anticipation of the release of the 23rd James Bond adventure, SkyFall, which sees Daniel Craig bring his explosive portrayal of James Bond to a Heineken ad for the very first time. Challenging consumers to defy his enemies and 'Crack the Case', viewers will be taken on an epic train journey alongside stunning Bond newcomer Bérénice Marlohe.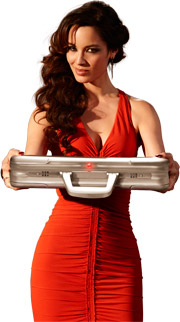 The interactive experience begins exactly where the TV advert leaves off, with viewers invited onto a train by the smouldering Bérénice before it embarks on a voyage through a spectacular vista of snowy mountains. Putting viewers through their paces, a series of gruelling tests will lead them to 'Crack the Case' whilst protecting its contents from ferocious villains.
Shot at Shepperton Studios, the interactive campaign pays homage to the James Bond franchise with a series of subtle nods towards previous films. The train carriages were inspired by classic Ken Adam Bond film sets, whilst replica James Bond film props were used throughout the campaign ad.
Now go ahead and watch the video and play the game! Click the video below to start!
Trivia on the 'Crack the Case' Television Commercial:
The film was primarily shot at Shepperton Studios. Elements were also filmed at a train station in Timișoara, Romania, with a team who were able to transform a 28 degree set into a snowy landscape.
Replica James Bond film props were used throughout the film as a tribute to the franchise and fans alike. Eagle-eye spectators will also spot the Spectre ring from Dr. No, the Zorin industries and Spectre logos and the Faberge Egg used in From Russia with Love and GoldenEye.
The soundtrack titled 'Man Like That' was written and performed by rising New Zealand music star Gin Wigmore, who also makes an appearance in the film.
Subscribe to the Bond Lifestyle EYES ONLY newsletter