400 tourists rescued with helicopters from James Bond Piz Gloria mountain
22 June, 2018
Some 400 people that visited Piz Gloria had a real James Bond lifestyle experience on Thursday, when they needed to be airlifted by helicopters after a cable car broke down. In related news, the toilets at Piz Gloria were named the best in the world by the International Toilet Tourism Award.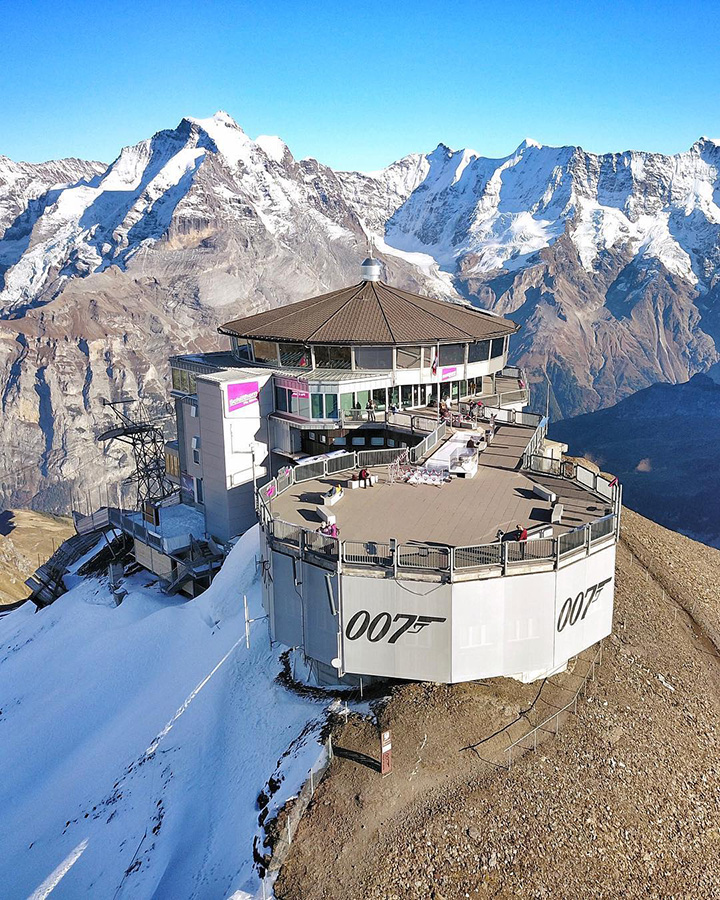 Piz Gloria is 007 heaven for Bond fans
Photo © secretagent_wesanderson via Instagram
The tourists were atop the 2,970 meter (almost 10,000 ft) mountain when a cable-car gondola further down the mountain broke down, the Schilthorn AG company, which operates the cable car system, said in a statement.
The guests were then taken in a separate cable car to a nearby ridge, where four helicopters were enlisted to fly them the rest of the way down the mountain to the ski station of Mürren.
Schilthorn AG spokesman Ruedi Bravand said the helicopter transports began about 11:30 am, with all 400 tourists transported safely to Mürren by 3pm.
The Swiss mountain Schilthorn features in the 1969 James Bond movie On Her Majesty's Secret Service as Blofeld's clinical institute. Towards the end of the film, Bond and his allies fly to Piz Gloria with helicopters and attack the institute.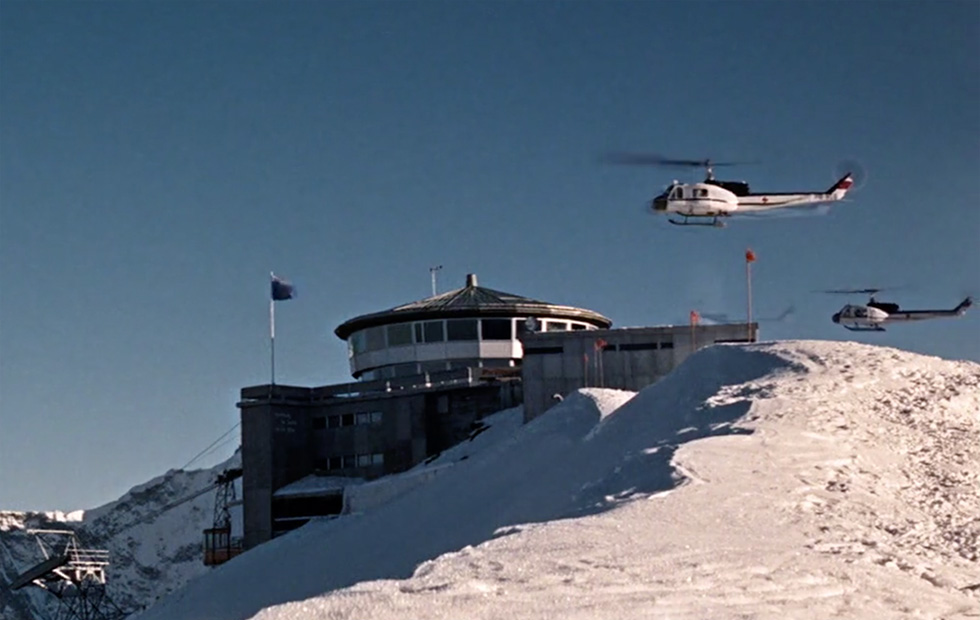 Towards the end of On Her Majesty's Secret Service, Bond and Marc-Ange Draco attack Piz Gloria with helicopters
Image © EON, United Artists
Piz Gloria is located on top of Schilthorn, a summit in the Bernese Oberland, Switzerland. The Bond production team actually helped financing the completion of the unique revolving restaurant and the helicopter landing platform.
It's one of the few places that can use the 007 brand and the building, restaurant and Walk of Fame feature many photos and information on Bond and the film.
Best tourist toilets in the world
The toilets at Piz Gloria just won the International Toilet Tourism Award, awarded by MyTravelResearch.com. In the many categories, Piz Gloria was the Overall Winner. And quite well-deserved.
Since its refurbishment in 2017, guests at Piz Gloria are treated to a full James Bond audio extravaganza when taking a bathroom break.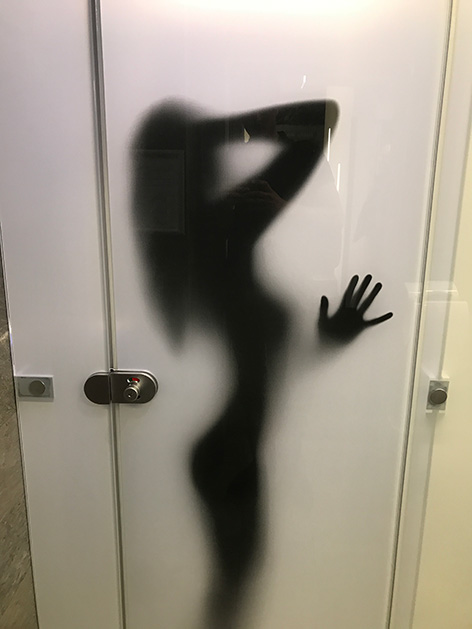 The doors have different silhouette stickers which gives a cool effect.
Photo © Bond Lifestyle
In the men's room, Bond girl Diana Rigg appears in the mirror as you wash your hands, while helpful signage reminds visitors to "Shake, don't stir" and "Aim like James".
Meanwhile in the ladies, a shot rings out as an image of James Bond appears in the mirror beside a bullet hole, who then offers a special invitation: "Tonight, my place – just the two of us."
Subscribe to the Bond Lifestyle EYES ONLY newsletter