Ultimate cool: the Baracuta G9 Harrington jacket
12 August, 2015
Elvis Presley, Steve McQueen, Frank Sinatra, Daniel Craig, Jason Statham, they all have worn the same jacket: the Baracuta G9 Harrington jacket. In Guy Ritchie's latest action film The Man From U.N.C.L.E. the Baracuta is once again prominently featured as the ultimately cool jacket. Let's take a closer look at the jacket that you might not have noticed but has been around for almost 80 years.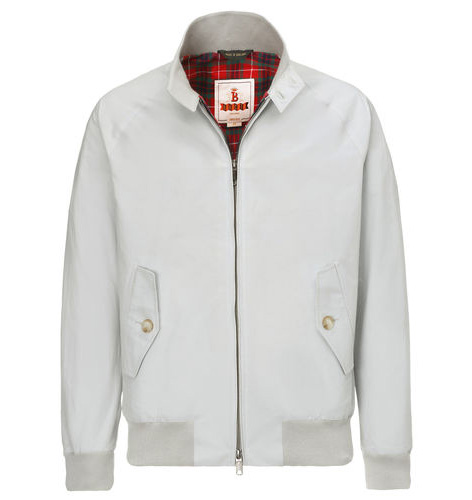 The Baracuta G9 Harrington jacket was designed in 1937 in Manchester, UK and at first popular with golfers. The G9 is a lightweight, waist length jacket with an elasticated hem and sleeves. It can be recognised by its red striped Fraser Tartan cotton lining, large side pockets with flaps, and a double-button collar. Owners of the jacket often leave the jacket half open or roll up the sleeves a bit to reveal the signature red lining, and flip up the collar for the ultimate cool look.
The most popular colours are the McQueen Stone (white, see image above) or Sand or Navy, but the jacket is currently available in many other colors as well.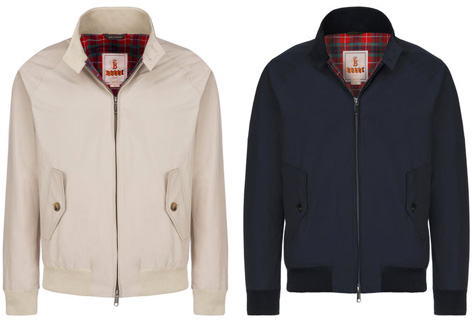 Elvis Presley
The Baracuta became known to a wider audience when superstar Elvis Presley wore the Baracuta G9 jacket in the movie King Creole in 1954.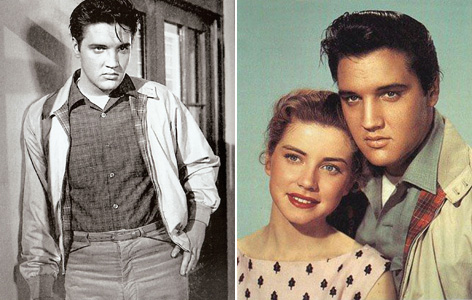 Harrington
The name, 'Harrington' which is now synonymous for Baracuta G9 style jackets, is said to have originated from a character in 1960s American soap tv series Peyton Place. In the series, character Rodney Harrington, played by Ryan O'Neal, was wearing the G9 jacket, supposedly leading to the G9 being dubbed the 'Harrington'.
Frank Sinatra
One of the most popular and influential musical artists of the 20th century, Frank Sinatra also brought the Baracuta to the big screen in Assault on a Queen (1966).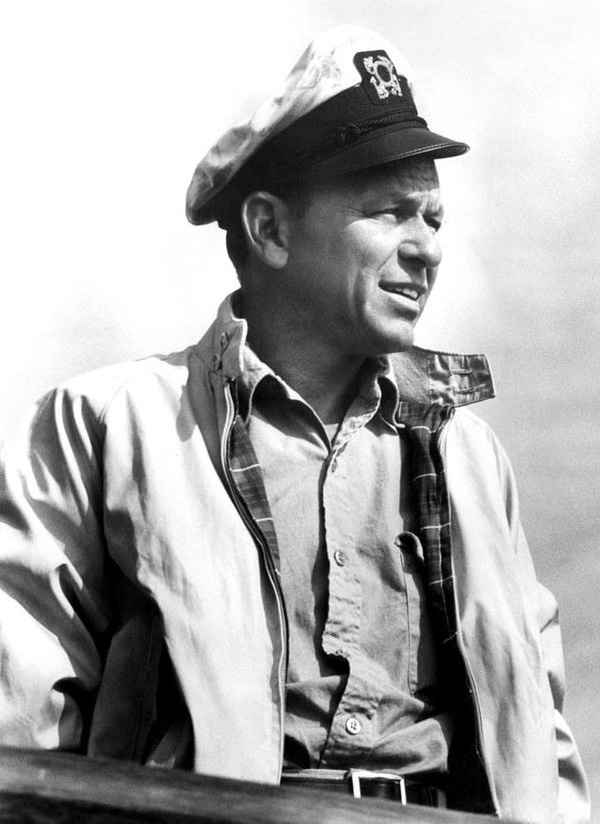 Frank Sinatra in Assault on a Queen
Steve McQueen
The jacket really became immortal thanks to 'mr. Cool' himself: Steve McQueen wore the Baracuta G9 in both his personal life and several movies.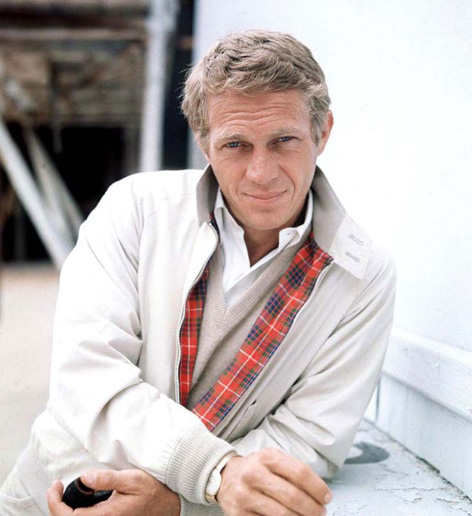 Nobody wears it better: Steve McQueen and his Baracuta G9
photo by William Claxton
A navy G9 jacket can be spotted in The Thomas Crown Affair (1968) during the scene in which McQueen flies a yellow glider. In the scene he also wears his favorite Persol 714 folding sunglasses, cream colored trousers and chukka boots, a classic look often seen on Steve.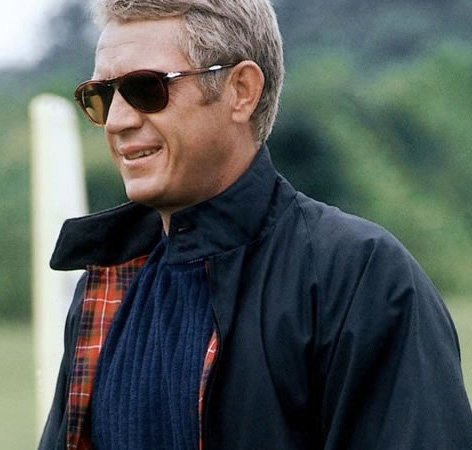 Steve McQueen in The Thomas Crown Affair wearing a navy Baracuta G9 jacket and Persol 714 folding sunglasses
Steve was often photographed wearing a light colored Baracuta G9 (a colour now dubbed 'McQueen Stone') by his friend and photographer William Claxton. Sharing a passion for fast cars, McQueen and Claxton became friends early in McQueen's career and remained close until his premature death. Check out Claxton's book (Amazon.com, Amazon.co.uk) for a great photo-series of Steve McQueen at his most cool.
Special Editions
In 2007, Baracuta released three special jackets of the G9 with special packaging, quotes by Elvis Presley, Steve McQueen and Frank Sinatra printed on the lining as well as a serial number. Only 70 pieces of each were made.
Daniel Craig
James Bond actor Daniel Craig, often inspired by McQueen's sartorial style, has been spotted with both the Sand Baracuta G9 in his private life.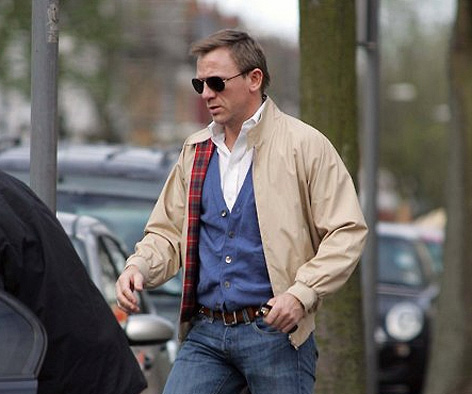 The Baracuta jacket hasn't featured in a James Bond film (yet), but Craig's Tom Ford Harrington jacket from Quantum of Solace is certainly inspired by it. (Note that some photos online of Craig in the desert with the jacket have the red lining Photoshopped on the image, but this is fake, the jacket is not a Baracuta and does not have the tartan lining).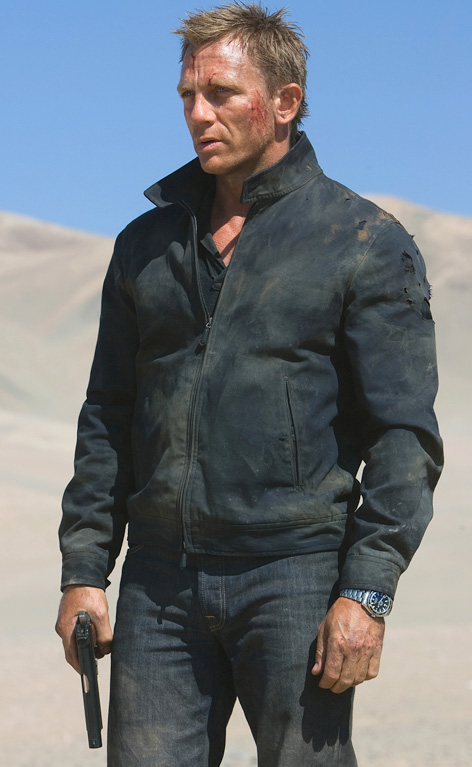 Daniel Craig wearing a Harrington-style jacket by Tom Ford in Quantum of Solace
Damian Lewis - Stolen
Actor Damian Lewis is trying really hard (and succeeding!) to look like Steve McQueen in the 2010 tv film Stolen, wearing a Baracuta jacket.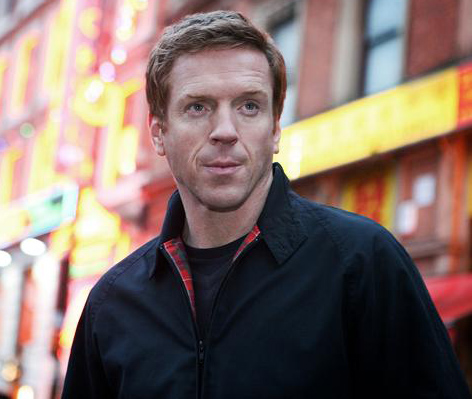 Damian Lewis in Stolen with a blue Baracuta G9
Bradley Cooper - The Hangover Part II
Actor Bradley Cooper wears a blue Baracuta G9 in comedy film The Hangover - Part 2.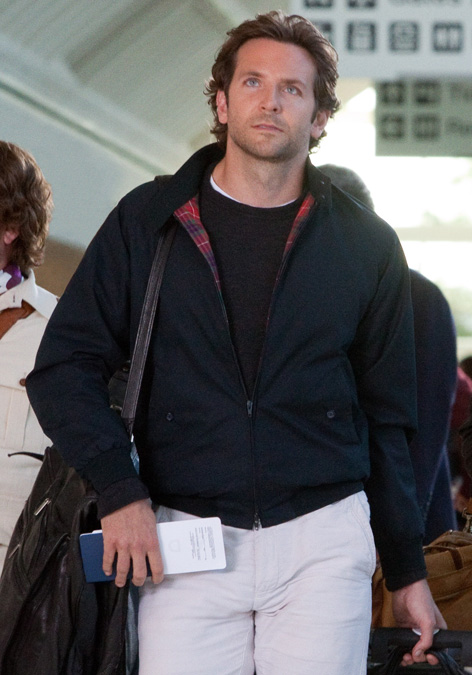 Just make sure to always show the lining so people know you wear a Baracuta
Christopher Reeve - Superman
Even Superman wears a Baracuta G9 when he's off duty.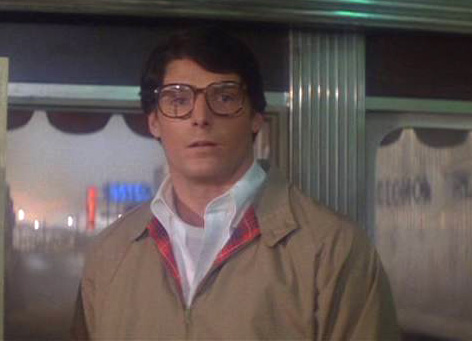 Super cool
Jason Statham - Killer Elite
Another movie star that pulls of the McQueen coolness, Jason Statham, wears a sand coloured Baracuta G9 in the movie Killer Elite (2011) and has been spotted wearing a black G9 jacket in his private life.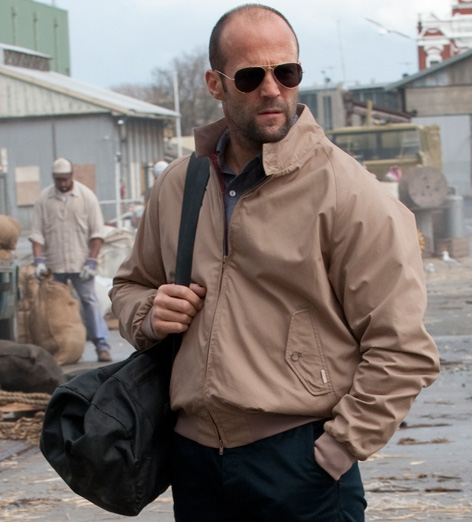 Jason Statham wearing a sand color Baracuta G9 in Killer Elite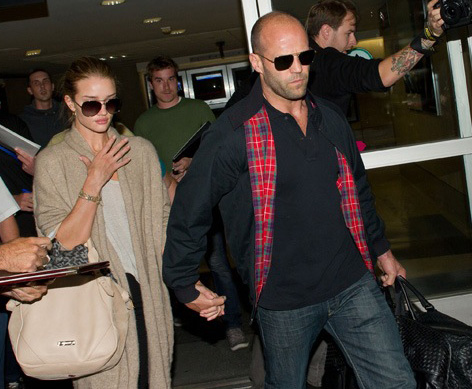 Jason Statham with Victoria's Secret model Rosie Huntington-Whiteley and a Baracuta G9 jacket
Armie Hammer - The Man From U.N.C.L.E.
In 2015, the Baracuta star continues to rise in the movie The Man From U.N.C.L.E., an (audio)visual treat directed by Guy Ritchie. Spy movie and action movie fans alike will love the Cold War setting in the early 1960s, and the 007 fan can enjoy some subtle Bond movie references. The most exclusive vintage cars, the stylish outfits, handsome spies and ravishing actresses, Guy Ritchie makes it all look ultra-slick, while keeping action and fun at a constant high level. Henry Cavill is outstanding and puts a memorable caricatural spy character on the big screen. Armie Hammer is a worthy partner and Elizabeth Debicki is a stunningly beautiful evil mastermind.
If Daniel Craig looks cool again in N.Peal turtle neck sweaters in the poster and trailers for SPECTRE, actor Armie Hammer beats him to the big screen in The Man From U.N.C.L.E. wearing at least as many turtle necks, solidifying the return of the 1960s spy outfit this year.
Armie Hammer wears both the light Baracuta G9 jacket and a Black or Dark Navy Baracuta G9 jacket.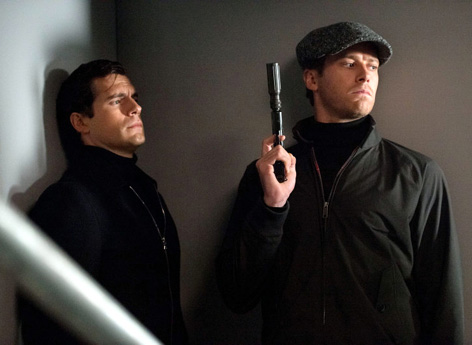 Henry Cavill (left) and Armie Hammer in The Man From U.N.C.L.E.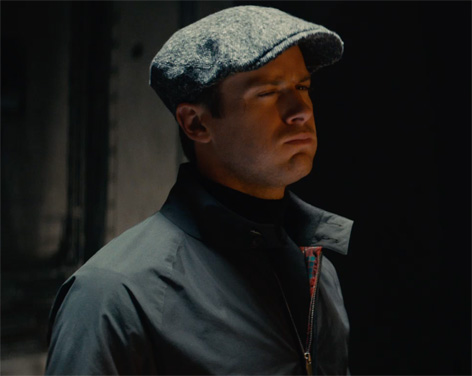 Armie Hammer in The Man From U.N.C.L.E. wearing a Baracuta jacket, which by now you should be able to recognize by its collar and red lining
Armie Hammer in The Man From U.N.C.L.E. wearing another Baracuta jacket
Hammer also wears (although very briefly) the Persol 714 folding sunglasses, as another nod to Steve McQueen.
Martin Freeman
Another fan of the Baracuta is actor Martin Freeman (The office, Sherlock, The Hobbit). Few people know that Martin Freeman is a fervent supporter (and practitioner) of mod style, with several interviews on the subject. He even wrote the preface to the book "The A to Z of Mod" (written by Mark Baxter and Paolo Hewitt).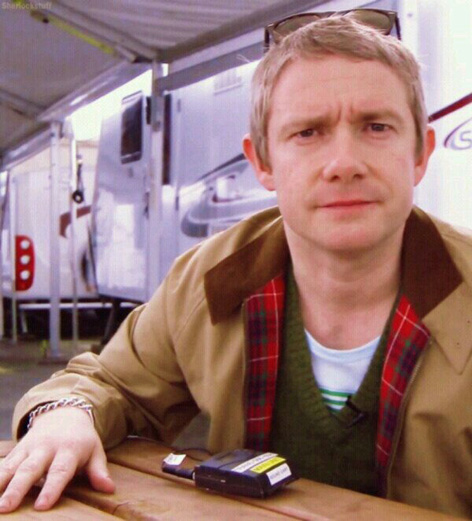 Martin Freeman wearing a Baracuta Project 137 Waxed Limited Edition (only 137 made)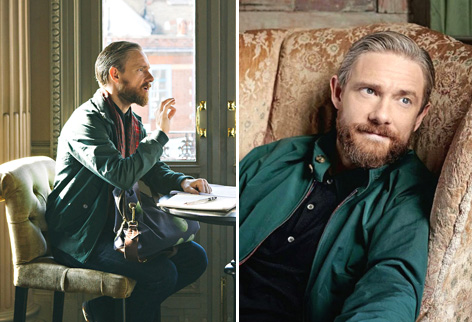 Martin Freeman with a green Baracuta G9 (thanks to Sherlock Unravelled for the photos)
Martin Freeman wears a Baracuta in Saturday Night Live (Dec. 2014)
Where to buy?
Catch your own Baracuta
The G9 is available at Baracuta or at online stores End Clothing US, End Clothing UK and Stuarts London have the G9 in a good selection of colors available.

Complete the look
Complete the 1960s spy look by adding a turtle neck sweater and a pair of Persol 714 sunglasses.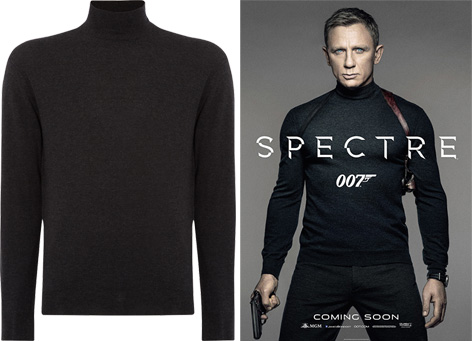 For the turtle neck, get the N.Peal NPG300 Mock Turtle Neck worn by Daniel Craig on the teaser poster and in the trailer for SPECTRE.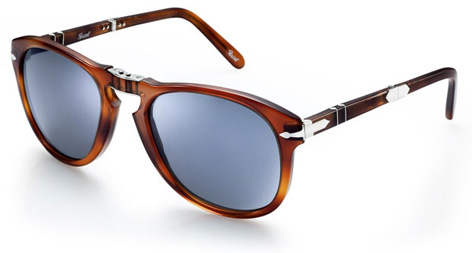 The Persol 714 folding sunglasses, made famous by Steve McQueen and worn by Daniel Craig as well, never go out of style and are easy to conceal as they can be folded up (available at Uncrate (special edition), Amazon.com, Amazon.co.uk.
Guy Ritchie's The Man From U.N.C.L.E. opens in theaters August 14th 2015.
Sources: Baracuta, Gentleman's Gazette, King of Cool, Wikipedia
All copyrights for products, logos, images etc are held by their respective owners. Bond Lifestyle is not responsible for these articles, please take any queries up with the author.
Subscribe to the Bond Lifestyle EYES ONLY newsletter