Hamilton Pulsar P2 2900 LED digital watch
Bond pushes the button on the Hamilton Pulsar P2 2900 LED digital watch to show the time
photo © United Artists, Danjaq LLC
Hamilton Pulsar P2 2900 LED digital watch
photo © bucko170 @ DWF.nu
Miss Caruso (Madeline Smith) and James Bond (Roger Moore) with his Pulsar P2 watch
photo © United Artists, Danjaq LLC
In the movie Live and Let Die (1973), James Bond (Roger Moore) wears a very special wristwatch, a Hamilton Pulsar P2 2900 LED digital watch.
The watch can be seen on Bond's wrist in the first scene after the opening credits of the film, when M comes knocking at Bond's door and Bond checks his Pulsar watch to see what time it is: 5:48 am. Bond demonstrates how the watch works: to see the time, he pushes the button on the side of the watch, so that the LED time lights up. Bond demonstrates this twice, to make sure the audience sees this neat feature of the watch.
The Pulsar P2 was a technically advanced watch at the time, even though it didn't have many features. It only had the capability to show the time (hours, minutes, and seconds) - but no date, stopwatch, alarm, or other functions were included. But the P2 was the world's first successful, mass-produced digital watch. LED (Light Emitting Diode) watches were only popular during the 1970s and were quickly replaced by LCD watches. Bond himself switched to LCD Seiko watches.
The time is set by using a magnet, which is stored in the clasp. Holding the magnet against the Hour or Minute position in the back of the case enables you to adjust the time. Take a look at this detailed video by Dell Deaton showing the Pulsar P2 and the way to operate it in detail.
The Pulsar P2 can still easily be found on eBay. Prices can vary from $200 for a non-working P2 to $1000 for an item in mint condition.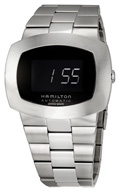 Hamilton created an homage to their 1970s LED watches in 2010, when they released the Hamilton Pulsomatic H52515139, a watch of which the design is very similar to that of the Pulsar P2, although the Pulsomatic is much larger in size. The watch doesn't have a LED screen, but an LCD screen and is powered by an automatic movement. This watch is currently available online at eBay.
Bond also wears a Rolex Submariner watch in Live and Let Die. Interestingly, a Pulsar P2 cost about the same as a stainless steel Rolex Submariner at the time of the movie (approx. $390).
Pulsar was created and owned by the Hamilton Watch Company in the early 1970s. In 1978, Seiko acquired the Pulsar brand. Both Hamilton and Seiko watches can be seen in Bond movies.
Trivia
The MI6 agent that is killed in the LALD pre-title sequence in New Orleans is called Hamilton. The Pulsar P2 was also worn by the fictional spy hero Travis McGee in the 1973 novel The Turquoise Lament. Celebrities that owned a P2 included Jack Nickelson, Peter Sellers and Bill Bixby.
---