When you purchase through links on this site, we may earn an affiliate commission. Here's how it works.
Advertisement

Brioni Suits
Pierce Brosnan wears a Brioni suit, and Turnbull & Asser shirt and tie and Dunhill cufflinks in this promotional image for Tomorrow Never Dies..
photo © Danjaq LLC, MGM, United Artists
Pierce Brosnan wearing a Brioni suit in The World Is Not Enough
photo © Brioni
Pierce Brosnan getting a Brioni suit fitted.
photo © Brioni
Brioni for James Bond
Brioni Tuxedo with Turnbull & Asser shirt, worn by Daniel Craig in Casino Royale. Auctioned at Christie's.
photo © Christie's
Brioni suits are worn by Pierce Brosnan in all of his James Bond movies and by Daniel Craig in Casino Royale.
Brioni, a famous Italian bespoke house, was introduced to Bond by costume designer Lindy Hemming in the movie GoldenEye.
In the book Dressed to Kill - James Bond The Suited Hero, Lindy Hemming explains that she wanted a company capable of tailoring in the Savile Row manner, and - because of GoldenEye's tight shooting schedule - could produce a lot of suits very quickly. She also wanted something that that was sheer luxury, unmistakably synonymous with expensiveness.
In GoldenEye, Tomorrow Never Dies, The World is Not Enough and Die Another Day, Bond wears Brioni suits, often combined with a Turnbull & Asser shirt, Turnbull & Asser tie or Sulka tie, Dunhill cufflinks and Church's shoes.
In Die Another Day, Bond also wears a more casual Brioni blue floral shirt.
After the Brosnan Bond era, Daniel Craig continued the new Brioni tradition in Casino Royale.
Craig wore a charcoal gray Brioni suit, at the London press conference announcing his role of Bond in Casino Royale, and in the movie he wears Brioni as well. (Craig wore a Dunhill dinner jacket to the premiere of Casino Royale). The famous tuxedo worn by Bond during the poker scenes in Casino Royale is Brioni.
With the tuxedo he wears the Turnbull & Asser bow tie and shirt with S.T. Dupont Cufflinks and John Lobb Luffield shoes. According to a 2006 article in the Times Online, everybody at the casino table in Casino Royale was dressed by Brioni.
Just before Casino Royale came out, Brioni launched a £3,000 Bond-themed tuxedo, which had "James Bond" stitched into the silver lining and was sold in a few select stores.
Brioni has been worn by celebrities since the 1950s, including by stars as Clark Gable, John Wayne, Gary Cooper, Henry Fonda, Tom Cruise and Jude Law.
Find Brioni items online at MrPorter.com and on eBay.
Brioni, Universe of Fashion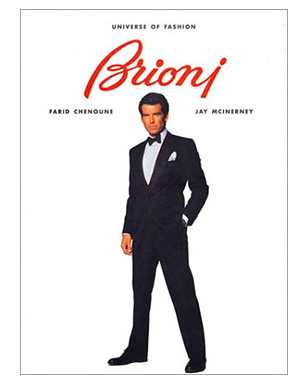 A nice collectible is the book Brioni (Universe of Fashion), available at AbeBooks, Amazon or eBay for less than $20. The hardcover book features Pierce Brosnan on the cover.
---