When you purchase through links on this site, we may earn an affiliate commission. Here's how it works.
Advertisement

Aston Martin Vanquish
Aston Martin Vanquish
photo © Aston Martin
Pierce Brosnan posing with an Aston Martin Vanquish at a press conference
photo © United Artists, Danjaq LLC
The Aston Martin Vanquish used in the film with all the usual refinements
photo © United Artists, Danjaq LLC
"Now pay attention Bond... this is your Aston Martin!"
After a brief flirtation with BMW, the film industry's most enduring partnership - James Bond and Aston Martin are reunited in the 20th 007 film Die Another Day.
The Vanquish is a proper tribute to the original Aston Martin DB5 used by Sean Connery, because it's fitted with many gadgets and the silver coachwork and charcoal leather exactly match the silver DB5 first driven by 007 in the 1964 film, Goldfinger.
The Aston Martin Vanquish, with license plate KE02 EWW, plays a significant role in the film. At the start of the film James Bond is introduced to the Aston Martin by Q just as he was in Goldfinger. The Aston is fitted with many gadgets, including automatic guns that popup from the bonnet cooling vents, rockets behind the grille, spikes on the tires and a passenger ejector seat. All features are very useful during the chase with a Jaguar XK-R on the frozen lakes of Iceland. The most remarkable feature is its ability to become invisible.
For Die Another Day EON Productions commissioned three production Vanquishes, chassis nos. '172', '173' and '174' to become 'hero' cars for the close-ups of Pierce Brosnan as James Bond. The cars had a Tungsten Silver livery with charcoal leather interiors, Linn audio systems and brushed aluminium centre consoles.
Additionally, four stunt cars were created for the high-speed chase on ice, with a special safety construction, a Ford engine, 4-wheel drive and 3-speed automatic transmission.
The Aston Martin Vanquish was a grand tourer, designed by Ian Callum and manufactured by Aston Martin. The Vanquish was unveiled at the 2001 Geneva Motor Show and was produced from June 2001 to September 2004 with the later Vanquish S being produced from September 2004 to July 2007. The Vanquish was succeeded by the DBS.
The Vanquish can also be seen in the video games James Bond 007: Nightfire and James Bond 007: Everything Or Nothing.
Related articles:
James Bond and Aston Martin reunited
007 fans want Bond back behind the wheel of a British made motor
Aston Martin Vanquish Art Print
Limited100 offers a beautiful art print of the Aston Martin Vanquish, photographed by Thomas Boudewijn.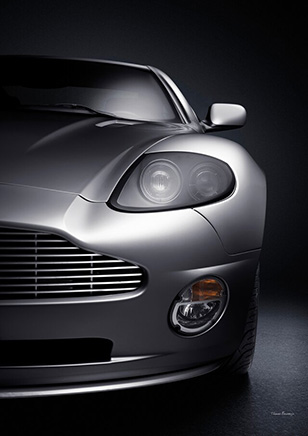 ---