When you purchase through links on this site, we may earn an affiliate commission. Here's how it works.
Advertisement

Alpine 7817R
Alpine 7817R CD Tuner
The Alpine 7817R CD Tuner in the movie GoldenEye
photo © MGM
Rear of the Alpine 7817R
Alpine 7817R and its original box
photo © m3vwg
In the 1995 James Bond Film Goldeneye, the Aston Martin DB5 driven by James Bond featured an Alpine 7817R CD Tuner which acted as a communication device and colour printer/fax. When Bond takes a picture of Xenia Onatopp from the Fort Antoine Theatre viewpoint, the digital monocular-camera (yet to be identified) sends the image to the Alpine system which prints it out when Bond get's back to his car. Bond then finds out more about Xenia and the Manticore yacht.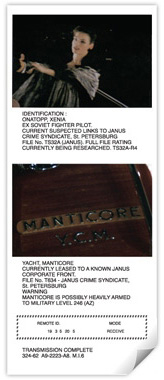 A replica of the print-out that comes out of the Alpine can be downloaded in the Bond Lifestyle Download area!
This Alpine car system gets several seconds of close-up screentime in the film, so it makes nice collector's item, if you can find one on eBay or other second-hand marketplaces.
Another car radio prominently seen in a Bond film is the Phliips DC954 in The Living Daylights.
---