Turnbull & Asser Limited Edition James Bond inspired Pocket Squares
04 October, 2017
Turnbull & Asser released a new range of exclusive Mr Benn pocket squares with designs inspired by James Bond. The pocket squares are a limited edition run of 100 pieces per design.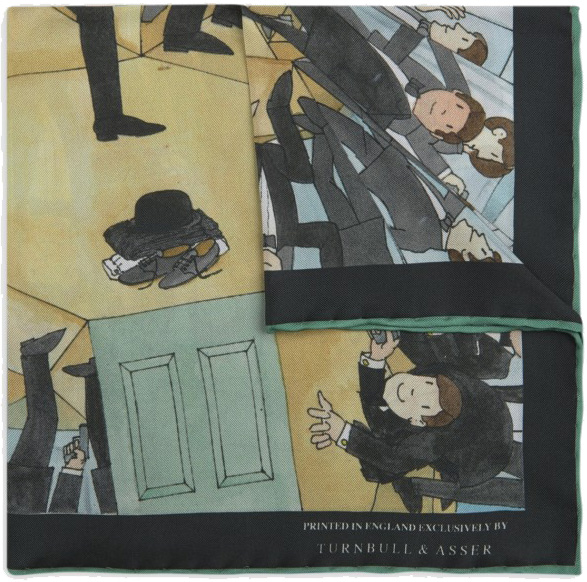 About Mr Benn
Mr Benn is a character created by David McKee who appears in several children's books originally printed in 1967. It was followed by an animated television series transmitted by the BBC in 1971 and 1972.
Each Mr Benn story has a similar format. Mr Benn, a man wearing a black suit and bowler hat, leaves his house at 52 Festive Road and visits a fancy-dress costume shop where he is invited by the moustachioed, fez-wearing shopkeeper to try on a particular outfit. He leaves the shop through a magic door at the back of the changing room and enters a world appropriate to his costume, where he has an adventure (which usually contains a moral) before the shopkeeper reappears to lead him back to the changing room, and the story comes to an end. Mr Benn returns to his normal life, but is left with a small souvenir of his magical adventure.
Celebrating the 50th anniversary of the character, the #00Benn collection launched as part of the David McKee exhibition from 16th August until 16th September 2017 at the Illustration Cupboard, nestled between the Turnbull & Asser stores on Jermyn Street and Bury Street.
For this pocket square collection, Mr Benn steps in the shoes of secret agent 007. Each pocket square represents a step in the classic Mr Benn story: Festive Road, shop visit, changing room.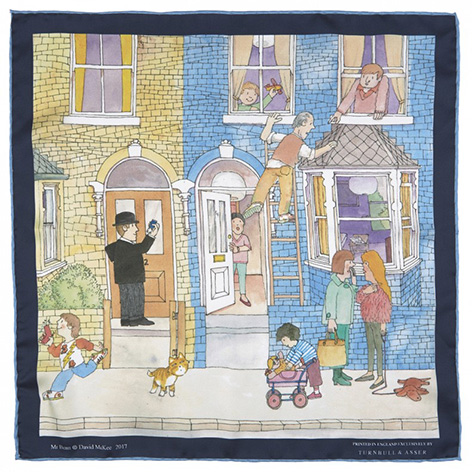 Limited Edition Mr Benn Silk Pocket Square - Festive Road
Buy now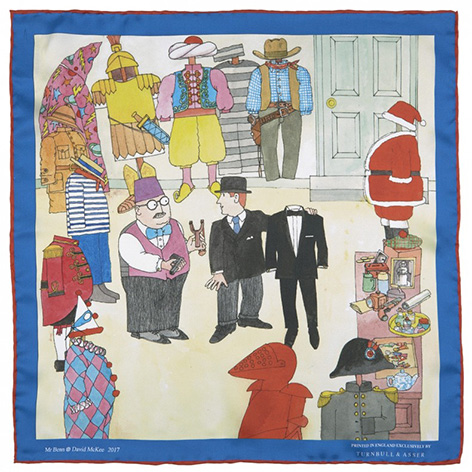 Limited Edition Mr Benn Silk Pocket Square - The Shop
Buy now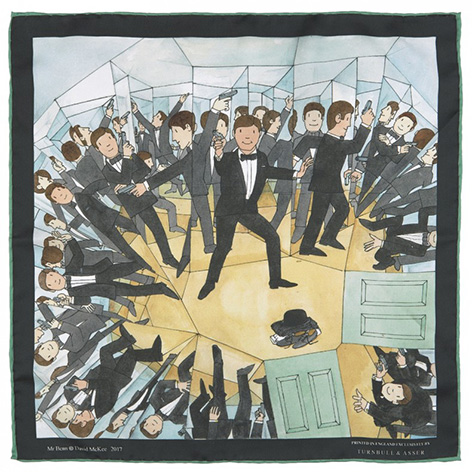 Limited Edition Mr Benn Silk Pocket Square - The Changing Room
Buy now
On working with Mr Benn creator David McKee for the latest collaboration, Turnbull & Asser's head of design, Dean Gomilsek-Cole said "This was our second chance to work with David, and he loved the idea of combining two very British characters to create a unique Mr Benn story, so it made it even more special."
Priced at £75 or €90 each, the limited edition pocket squares will be available online at Turnbull & Asser website (UK and EU only), and in-store at the Turnbull & Asser Jermyn Street and Davies Street locations.
2015 James Bond pocket square collection
In 2012, Turnbull & Asser also releaased James Bond inspired pocket squares featuring the original 1958 illustrations by artist John McLusky, based on Ian Fleming's own vision of James Bond.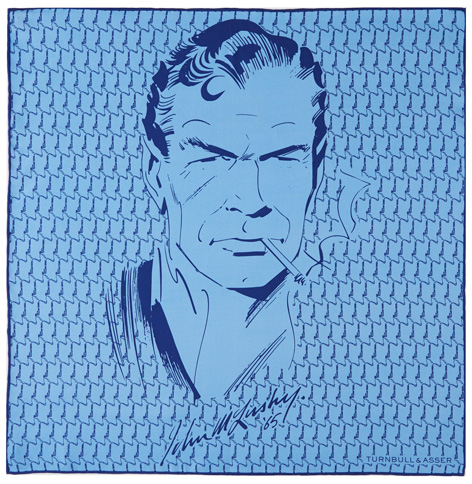 John McLusky was a comics artist best known as the original artist of the comic strip featuring Ian Fleming's James Bond. McLusky began illustrating the comic strip adaptation of James Bond for the Daily Express. From 1958 to 1966, McLusky adapted 13 of Ian Fleming's James Bond novels or short stories.

The Turnbull & Asser pocket squares were available in four colours, blue, cream, black and red, and are made from silk with a plain weave.
Turnbull & Asser is famous for having provided several of the James Bond actors wih their shirts and neck ties, see an overview of Turnbull & Asser items on Bond Lifestyle.
Subscribe to the Bond Lifestyle EYES ONLY newsletter