Swatch releases Q Swatch Watch ²Q Blue Edition
06 October, 2020
Swatch has released a slightly different version of the Q Watch, called the Q Swatch Watch ²Q Blue Edition.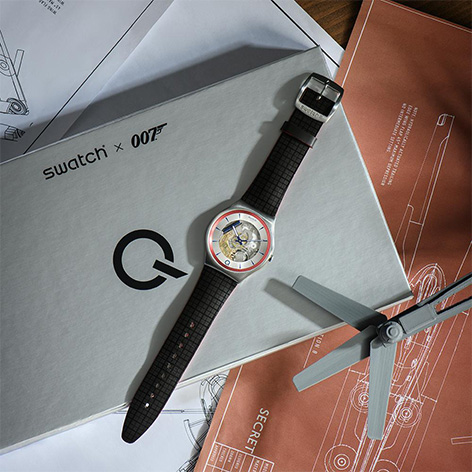 This limited edition is available from today, 6th October 2020, online via the 007 Store, Swatch and Watch Nation (UK) for £186 / $220 / €215.
The original James Bond Swatch Q watch is designed by Swatch and costume designer Suttirat Anne Larlarb and will be worn in No Time To Die by Q (Ben Whishaw). We don't know yet if the watch will have a special gadget feature in the film.
The original Swatch Q Watch was released on 5 March 2020 and sold out almost instantly. Perhaps Swatch realised that they could have sold more of this watch and are now offering this 'blue' version (they couldn't offer the same watch, as it was a Limited Edition). It could also be that Swatch wanted to offer another watch near the launch of No Time To Die in November, due to the delay. So now the movie has been delayed again, to April 2021, will that mean we can expect even another Swatch Q Watch in April 2021? A different color Q Swatch Watch 3Q Edition?
So what's the difference?
The ²Q SKIN Irony blue edition is an update of the Q watch and features a new red bracelet interior and blue (instead of red) hands and blue coil in the dial.
Compare the original Q Watch (left) and the new blue version on the right: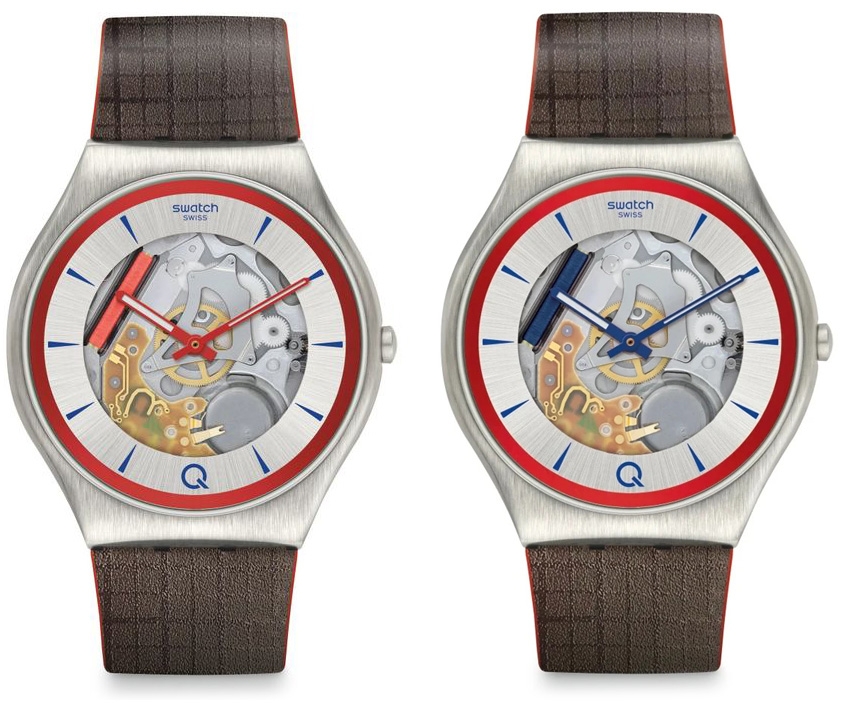 Compare the original Q Watch (left) and the new Q Swatch Watch ²Q Blue Edition (right) wit blue hand and blue coil
The Blue accents might not be screen accurate though. It is likely that the first 'red' edition is the most screen accurate, although the movie watch will probably not have the large Q at the 6 o'clock position.
The Q watch has a silver color sunbrushed dial, showing of the complex mechanism with the new blue coil, along with blue printed indexes and hands with Swatch Glow.
The case is made from brushed stainless steel, while the strap is in brown leather with a printed checkered pattern, red edges and new red lining.
The back is embossed with 'Designed by Q'. Water resistant to 30m/three bars, this design has a 24 month warranty. This highly collectible design is presented in a special-edition Q laptop-style case.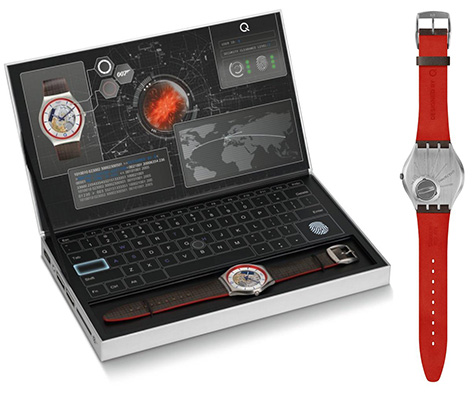 The blue Q Watch comes in the same 'laptop' style packaging, and now has a red interior strap
Dimensions. Width 42mm, Thickness 6.7mm, Height 45.6mm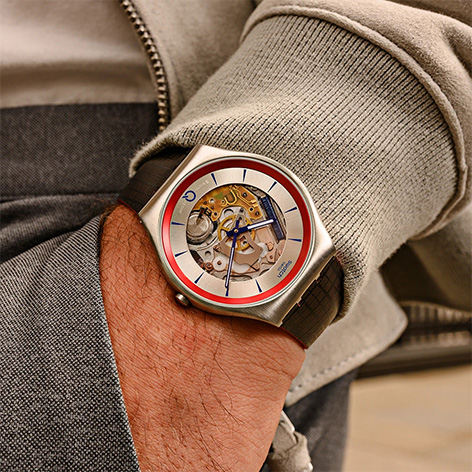 Order the new Q Swatch Watch ²Q Blue Edition at 007 Store, Swatch and Watch Nation (UK).
UPDATE 16 October: watch the new video, comparing the Swatch Q and ²Q:
Subscribe to the Bond Lifestyle EYES ONLY newsletter