Royal Doulton Jack The Bulldog SPECTRE edition now available
03 October, 2015
Having survived the explosion in SkyFall, Jack the Bulldog is back, in SPECTRE.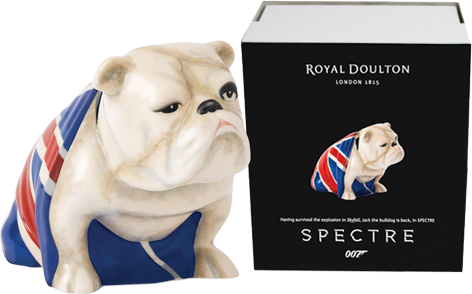 The Royal Doulton Bulldog "Jack" figurine is prominently seen on the desk of M in SkyFall. After the attack on MI6, one of the few things that survives is the Royal Doulton figurine. It was damaged, but the pieces were glued together and once more it stands proudly on M's new desk. M bequeathes the statue to Bond, who didn't particularly like the statue, after her tragic death.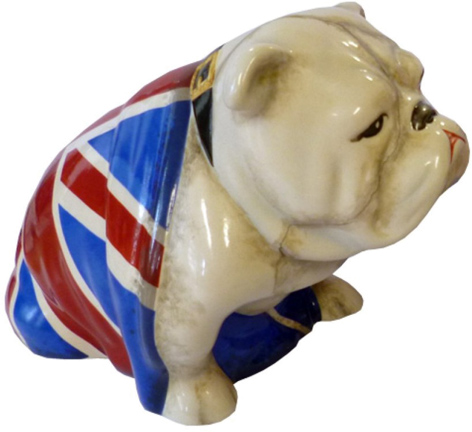 A special SkyFall edition of the Jack bulldog was released in 2012, which was very popular and sold out quickly, even after several re-releases in 2013 and 2014.
The Jack statue will again be seen in the movie SPECTRE, probably in Bond's new apartment. To celebrate the appearance of the statue in SPECTRE, Royal Doulton has released a new version of the Jack, this time with a 'restored after explosion' look.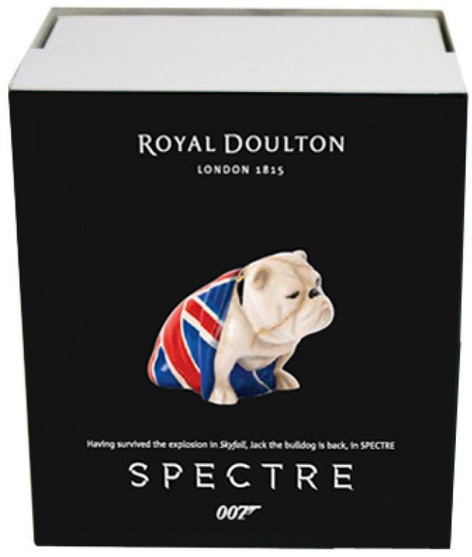 The statue comes in a SPECTRE packaging and has the SPECTRE logo printed at the bottom.
The SPECTRE Jack is now available at Royal Doulton. Also available on Amazon.com for $76.
Subscribe to the Bond Lifestyle EYES ONLY newsletter