Michael Kors Announces Exclusive Partnership and Capsule Collection with 007 Franchise
06 February, 2020
Michael Kors announced a partnership with the 007 film franchise in the form of the MKC x 007 Bond Capsule Collection - three Michael Kors bags. The character Moneypenny (Naomie Harris) will carry the MKC x 007 Bond Bancroft satchel in the film No Time To Die.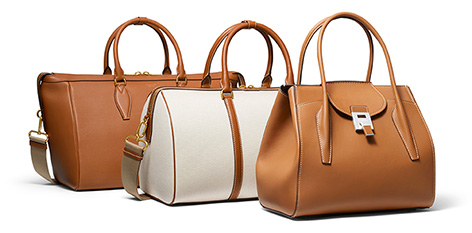 Michael Kors MKC x 007 Capsule Collection:
Bond Carryall, Bond Duffel and Bond Bancroft Satchel
photo © Michael Kors
To celebrate the launch of No Time To Die and the unveiling of the MKC x 007 Bond Capsule Collection, Michael Kors will host a star-studded VIP party at its new Milan showroom, followed by a private dinner, during Milan Fashion Week in February.
The limited-edition capsule collection features the Michael Kors Collection Bancroft satchel and will be available to shop in select Michael Kors stores around the world, on MichaelKors.com and on the 007 official online store, 007Store.com, starting late March.
Crafted in Italy and created exclusively for No Time To Die, the MKC x 007 Bond Bancroft satchel, Bond Carryall and Bond Duffel all channel the sophistication that is synonymous with the James Bond films.
The Bond Bancroft satchel, crafted in luxe calf leather, exudes everyday elegance with its refined silhouette and roomy interior.
A polished MKC x 007 plaque on the interior lining highlights the special collaboration. In the film, the satchel is seen on character Eve Moneypenny, played by British actress Naomie Harris, a BAFTA and Academy Award nominee.
Rounding out the capsule collection, the Bond Carryall, rendered in calf leather, and Bond Duffel, in luggage-hued cotton canvas, were designed for traveling in style, and feature an exclusive MKC x 007 leather luggage tag.
The price of the Bond Bancroft is $1,750, the Bond Carryall is $2,350 and the Bond Duffel is $1,950.
Designer Michael Kors said about the collection: "Jet set glamour, sophistication, speed, energy - these are all words that come to mind when you think about the world of James Bond. They're also at the core of our brand DNA. This collaboration was really the perfect union of fashion and film."
As soon as more is released about this collection, you'll find it here on Bond Lifestyle. Sign up for the newsletter or follow Bond Lifestyle social media for the latest updates.
Subscribe to the Bond Lifestyle EYES ONLY newsletter