MI6 Confidential #39: Thunderball
18 April, 2017
MI6 Confidential, the full-colour 007 fan magazine celebrating the world of James Bond, returns with its 39th issue, focusing on Thunderball but also diving into other depths of the Bond world.
Order 2017 magazine season and save »
Take a deep dive into the rich and complex history of Thunderball, the self-crowned 'biggest Bond of all.' Synonymous with 'Bondmania', the film's preproduction has a long, tangled history and lasting consequences for the franchise. In this issue we revisit the drafting with an insightful look back at the various script revisions before Thunderball went into production, test the waters of the censor's sensibilities and host a rarely seen suite of retrospective interviews with the principal cast and crew.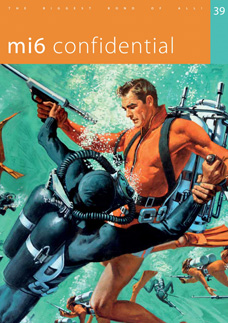 In this issue:
Beneath The Surface - The scripting of Thunderball
A Modern Mythology - Producers interviewed on the brink of Bondmania
In Their Own Words - Cast and crew reflect on the biggest Bond of all
Sex & Sadism For All The Family - Thunderball was cut to meet censor's standards
Passion Project - Meet the designer behind Vesper's iconic Love Knot
Geopolitics & Genders - The globalism and masculinism of 007 explored
Local Hero - Bond gave Panamanian actor Jaime Newball his Hollywood debut
The Bond Connection - Berlin Station is a taught TV thriller from writer Olen Steinhauer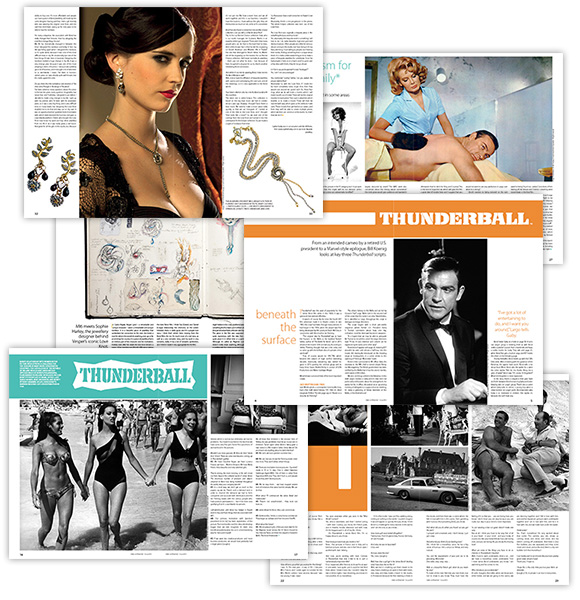 Issue #39 is now shipping around the world.
2017 Special Pre-order package
Receive this issue immediately and save. Five magazines from for the price of four!
Order back issues
Want to order previous issues of MI6 Confidential? Click here »
Subscribe to the Bond Lifestyle EYES ONLY newsletter